While some schools are providing online resources for students many parents are going it alone when it comes to home learning.
Schoolbook publishers in Ireland have made their digital resources available for free online, while the global educational resource website Twinkl says it has received more than 40,000 new registrations in Ireland since schools closed their doors last Thursday.
But experts say parents should not put themselves under too much pressure to replicate the work of teachers in the home.
Primary school teacher Ailbhe Forde, who teaches second class at a school in south Dublin, says that a little goes a long way.
"Schools don't expect parents and guardians to fill the shoes of their teachers and with many parents now working remotely at home its important to remember you can only give as much time as you have available.
"Whether it's one hour, two hours or more, a little goes a long way in helping children limit anxieties and maintain structure to their education and daily lives in these uncertain times."
She also reminds parents that other subjects such as arts and crafts, drama, music and PE are part of their normal school routine.
Home schooling is becoming the new normal as schools remain closed during the #Coronavirus crisis. While many teachers are providing online resources for students, some parents are going it alone when it comes to learning pic.twitter.com/edyw3Z3Vw2

— RTÉ News (@rtenews) March 20, 2020
David Coleman, Clinical Psychologist and Adjunct Associate Professor at the School of Psychology in UCD, says parents should not put too much pressure on themselves.
He said their primary role is to remind children that their education is important and that this is not a school holiday.
"Do what you can do but don't do it to the point that it becomes a source of conflict or stress, I think we've enough stress and tension in our lives.
"By all means if you can achieve the academic work. that the teachers are sending home, great, but if you can't then don't stress over it. We've enough to be worried about."
The nine main publishers of schoolbooks here have made their online resources available for free online in response to the school closures.
They are reminding parents that most publishers already offer a free digital copy of their text books with the code to access this inside the front cover of the hard copy of the book.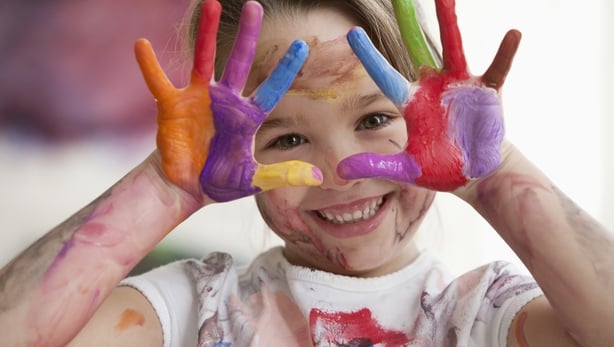 The global educational resource website Twinkl said it has received an additional 40,000 registrations since schools closed here last Thursday and thousands of its resources have been downloaded.
Leo Smith, Chief Customer Officer at Twinkl, said their resources, created by Irish teachers, follow the national cirriculum and are age-appropriate and are designed to be fun and easy for parents to engage with.
They have a free code for accessing their material on IRLTWINKLHELPS or CVDTTWINKLHELPS.
But experts are also keen to remind parents that children learn through play and that plenty of time should be made for this during these challenging times.