The Taoiseach has said the restrictions being imposed on people to try to stop the spread of Covid-19 are "absolutely necessary" to protect human life and health.
Leo Varadkar was speaking at the graduation of more than 300 gardaí at the Garda College in Templemore as part of exceptional policing measures to deal with coronavirus.
The Taoiseach said he hoped that legislation passed by the Dáil and Seanad as part of the response to coronavirus will not be used as people appear to be getting the message on social distancing.
He said he did not foresee similar situations to those in mainland Europe occurring here.
Mr Varadkar acknowledged that the differences in approach north and south of the border were causing difficulties, but he said that both jurisdictions were becoming more aligned.
The Chief Medical Officer Dr Tony Holohan said that at the moment there is no justification for introducing a "lockdown" in the Republic of Ireland.
He said that there is a high degree of compliance in society with the social distancing and other measures already introduced and that we need to wait and see what the impact of these measures will be.
He said that people would understand "lockdown" to be severe and may mean not leaving the house to work or do any other social activities. He said these are "very severe" and "draconian" measures.
We need your consent to load this rte-player contentWe use rte-player to manage extra content that can set cookies on your device and collect data about your activity. Please review their details and accept them to load the content.Manage Preferences
Meanwhile, Tánaiste Simon Coveney has criticised young people who are ignoring social distancing recommendations and Minister of Health Simon Harris has appealed to people to "keep your distance".
Speaking at a special briefing at the Department of Health, Simon Harris said his "real message" is for people to "redouble their efforts" to stay a minimum of two metres away from each other, to try and stop the spread of Covid-19 and added Ireland can come together by staying apart.
Mr Harris said while he encourages physical exercise, he is urging people to maintain the two-metre distance outdoors also.
He said: "Doctors have the ability to save hundreds of lives but people have the ability to save many thousands of lives."
Mr Harris also urged people to take some time ahead or over the weekend to talk to their children, parents, and grandparents about what they can do in their own lives to help protect others and said Covid-19 is a pandemic that is gripping the world but its epicentre is the European Union.
He said Ireland "should be prepared to see a significant increase in cases", but he said he hopes to see the rate of growth in the spread of Covid-19 decrease by the end of the month.
That, he said, would show that the measures taken have been effective.
Mr Harris said: "While the number of cases will go up, we want to see the rate of growth begin to decrease, which will be because of the efforts of the Irish people.
"At the end of this month rate, if the rate of growth begins to decrease we will know that the measures are beginning to have an impact."
He called on members of the public to confront individuals who are not taking Covid-19 seriously.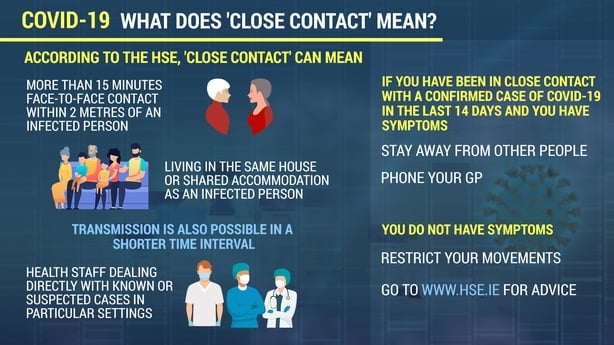 The 191 new cases of coronavirus infection confirmed yesterday was higher than expected.
But it was not out of kilter with the 30-40% daily growth in confirmed cases typically expected at this early stage of a pandemic.
There is a total of 557 cases in the Republic of Ireland and three people have died from the disease.
Around 80% of cases of Covid-19 will be a mild to moderate illness, close to 14% have severe disease and around 6% are critical.
Generally, you need to be 15 minutes or more in the vicinity of an infected person, within 1-2 metres, to be considered at-risk or a close contact.
---
Read more:
Restrictions 'likely' to last longer than two weeks
Italy death toll rises above 4,000
Latest coronavirus stories
---
Mr Harris said he hopes to bring forward schemes "in the coming days to try and help put in place childcare for essential workers".
He said the Government "can also do things on the social welfare side".
In relation to Covid-19 testing, the Minister urged people to self-isolate while they are waiting for test results.
He said: "It may take you a number of days to get a test result", but he said there is now capacity in the public health system to carry out 10-12,000 tests a day.
Now is a time, he said, when we are all feeling vulnerable and nervous, that is why we have to look after each other.
The World Health Organization has said younger people are not invincible, and that the choices they make can be the difference between life and death for someone else | Live updates: https://t.co/nAl0Rwz6HD pic.twitter.com/GS5bvvHWjr

— RTÉ News (@rtenews) March 20, 2020
Speaking in the Seanad earlier, Simon Coveney said: "Social distancing matters. It is not a theory, it is a protection and we need to confront our families and our peers and our communities to make sure everybody takes that seriously. If we do we will save lives, thousands of them."
He said vulnerable people were our friends, our grandparents, our children and our cousins.
Mr Coveney said people who hold house parties or meet up for games of football need to think about that.
He described the global figures as stark and said it was not possible to state how serious Covid-19 is.
Mr Coveney paid tribute to healthcare workers and said what they were doing was inspiring.
He said people needed to heed the advice of health authorities, including washing hands and staying apart, to protect the lives of people who are vulnerable to the virus.
Mr Coveney said that more than half a million Irish people are over the age of 70 and 170,000 people are either recovering or in treatment for cancer.
The Tánaiste said the actions of healthy young people who ignore public health advice will have a major impact on these vulnerable people.
He said: "For those people who are not taking this seriously we need to change the conversation to ensure that they do."
Additional reporting: Aisling Kenny