Restrictions due to the coronavirus are likely to last longer than two weeks, according to the Chair of the Health Service Executuve's Coronavirus Expert Advisory Group.
Dr Cillian De Gascun, who is also the Director of the National Virus Reference Laboratory, was speaking on RTÉ's Prime Time last night.
Speaking on the same programme, Prof Samuel McConkey said further restrictions on movement will depend on the increase in infections.
The head of the Department of International Health and Tropical Medicine at the Royal College of Surgeons said that in China there was a delay between the introduction of tough restrictions and a fall in the number of infections.
---
Read:
More coronavirus stories
---
Meanwhile, Chief Medical Officer at the Department of Health Dr Tony Holohan said it is likely be up to two or three more weeks before we see a slower rate of increase in Covid-19 infections.
The 191 new cases of coronavirus infection confirmed yesterday was higher than expected.
But it was not out of kilter with the 30-40% daily growth in confirmed cases typically expected at this early stage of a pandemic.
Around 80% of cases of Covid-19 will be a mild to moderate illness, close to 14% have severe disease and around 6% are critical.
Generally, you need to be 15 minutes or more in the vicinity of an infected person, within 1-2 metres, to be considered at-risk or a close contact.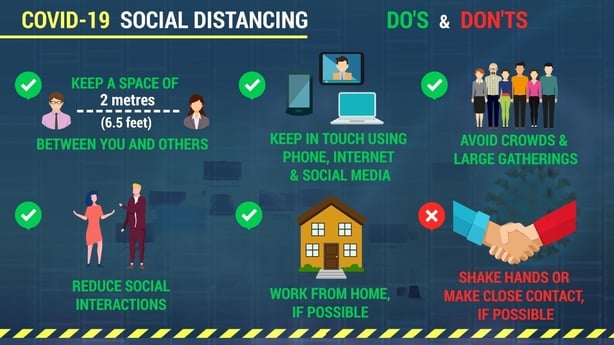 Dr Holohan noted that since the virus takes up to two weeks to incubate in the human body, it will likely be two or three more weeks before the social distancing, school closures and other measures begin to be reflected in a slower rate of increase.
With a total of 557 cases, including three deaths, Ireland now has more than twice as many confirmed Covid-19 infections per million of population than the either the UK or the US.
That however, is understood to be a reflection of a proportionately far higher level of testing here, something the World Health Organization says is critically important for slowing the spread of the virus.
The median age of confirmed cases here is 43.
Mr Holohan said this underscores the importance, and the need, for younger people to rigorously follow public health advice and social distancing measures.
Professor of Immunology at Trinity College Dublin Kingston Mills has said testing of suspected Covid-19 cases is essential even if people are asymptomatic (producing or showing no symptoms).
Speaking on RTÉ Morning Ireland he said he thinks it is "imperative" we test everybody who has been in contact with a confirmed case of coronavirus.
He said to date the impetus has been on testing those who have symptoms of Covid-19.
"I've advocated that we should also be testing those who are asymptomatic because it's being shown that the virus can trasmit even before people show signs of infection.
"So I think testing needs to extend to all contacts, not just those showing symptoms."
He said China has shown that tracing contacts and stringent testing is essential.
He said he is aware testing centres are under pressure but Ireland's success will be dependent on how much testing is done along with the isolation of those infected.
He said while the figures of Covid-19 infections have shot up "significantly", that was expected and the measures such as isolation and movement will see the figures plateau in the coming weeks.
Prof Mills also said he believes that some restaurants are still open and he thinks all sit-down restaurants should be asked to shut doors at this stage.
He also said for anyone coming home from abroad, the advice is to restrict their movements.
"It needs to be self-isolation after coming on any flight from anywhere."
Additional reporting: George Lee