The World Health Organization said Friday that the original epicentre in China of the coronavirus outbreak at last reporting no new cases gave hope to the rest of the world battling the pandemic.
The city of Wuhan registered no new cases of Covid-19 in 24 hours - for the first time since reporting its first case in December in an outbreak that has gone on to infect more than 250,000 people around the world and kill more than 11,000 people.
"Yesterday, Wuhan reported no new cases for the first time since the outbreak started," WHO chief Tedros Adhanom Ghebreyesus told a virtual news conference in Geneva.
"Wuhan provides hope for the rest of the world that even the most severe situation can be turned around.
"Of course, we must exercise caution; the situation can reverse. But the experience of cities and countries that have pushed back this coronavirus gives hope and courage to the rest of the world."
China as a whole is now reporting only a handful of new infections each day - all of them apparently from overseas visitors - as the crisis has shifted from Asia to Europe, which has now reported more deaths than China.
Dr Tedros said the WHO's greatest worry was the impact that the virus could have if it took hold in countries with weaker health systems or more vulnerable populations.
"That concern has now become very real and urgent," he said, but added that significant sickness and loss of life in such countries was not inevitable.
"Unlike any pandemic in history, we have the power to change the way this goes," he said.
The Chinese National Health Commission reported just three new fatalities, the lowest daily increase since it started publishing figures in January.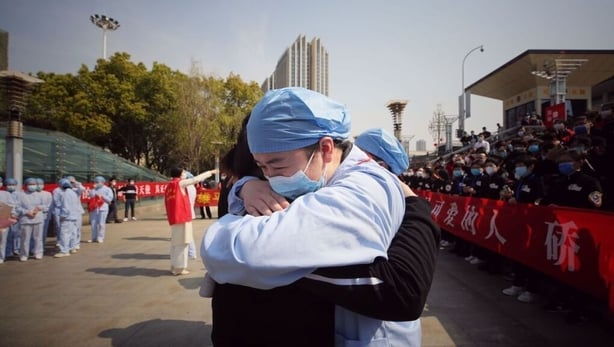 There have been nearly 81,000 infections in China, but fewer than 7,000 people remain sick with Covid-19 disease.
The virus is believed to have emerged in an animal market in the central city of Wuhan in December.
Some 56 million people in Wuhan and the surrounding Hubei province were locked down in late January, but authorities are progressively easing the travel curbs as cases have dwindled.
---
Read More:
Third death as 191 new Covid-19 cases reported
What China did to tackle Covid-19
Irish restrictions 'likely' to last longer than two weeks
---
China is now worried about a second wave of infections coming from abroad, prompting several regions including Beijing, to force international arrivals to go into 14-day quarantine.
The Health Commission reported 39 more imported cases today, raising the total to 228.
Around 80% of cases of Covid-19 will be a mild to moderate illness, close to 14% have severe disease and around 6% are critical.
Generally, you need to be 15 minutes or more in the vicinity of an infected person, within 1-2 metres, to be considered at-risk or a close contact
While there was a glimmer of hope in China, several nations tightened their borders and imposed lockdowns, trapping tens of millions of people in their homes.
And the UN chief warned "millions" could die if the virus spreads unchecked around the globe. 
Yesterday, Italy surpassed China as the country with the most deaths from coronavirus as California, home to more than 39 million people, was placed under lockdown in the most drastic containment measure yet by a US state.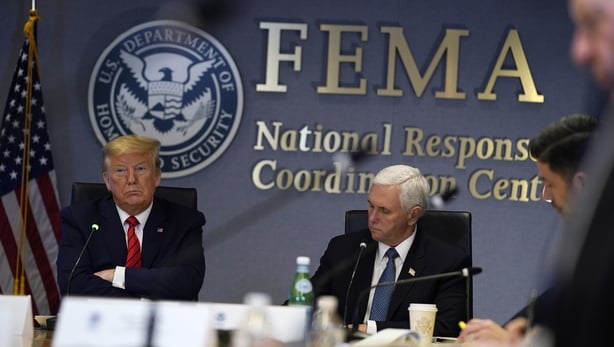 Meanwhile, US President Donald Trump said that the United States is fast-tracking anti-malarial drugs for use as a treatment and lashed out at China for not informing the world earlier about the original outbreak. 
The death toll soared in Europe as Italy announced another 427 fatalities yesterday, taking its total to 3,405, according to a tally compiled by AFP from official sources. 
China has officially reported 3,245 deaths from the virus, which can cause respiratory failure, particularly in the elderly. 
France reported 108 more deaths over the last 24 hours, bringing the total number to 372. 
Globally, the death toll from the virus has risen to over 9,800 with more than 232,650 cases in 158 countries and territories, according to the AFP tally. 
Mr Trump, who has come under fire for his response to the crisis, has claimed that the world was paying for China's lack of transparency about the outbreak there. 
"It could have been contained to that one area of China where it started. And certainly the world is paying a big price for what they did," he said. 
Mr Trump said US authorities were fast-tracking anti-malarials chloroquine and hydroxychloroquine for use as a coronavirus treatment, making them available "almost immediately". 
The drugs are synthetic forms of quinine, which has been used to treat malaria for centuries.
As the toll surged in Italy, Prime Minister Giuseppe Conte said the national lockdown, which has been copied around Europe, would be prolonged to 3 April. 
France also mooted extending its two-week lockdown ordered this week by President Emmanuel Macron, as the interior minister blasted "idiots" who flout home confinement rules and put others at risk. 
In Argentina, President Alberto Fernandez announced a "preventative and compulsory" lockdown from today until 31 March, while Brazil's Rio de Janeiro state will close its famed beaches as well as restaurants and bars for 15 days to try to contain the pandemic.