Health service unions have said they will not cooperate with certain new HSE proposals providing for extensive outsourcing and redeployment, along with a ban on industrial action, as part of a strategy to tackle the Covid-19 outbreak. 
The document was circulated to health service unions on Friday but in their response the unions described the ban on industrial action as unacceptable, and called for it to be withdrawn. 
They also told the HSE they would not accept unilateral outsourcing, adding that any such proposals on this issue must be in line with the provisions of the current Public Service Stability Agreement. 
The health sector unions also called for clearer language on the "activation and cessation" of the circumstances giving rise to the redeployment protocol.
In addition, they demanded that the lifting of "recruitment barriers" be extended to staff acutely involved in Covid-19 diagnosis and treatment, and to craft roles in maintenance.
Friday's HSE document first revealed in the Irish Times notes that as demand for health services increases, the number of HSE staff available to deliver those service may decrease due to "absenteeism".
The proposals would ban industrial action, stating: "During Covid-19 infection any industrial action, either official or unofficial, will be suspended and all employees will work under the direction of their line manager".
Senior HSE staff must identify all essential, national, regional and local activities that must continue during the outbreak, along with all "non-essential" services and resources available for redeployment. 
The HSE document warns that there may be a requirement for some or all identified non-essential services to be cancelled or postponed. 
It goes on: "Employees in positions in such services that are curtailed or temporarily suspended (non-essential services) will be deemed available to be redeployed to assist in other essential service areas experiencing staff shortages". 
---
Read more:
HSE 'cannot dispute' 1.9m in Republic may fall ill with virus
Live: Irish citizens advised not to travel to virus-hit Italy areas
'I'm nervous of it, I really am' - Covid-19 concerns among elderly
---
The normal notice periods for changes of working hours or location will be suspended for the duration of the Covid-19 outbreak, as redeployment needs will have to be assessed daily. 
On outsourcing, the document states: "Arrangements may be made to outsource some work or engage the services of agency staff where it is not feasible to redeploy HSE employees".
Employees most at risk of contracting the virus (e.g. those aged 60 years or over, those with a long term medical condition, or pregnant women) would be assigned to non-direct contact areas.
The document also states that staff who have retired within the last two years may also be re-hired during the crisis, while staff with nursing training should be identified, upskilled and redeployed to assist. 
Line manager approval will be required for overtime requests "based on priority of need."
Staff refusals to work or to be redeployed will be handled under the health service Grievance Procedures, which will require them to 'work under protest'.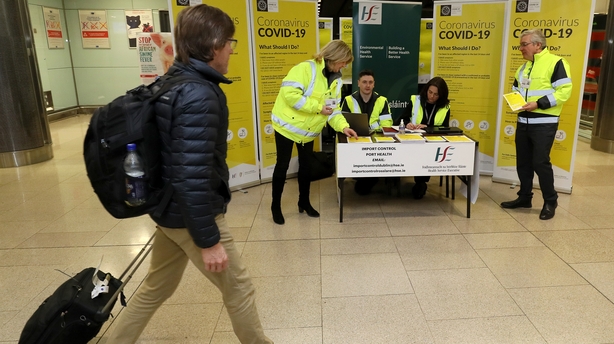 The document also warns that if a national public health emergency is declared, annual and discretion may be cancelled.  
SIPTU Health Division Organiser Paul Bell said his union was a responsible trade union, and had no intention at present of getting involved in industrial action. 
However, he voiced concern that if unions were to agree to such a ban on industrial action, management would do nothing to resolve issues that are either outstanding or in process. 
He said his members in health service support grades were committed to doing their very best to protect people's health and the public health service with due regard to their own health - but would not accept that the HSE could outsource their jobs "wholesale" without any consultation. 
He also highlighted the fact there was no commencement date - "and more importantly no end date" for this period of what he called "extraordinary arrangements".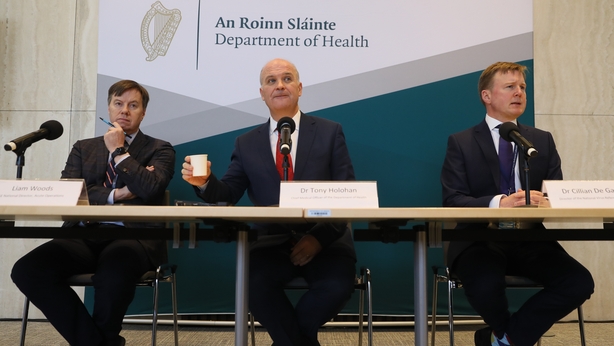 The General Secretary of the INMO Phil Ni Sheaghdha described the document as a "work in progress". 
She said comments went back to the HSE from the union group on Friday and they are awaiting a response to those comments from the employer side. 
The Chief Executive of the Irish Medical Organisation Susan Clyne described the document as a draft which had been discussed with unions. 
She said her union would be seeking a clear termination date for the extraordinary arrangements being proposed.
She welcomed the fact that the Expert Group was setting up a sub-committee to deal with healthcare staff issues, adding that the IMO would be seeking involvement in that sub-committee.
Forsa said that like other unions it was working closely with the HSE in a rapidly developing situation, with all parties equally focused on responding in the most effective way possible.
Meanwhile, in a statement this evening the HSE said that during its planning and response to Covid-19 it continues to engage with staff representative bodies on an ongoing basis.
It said the draft re-deployment policy and procedure was shared with the staff representative bodies and subsequent to that the re-deployment policy and procedure was issued from the HSE on Friday.  
The Executive said its priority is to maximise the re-deployment of critical skills across its services and ensure maximum flexibility of critical resources. It said this is part of best practice emergency planning.