"I'm scared. I am nervous of it. I really am."
Jennie O'Connell lives in Crumlin with her husband Sean. Both of them are blind, and both have respiratory illnesses. 
The threat of Coronavirus has added to their worries. 
"I have been listening to the news and I'm concerned because I have emphysema and asthma, so I have underlying problems, and it does frighten me that I might get it," says Jennie. 
Sean is a diabetic, and suffers sleep apnea which is linked to a respiratory illness. 
"I feel the State could have done more. I feel the whole thing is about money. Well surely people should come before money."
He told RTÉ's This Week: "Us people with underlying conditions are the most vulnerable.
"I did think that they should have done more when it was in China. I felt they should have stopped unnecessary travel, and if they could have kept it out of the country we could have missed it.
"The problem we have now is that it is in the country and we don't know who is going to have it."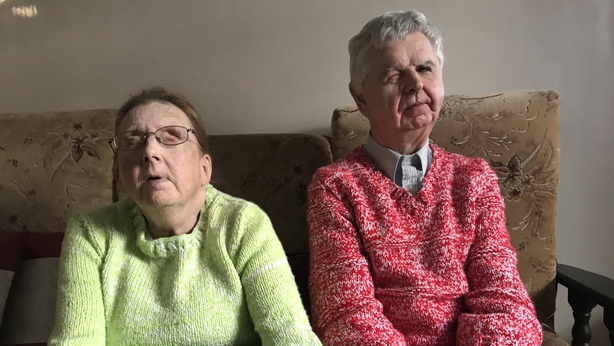 Sean and Jennie have a number of carers who help to look after them in their home. They are also regularly visited by representatives from the charity ALONE, which supports older people.
"They're lovely people, and they call to a lot of elderly people and people with disabilities and they do home care for them." 
"The problem is that it could be spread all over the place, and we could get it that way" says Sean. 
"Children will be grand, but it's the likes of people with health conditions who are going to be hit the hardest. I feel the State could have done more. I feel the whole thing is about money. Well surely people should come before money."
The spread of the virus also poses a dilemma for Sean when he is out and about. As a blind person, he is often offered help.
"People are very good with blind people, but the first thing they do when they take you across the road is catch your hand, and I can't say to someone 'don't catch my hand, you could give me the virus', when they're trying to help me."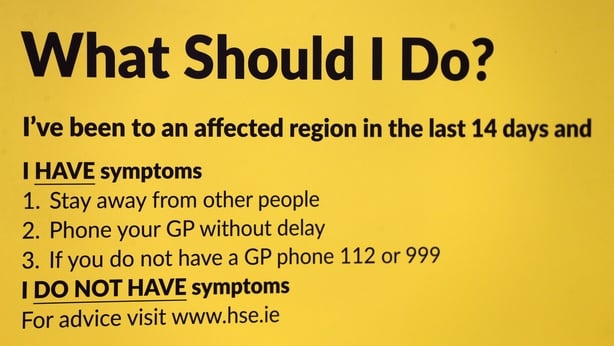 ---
Read more:
HSE advice on how to protect yourself from coronavirus
How does home testing for Covid-19 work?
Guide to remote working through the Covid-19 outbreak
---
The couple is now considering restricting visitors to their home.
"Three carers come in every day and different people drop in and out. My daughter would come up from Wicklow and stay over at the weekend.
"We'll have to sit down and have a discussion and see where we're at," says Jennie.
Sean is concerned about social isolation if visitors stopped calling to their home.
"The fact is that it's in the country, it's very hard to curtail it.
"I like being out and about, and as a country person I was out and about all my life.
"I'd go mad if I had to hide in the house for two weeks or longer, and I'd be very reluctant to restrict people. But obviously if they're in contact with somebody that has it I'd have to ask them not to call for our safety.
"Because if we got it, it could take us out," he says.
We need your consent to load this rte-player contentWe use rte-player to manage extra content that can set cookies on your device and collect data about your activity. Please review their details and accept them to load the content.Manage Preferences
ALONE, the organisation that supports older people, has announced a national support live, as well as additional supports for older people.
ALONE CEO Sean Moynihan said the line provides additional information supports for older people who may have concerns or support needs
He said: "As the situation develops, as well as advice, information and emotional supports, we will ensure every older person will have access to food, medication, fuel, daily contact, and any other support that may be needed."
Anyone who may have concerns for their own wellbeing, or that of an older person that they know, can contact ALONE on 0818 222 024.