Thousands of students had no classes today as many second level schools were closed due to a strike by members of the Teachers' Union of Ireland over unequal pay.
The union said the action was about making clear to all political parties and General Election candidates that its campaign would continue until pay discrimination was eliminated.
The action comes as mock exams begin for many Leaving and Junior Certificate students, and students pursuing the Leaving Certificate Applied programme prepare for assessments that form part of their final results.
Around 345 post-primary schools that are run by the country's Education and Training Boards, or are community or comprehensive schools, were closed.
These are the sectors where teachers traditionally belong to the TUI.
At least around 50 other schools, which have teaching staff in both the TUI and the ASTI trade unions, were shut as a result of the action.
Pickets were placed on colleges of further education, institutes of technology and at TU Dublin where TUI members also work.
We need your consent to load this rte-player contentWe use rte-player to manage extra content that can set cookies on your device and collect data about your activity. Please review their details and accept them to load the content.Manage Preferences
TU Dublin said all of its buildings were open to students.
In a statement, the TUI said it had exhausted every avenue open to it to bring the issue of unequal pay to resolution.
It said it had an "overwhelming mandate" from members to engage in a campaign of industrial action, with 92% backing action up to and including strike when balloted last autumn.
@TUI Strike at @LIT Over pay discrimination ?@rtenews? pic.twitter.com/cYxRmhdWJJ

— Cathy Halloran (@HalloranCathy) February 4, 2020
The union said that while the majority of its members were not personally affected by pay discrimination they were "striking in solidarity" with the ever growing proportion of colleagues who were.
TUI President Seamus Lahart said that the union's campaign would continue "until the two-tier pay system, unilaterally imposed in 2011, is finally abolished".
While teachers who are members of the ASTI were not participating directly in the strike, and were expected to make themselves available for work, they pledged not to carry out any duties that would normally be done by a TUI colleague.
Small solidarity protest by #ASTI at Dept of #Education as #TUI strike over equal pay. pic.twitter.com/pU4gwlT59L

— Ingrid Miley (@ingridmileyRTE) February 4, 2020
This meant that some "dual union" schools were also forced to close, citing health and safety grounds.
Education and Training Boards Ireland, which represents managers of the majority of the schools and colleges of further education affected, described the one-day strike as "regrettable".
In a statement, ETBI said its managers would endeavour to ensure the delivery of education services "wherever possible".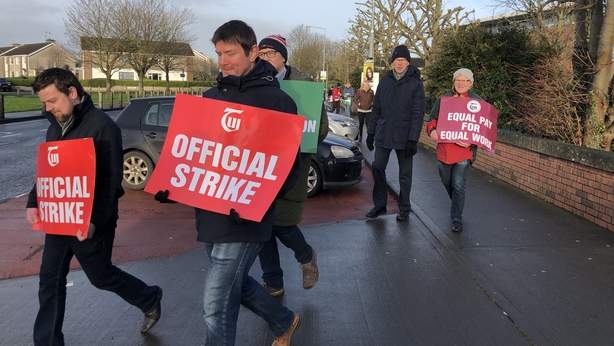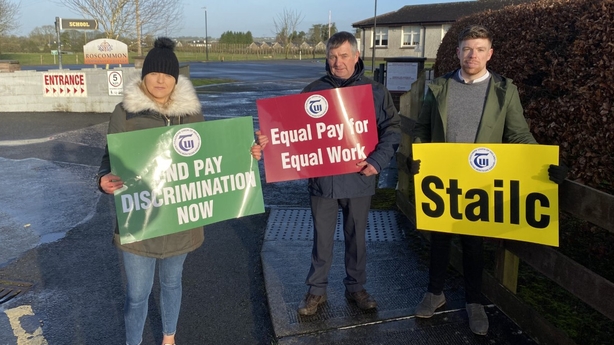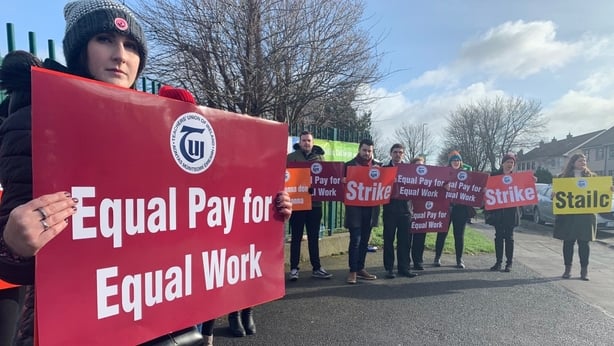 It said ETBs across the country had made arrangements to ensure that other staff members and teachers who are not members of the TUI would be accommodated in their right to report for work, "should they wish to do so".
It said arrangements had been made for the opening of schools, colleges and centres.
But it said that despite their best efforts there would be circumstances where it would not be possible "for a variety of reasons, including health and safety concerns" to open a facility.
The National Parents Council Post Primary has said it is "disappointed that our children will be affected by this action".
The organisation said it wanted to emphasise its "opposition to any industrial action taking place during classroom hours, lesson time or exams".
---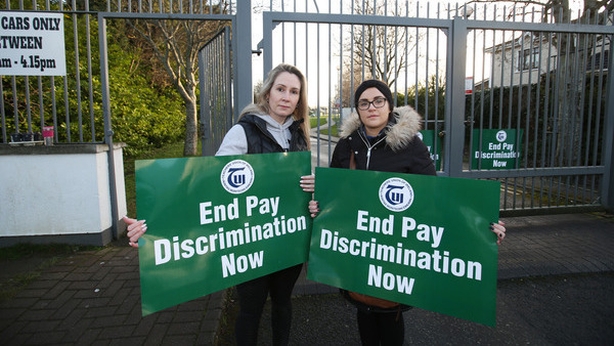 ---
Teachers' pay - where do the parties stand?
The issue of teachers' pay, and the disparity between those recruited before and after January 2011, features in almost all of the main party manifestos, with those parties agreeing that it is something that must be addressed.
Fianna Fáil says that it is "committed to the establishment of a pathway towards an end to pay inequality as part of our steps towards a new public service pay agreement in 2020".
Fine Gael does not address the issue directly in its manifesto, however in a statement the party said it would "prioritise the resolution of any outstanding pay issues for teachers in the upcoming pay talks". It said it had ringfenced €2 million in its costings for a new public pay deal.
Sinn Féin says it will "fast-track an end of the two-tier pay structures for teachers".
Labour says it will "end the two-tier pay system for teachers".
The Green Party says it will "end pay inequality".
Solidarity-People Before Profit says it will "support teachers in their fight to end pay inequality".
---
TUI General Secretary John MacGabhann said the issue is fuelling a crisis in teacher supply and "we are bleeding a generation of talent away from teaching".
Speaking on RTÉ's Morning Ireland, he said the union took the decision to strike in November of last year, before a general election was called.
He said Minister for Education Joe McHugh told them at a conference last April that the issue would be addressed "promptly", but that he and the Government failed to do so.
Speaking on the same programme, Zara Blake, a full-time Irish and English teacher in Dublin, said she and her colleagues who are on the lower pay scale will lose out on more than €50,000 in the first ten years of their career.
"It's a huge discrepancy in our pay. We receive less money for doing the same work as our colleagues," she said.
Eamonn Maguire, a Maths and German teacher in Donegal, is also on the lower pay scale.
He said when he first started working he was on seven hours a week and earned around €10,000 a year.
"I was lucky, within two years I was on full hours. Many of my other colleagues will find themselves working maybe up to ten years still waiting for full hours and still on the lower pay scale. I was effectively on €10,000 a year, having trained for four years."
A member of the TUI Executive has said there is a massive recruitment and retention problem in the second-level educational sector.
Mike Lyons said the date of today's strike, days ahead of the General Election, is coincidental but that they want the issue to be top of the agenda for any new government.
Mr Lyons told RTÉ's Today with Sean O'Rourke that the TUI would consider further action, depending on what transpires in the election.