President Michael D Higgins has said people all over Ireland are greatly saddened at the death of "legendary broadcaster" Larry Gogan.
In a statement, President Higgins said Larry Gogan "made an indelible impact on Irish music, having promoted both up-and-coming and more established Irish musicians and sharing his infectious enthusiasm and passion for pop and rock music of all kinds."
He said he had been "blessed with one of the warmest voices in Irish broadcasting and he not only defined RTÉ's coverage of music but also shaped the mould for many generations of DJs".
President Higgins said it was a great privilege to have had opportunities to meet him and discuss their shared love of music.
"Sabina and I extend our deepest condolences to his family, friends and colleagues," he added.
We need your consent to load this rte-player contentWe use rte-player to manage extra content that can set cookies on your device and collect data about your activity. Please review their details and accept them to load the content.Manage Preferences
---
Read More:
Veteran RTÉ broadcaster Larry Gogan dies
Tributes paid to beloved broadcaster Larry Gogan
Every hour was a golden hour with Larry Gogan
In Pictures: The life and career of Larry Gogan
---
U2 drummer Larry Mullen said: "I got out of bed and followed my usual routine. Cup of tea, turn on my phone to look at the RTÉ News app ... and there it was.
"It took me a while to process that. I thought of his children and grandchildren and then selfishly felt sorry for myself.
"Our friendship was not traditional, as in - we didn't spend countless hours together...we didn't need to. Just a few interviews and the occasional long lunch.
"We connected somehow. Maybe it was our shared north side credentials or most likely the constant messages back and forth through our mutual friend Paul Russell. Just checking in on each other or trying to set up the next lunch.
"Larry's cultural obituary will be written by someone a lot cleverer than me.
"This is personal - not professional. And so to Larry, sadly we lost you today ... but the next time I promise you Larry I'll come and find you on the other side."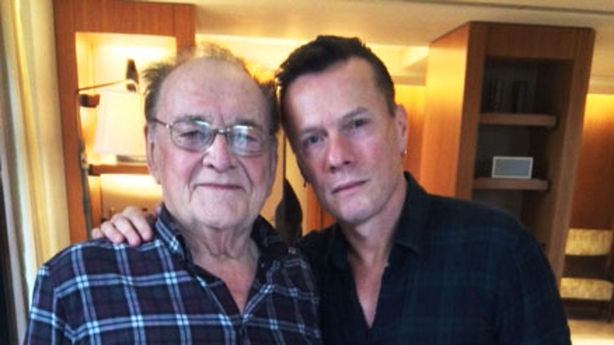 RTÉ Director General Dee Forbes described Larry Gogan as "legendary, cross-general, universally popular. The Golden Hour and the 'Just a Minute Quiz' were national institutions, just like the man himself".
She said he did "an awful lot" for the younger generation coming up through the ranks, and that she herself was "in awe" the first time she met him.
"What you saw with Larry was what you got. He was a true gentleman, he had a word for everybody.
"I think the 2FM family will miss him hugely because he really did an awful lot with the younger generation coming through and always had a word for them.
"He will be sorely missed in the Radio Centre; he'll be sorely missed in RTÉ and he'll be sorely missed by the country".
Fianna Fáil leader Micheál Martin said Larry Gogan was a "rare broadcasting treasure who touched the lives, not only of his family and friends, but the hundreds of thousands of people who welcomed him into their lives and their homes on the radio over the decades."
Irish musicians have also joined the tributes, with Leo Moran of The Saw Doctors telling RTÉ's Ray D'Arcy Show that "Larry was so good to Irish bands".
Mr Moran said that Larry Gogan was the soundtrack to our youth.
On the same programme, the lead singer of Aslan, Christy Dignam said: "I can't give him enough accolades. Larry was by far the King of pop radio. Aslan wouldn't have been heard of with Larry Gogan."