Lisa Smith arrived back to Ireland on a commercial flight from Turkey this morning.
The former member of the Defence Forces and her daughter were escorted off the plane under a pink blanket. 
The Turkish Airlines flight departed Istanbul just before 9am local time. 
Turkish Airlines flight 1975 landed in Dublin Airport just after 10am this morning with Lisa Smith and her daughter on board | https://t.co/wiV4Ae81h1 pic.twitter.com/3lYfXw0Br0

— RTÉ News (@rtenews) December 1, 2019
Ms Smith was accompanied by four officials, one identified himself as "security" and sat in the back row.
The 38-year-old declined to answer on how she was feeling about returning home; "no" was her response. 
Ms Smith kept a low profile throughout the flight and did not leave her seat once.
She spent most of the five-hour journey playing with her daughter and had little interaction with Government officials. 
She went unnoticed by most passengers. 
She wore a headscarf, appeared to be in good spirits and did not look anxious prior to her arrival.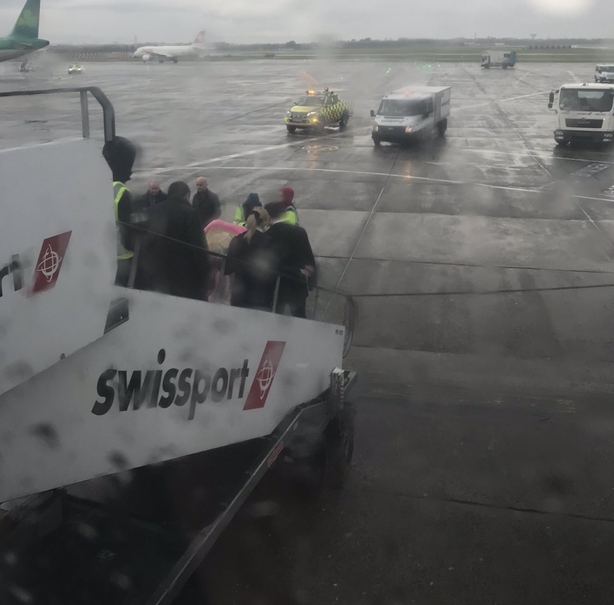 The Co Louth woman travelled to Syria in 2015 to join the so-called Islamic State - she converted to Islam in 2011.
In an interview with RTÉ News earlier this year, she explained why she joined the Caliphate, a self-declared Islamic State that once covered swathes of Iraq and Syria. 
"I run with the crowd", she said. 
At its peak Islamic state militants imposed a brutal rule on millions of people. Members followed sharia law, a radical form of Islam from the eighth century. 
IS soldiers kidnapped, raped, murdered and beheaded those who broke their strict rules. 
Ms Smith has acknowledged the brutality but has denied being a member of IS or to have engaged in active fighting. 
Ms Smith says she never carried weapons for the militants or trained young girls as young as nine in how to use weaponry.
She was met by officers from garda's Security and Intelligence section and the Special Detective Unit who are expected to question her about why she joined IS.
It is expected that she will be asked to provide an account of her time with IS and how she was recruited. 
The investigation is being carried out by Counter-Terrorism International section of the Special Detective Unit.
Ms Smith has now been arrested on suspicion of terrorist offences.