One in eight quarries across Ireland is operating without planning approval, a survey by RTÉ Investigates has found.
The survey of all local authorities found that out of 1,100 active quarries around the country, 151 are deemed to be unauthorised by the planning authorities.
A number of the local authorities are significant customers of the unapproved quarries, purchasing large amounts of stone for construction projects.
Quarries are a cornerstone of industry as they employ thousands of people and between them they produce 36 million tonnes of stone every year.
However, they are a potential environmental hazard when they operate outside the planning regulations.
RTÉ Investigates 'Quarries, Between A Rock And A Hard Place', has found that many quarry operators are able to challenge the system of regulation through appeals in the planning system and through judicial review applications to the High Court.
These challenges can take years to resolve and while those appeals are ongoing, the quarry operators continue blasting and excavating without planning permission. 
They can also cost the local authorities and ultimately the Irish taxpayer hundreds of thousands of euro in legal fees.
We need your consent to load this rte-player contentWe use rte-player to manage extra content that can set cookies on your device and collect data about your activity. Please review their details and accept them to load the content.Manage Preferences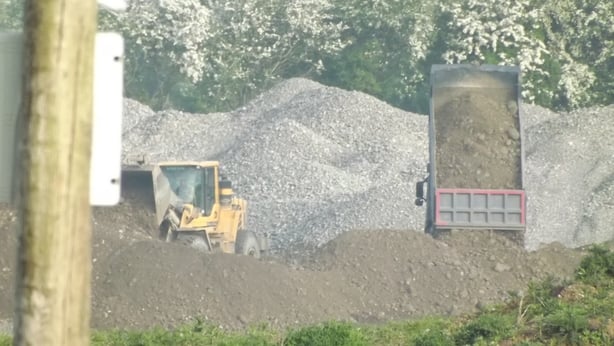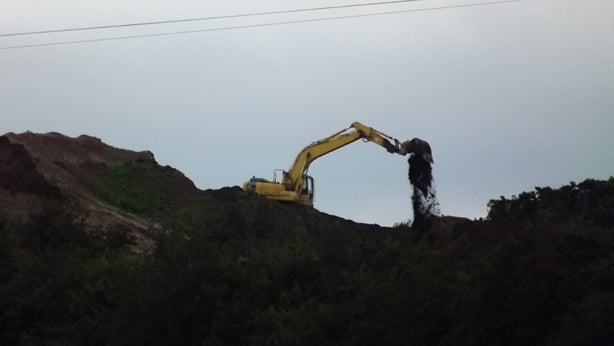 "I think there is a difficulty in enforcing against them and I think some of that is because if a quarry is making a profit, some quarries will continue regardless of what the law is - and yes, that is a problem," said Nuala Butler, a senior counsel with expertise in quarry legislation.
"And if the quarry operator is going to persist, the local authority is going to have to factor in that it is going to cost hundreds of thousands of euro to engage in litigation and the litigation may not be effective."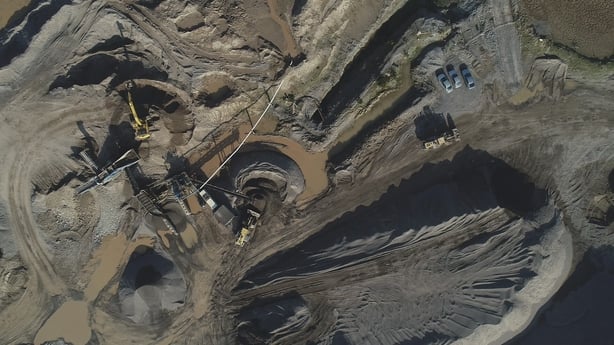 There is also a cultural problem that the industry is struggling to shake off, according to Gabriel Dennison, a former board member of An Bord Pleanála.
"There is a tradition of unauthorised activity," he said. "When the market is strong, it's kind of go for it!"
New laws came into force in 2012, directing every quarry to register and comply with national regulations.
These laws were designed to protect scenic and environmentally sensitive locations. But in one example in Co Donegal, it has not worked out that way.
This operation is taking place at the Foyle estuary, straddling the Donegal/Derry border, where the riverbed is being dredged for sand and gravel in spite of the river being designated a special area of conservation.
The operation is taking place on the shoreline of an island called Islandmore, located just outside Lifford.
The owner of Islandmore, Ernie Lusby, was refused planning permission for this activity 19 years ago.
In 2013, he was served with an injunction, restraining him from dredging the river.
Mr Lusby is appealing the injunction and a refusal of permission by An Bord Pleanála.
"There is only one result from this; they're causing environmental damage."#RTEInvestigates Between a Rock and a Hard Place reveals over 150 unauthorised quarries in Ireland, tonight at 9.35pm. pic.twitter.com/xbdRe251q8

— RTÉ One (@RTEOne) November 27, 2019
These appeals do not alter the fact that the dredging of this river is an unauthorised development, which does not have planning permission.
Mr Lusby is still continuing to operate here, in spite of opposition from the council, the planning appeals board and the serving of an injunction.
He said he was doing nothing wrong and that he was just protecting the island against floods.
"Not to do this would cause more environmental damage to an area of scientific conservation. Conservation is the work we are doing here," he said.
"If we don't take the material that's washed down out, it builds up and changes the direction of the river."
Mr Lusby also believes the dredging of the river bed is helping the fish.
"So what we are actually doing is we are enhancing the river," he said.
Prof Paul Johnston, a hydrologist, is not convinced.
He said: "It's obviously changing the whole regime of the river; you are not only deepening the river, which is going to change the whole velocity regime of the river, you are also moving the substrait - the sand and gravel, which would have formed beds for aquatic life. There are multi various impacts from an operation like this."
The case is described as the most challenging one facing planners on Donegal County Council, who are dealing with a legacy of 30 unauthorised quarries.
The county has a particularly high number of cases because of a local history of quarrying, the geographical spread and limited resources available to the council.
Watch back RTÉ Investigates - 'Quarries, Between A Rock And A Hard Place' on the RTÉ Player here.