The body which oversees the running of Leinster House will discuss the Dáil attendance and expenses rules which have come under increased scrutiny in recent weeks.
A spokesperson has confirmed that the fobbing-in system is on the agenda for a meeting of the Houses of the Oireachtas Commission taking place this morning.
The Commission will discuss concerns raised by one of its members, Social Democrats TD Catherine Murphy, who wrote to Ceann Comnairle Seán Ó Fearghaíl in recent days calling for the system to be stood down.
She said the Commission must examine how the attendance and allowance systems work in other parliaments.
Ms Murphy said a review should be instigated and "in the interim it's essential the system is stood down and a signing in system is put in place".
Recent media reports about the attendance records of TDs "brings the entire system in to disrepute and has a consequence for the Dáil itself and indeed for each deputy," she wrote.
The Kildare North TD said a significant sanction must be put in place against clocking-in while not attending the day's sitting, while "a fully vouched system should be introduced".
Ms Murphy also raised concerns about some deputies being entitled to the overnight allowance when they live close enough to Dublin so as not to need overnight accommodation.
The rules require TDs to clock in for 120 days of the year in order to claim the full Travel and Accommodation Allowance (TAA) which costs the public purse around €2.9 million a year. For every day missed, the overall expenses payment is reduced by 1%.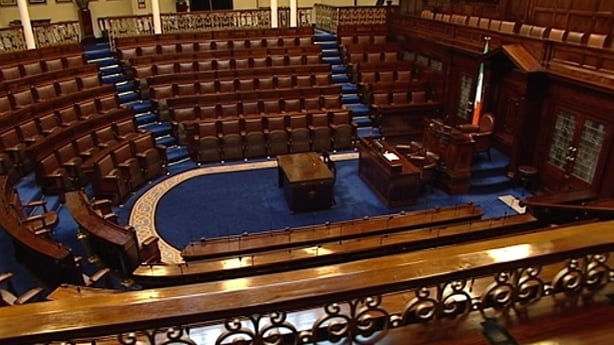 ---
Read more
35 years on, TDs' expenses under the spotlight again
---
Ms Murphy said: "If there are others sanctions, other than not meeting the 120-day minimum limit, built in to the fobbing in system, they need to be communicated to members".
In recent weeks, the Irish Independent newspaper reported that the Kerry Independent TD Michael Healy-Rae was absent for an address by the President of the European Commission, Jean-Claude Juncker, on 21 June 2018, even though his ID Tag registered him as present in the Dáil that day.
Mr Healy-Rae has argued that he fobbed in to the Dáil at around 7am and left around an hour later to drive home to Sneem, Co Kerry, to attend a burial at around 12.30pm.
There have also been reports that Fine Gael TD Dara Murphy was signed in as present in the Dáil on days that he was tweeting updates from meetings in different European countries as part of his work as Director of Elections for the European People's Party (EPP).
He has said he is fully compliant with the Dáil rules and there may have been days when he signed in at the Dáil before leaving the country for meetings elsewhere. He said it is quicker to get from the Dáil to Brussels than to Cork.
In recent weeks, RTÉ Investigates compiled data showing how some TDs regularly record their attendance at Leinster House on days when they do not take part in any vote.
Ms Murphy is calling for Mr Healy-Rae and Mr Murphy to be called before the Committee on Procedures and Privileges.