All nine former ministers who have held responsibility for the National Drugs Strategy have called on Taoiseach Leo Varadkar to intervene to restore confidence in its partnership framework and funding to its neighbourhood activities.
They launched their appeal at an event in central Dublin organised by the Citywide Drugs Campaign.
Having steered the National Drugs Strategy over a 20-year period between 1996 and 2016, they expressed concern and frustration at the failure of the Government to honour its commitments to work in partnership with community groups.
They say the longstanding partnership approach underpinning the strategy is in danger of collapse.
Among those who have signed the appeal are former Labour and Fianna Fáil TDs Pat Rabbitte, Chris Flood, Eoin Ryan, Noel Ahern, and Pat Carey, along with serving TDs John Curran and Róisín Shortall.
Mr Rabbitte accused the Government of allowing decision-making authority to be taken from the partnership structures at national, regional and local level and centralised again in the Department of Health and the Health Service Executive, which are not consulting local communities.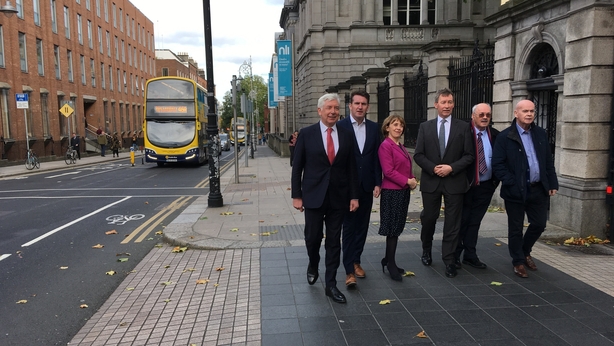 Mr Carey called on Mr Varadkar to put a senior representative of his own department on the strategy's National Oversight Committee to ensure the partnership structures are reinvigorated.
He also called for the immediate reversal of austerity-era cuts to the budgets of local area drugs task forces.
Speaking on RTÉ's Morning Ireland, Mr Carey described drugs as a "rapidly increasing blight" and present in every town around the country.
He added: "The whole approach has changed direction, we believe, for the worse.
"There's a huge centralisation of decision-making in the HSE and the Department of Health that has excluded other departments of State and the community sector, which we think is a very retrograde and disappointing step."
The co-leader of the Social Democrats said the drugs strategy "seems to be on the point of effective collapse".
Speaking on RTÉ's Today with Sean O'Rourke, Róisín Shortall said there was a lack of priority, funding and support for local communities.
In response, a spokesman for Mr Varadkar said: "None of the former drugs strategy ministers have been in touch with the Taoiseach directly about their concerns, but he will certainly consider what they have to say and respond to it."
Minister of State for the National Drugs Strategy Catherine Byrne said she is "committed to implementing an integrated public health response to substance misuse, and to supporting individuals, families and communities who are struggling with addiction and need intervention and support".
In a statement Ms Byrne said: "Working in partnership with statutory, community and voluntary sectors is central to this response, and I am confident the new strategic initiatives will have a positive impact and make a difference to people's lives as they journey to recovery".