The ESB has announced the introduction of pricing for its public electric vehicle charging network for the first time.
The new charges will come into effect from 18 November for the use of its faster 50 kilowatt on-street chargers.
It will cost electric car drivers more than three times as much to use these public chargers than to charge up using cheap night-time electricity at home.
It is nine years since the ESB starting rolling out a public network of electric car charging points and there are now about 1,000 plug-in points around the country.
Electric cars drivers have been able to use the public system for free, but a new pricing system for fast chargers comes into effect next month and will give drivers a choice of two payment plans.
They can either opt to pay 33c per kilowatt hour on a simple pay-as-you go basis, or they can sign up to pay a €5 per month membership fee, which will entitle them to a reduced charge of 29c per unit used.
Both options will work out significantly more expensive than charging an electric car at home.
That can be as little as 10c per kilowatt hour using night-rate electricity, leaving electric cars 71% cheaper to run than equivalent diesel engines, according to the ESB.
We need your consent to load this rte-player contentWe use rte-player to manage extra content that can set cookies on your device and collect data about your activity. Please review their details and accept them to load the content.Manage Preferences
However, the ESB has also worked out that its new charging system could swallow up more than 60% of those potential savings for drivers who do not charge at home and resort instead to the public fast charger network.
Although plug-in electric vehicles have accounted for less than 3% of new car sales so far this year their numbers are increasing rapidly.
There are now about 12,000 electric vehicles on Irish roads, representing a 55% increase in the number of electric vehicles in the past ten-and-a-half months alone.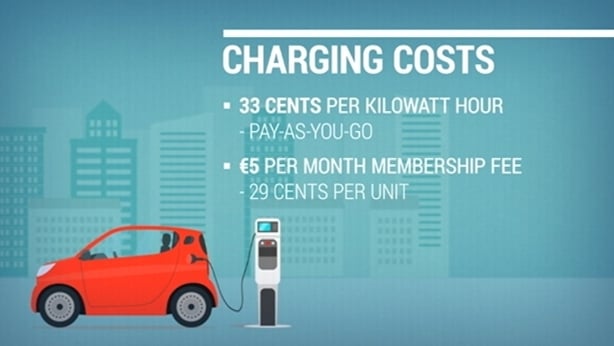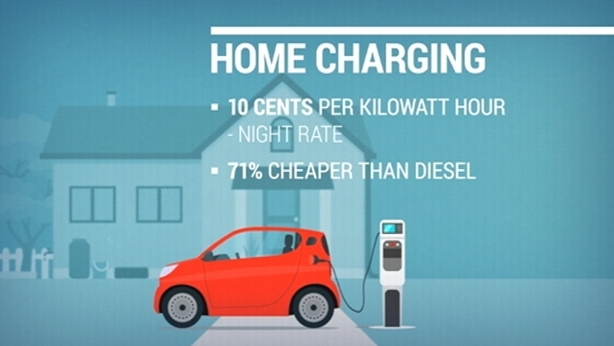 In addition, a survey of drivers published earlier this week by the AA found almost one-in-ten motorists intend making a switch to electric vehicles when next changing their cars.
A decision to implement pricing for public charging was considered an essential step to enable the further development of public charging network.
ESB is rolling out a €20m investment programme in the network to meet the growing demand for on-street charging facilities and ensure a reliable, accessible, country-wide public charging network.
In a survey, about a third of electric car users indicated to ESB that they would be less likely to use the public charging network if charges were introduced.
In addition, 80% indicated that a pay-as-you-go charging system would be their preferred system if prices were introduced.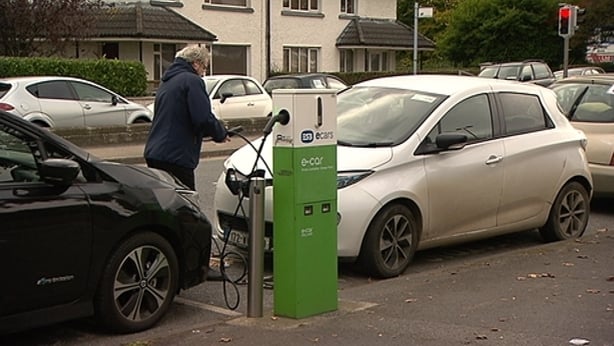 The new pricing is to start for existing Fast Public Chargers (50 kW) from next month.
This will be followed by the introduction of pricing for High Power Chargers (150 kW) once the first high power hubs are installed in early 2020.
These fees will not apply to the network in Northern Ireland at this time.
The standard 22kW AC charging network will continue to be free to use while it is upgraded over the coming months.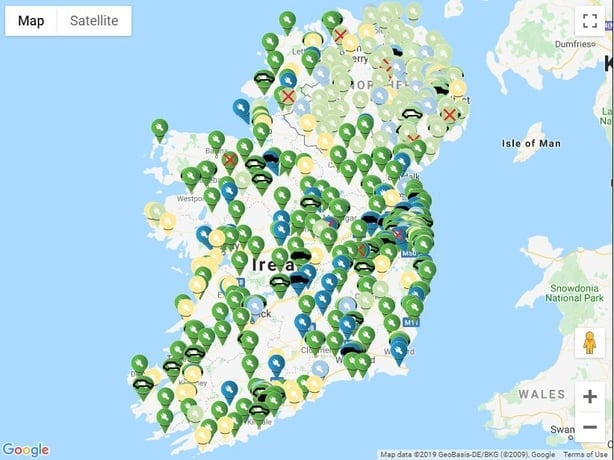 Head of eMobility at ESB Niall Hogan said charging motorists for the use of the ESB's fast public chargers will help support investment in more public charging facilites.
From 18 November motorists will have to pay to use the chargers.
Mr Hogan told RTÉ's Morning Ireland there are around 70 Electric Vehicle (EV) charging stations around the country. He added that the ESB is to invest €20m to expand that network and add over 50 hubs.
These will include a combination of multi-vehicle charging hubs.
The ESB is assessing suitable sites on motorways and the national road network to deliver more than 50 high power charging hubs on motorway and national road sites.
These hubs will be able to charge between two and eight vehicles simultaneously and can provide up to 100km of electric driving range in as little as six minutes.
Final sites will be based on a range of factors, including current charge point usage, traffic volume, accessibility, amenities and grid capacity.
Half the €20m investment the ESB has embarked on is financed by the Government's Climate Action Fund with the remainder funded by the ESB.
---
ESB has summarised the savings for electric vehicle drivers as follows:
Through the introductory offer, the average electric vehicle driver could save up to 35% on driving costs compared with a diesel driver over 100km.
For the Pay as You Go customer, the savings for an average electric vehicle driver could be as much as 27%.
Typical EV driver who charge most of the time at home (85% of charging) and the remaining 15% of charging through public fast chargers, could save up to 71% compared with a diesel driver.