More than 64,000 students received the results of their Junior Certificate exams at schools throughout the country today.
This year's results have been released later in the year than previously, and for the first time, students are learning the outcome on a Friday instead of a Wednesday.
Rising demographics mean the numbers sitting the exam have risen by almost 3% compared to last year.
As the new Junior Cycle Framework continues to be phased in, June was the last time that Junior Cert students were examined in what are now redundant curriculums in Irish, French, German, Spanish, Italian, and CSPE (Civic, Social, and Political Education).
They have all been replaced by new syllabi or subject 'specifications'.
Under this phasing-in process, this year saw students examined for the first time in new Science, and Business Studies syllabi.
English was the first subject to be revised under the new programme, and this year's cohort were the third to be examined in that subject's new specification.
Students are today receiving the traditional alphabetical grades (A's, B's, C's etc) in the majority of subjects.
However, in the new subjects - English, Science, and Business Studies – grades are in a new format.
The top mark - between 90% and 100% - now attracts a 'Distinction'. The second highest mark - between 75% and 90% - is a 'Higher Merit'.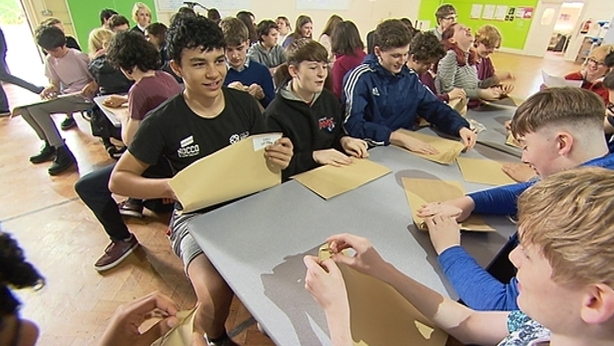 As part of the new Junior Cycle Framework, the results students receive today will be combined with the outcomes of school-based assessments and projects into an overall 'Junior Cycle Profile of Achievement'.
While the results were distributed to students in their schools today, they are also available online.