Hundreds of people turned out at a rally in support of Kevin Lunney, the Quinn Director who was abducted, beaten and left on the side of the road in Co Cavan earlier this week.
The staff at Quinn Industrial Holdings have called for an end to the campaign of intimidation and attacks and have pleaded with anyone who has information to come forward.
Among those in attendance today were Kevin Lunney's brother Tony and his sister Liz.
The DUP Leader Arlene Foster also attended.
Fianna Fáil's Brendan Smith, the Chairman of Cavan County Council, Councillor Shane P O'Reilly, and former Independent MEP Marian Harkin were also in attendance.
A petition of 800 signatures was handed over to the Lunney family. It was signed by the workers of Quinn Industrial Holdings.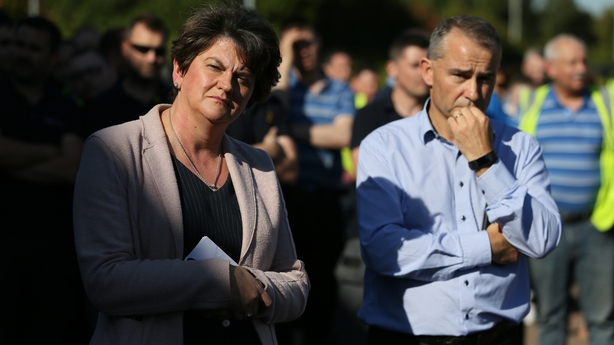 Mr Lunney's sister-in-law Margaret Lunney said she was comforted by the number of people in the community who turned out in support of him.
"Words could not describe what has happened, we are all very upset. He is the kindest, nicest fella you could ever meet. He is loyal to everybody and such a gentleman. He's head of the family and the one who brings us altogether," she said.
His other sister-in-law Geraldine Lunney expressed her shock at the barbarity of the attack.
"How anyone could do something like that to someone - especially someone like Kevin? It is beyond belief. He is the kindest person you could ever meet," she said.
In a statement read out by Stephen Kelly, the CEO of Manufacturing Northern Ireland, the staff said their thoughts and prayers were with Kevin Lunney and his family.
They said they fully support the directors and senior management at the company, emphasising that those who are perpetrating these acts "do not represent us or our views and we plead with them to stop their campaign".
They have pleaded with anyone who has information to come forward and assist in bringing those responsible to justice.
They have called on politicians, the PSNI and gardaí to allocate whatever resources are needed to bring an end to "these brutal attacks so we can feel safe in our place of work and in our local communities".
Following the rally, Fr Gerry Comisky, Parish Priest of Drumlane, Co Cavan said he had known Mr Lunney for 25 years and always found him to be a "man of great personal integrity, hugely committed to family values, to his community".
Speaking on RTÉ Drivetime's, Fr Comisky said: "I spent a while with him the night before last.
"He recounted all of the various aspects of what had happened and of course he spoke of the mental anguish of never seeing Bronagh or the children again."
Fr Comisky reiterated how appalled he was at this "vile and a callous act".
"At points he thought he might not come out of the whole thing alive, as twilight came down upon him on a cold country road, as darkness came down and as he was fading into unconsciousness, without a doubt he had fears that he might not live through it," Fr Comisky
Meanwhile, gardaí say they have carried out a number of searches in Cavan in relation to the incident, which they said "are ongoing at this time".
Speaking in Cavan, Deputy Commissioner John Twomey said: "The local community and all normal people in a democratic society, and An Garda Síochána, are outraged at this savage and horrific attack on a businessman going about his normal business.
"An Garda Síochána will make every effort to bring these violent criminals to justice, but we need the support of the local community in order to do so."
Gardaí and the PSNI are appealing for anybody who may have seen a black saloon Audi being driven in the Derrylin, Fermanagh / Swanlinbar, Killeshandra Cavan areas to make contact.