Processing has resumed at one of the meat plants that has been at the centre of a month-long blockade.
Slaney Meats near Bunclody, Co Wexford reopened and it is believed several hundred cattle were delivered to the plant for slaughter.
Some staff have returned to work and processing is under way.
It is the first plant to be re-opened since the blockades began at the end of August.
Protesters stood down their action in the last 24 hours and abandoned signs used by protests have been left outside the facility.
A blockade of Dawn Meats in Slane, Co Meath was also lifted.
Elsewhere, a meat processing firm affected by the ongoing blockade of its premises has issued an appeal to protesters to stand down.
Liffey Meats, which has plants in counties Cavan, Galway and Carlow, said the blockades are having a "hugely negative impact".
The company claims it is "inundated" with calls from farmers who want to sell their cattle.
It said: "We would appeal to protesters to lift the blockades in the interest of all concerned.
"We have over 500 employees anxiously waiting to return to work, many of our 10,000 farmer suppliers who want to sell their cattle, and over 400 customers throughout Europe and Ireland who are waiting on their delivery of Irish beef."
The statement went on to say that many local businesses and suppliers are suffering as a result of the blockades.
It said Liffey Meats has been "inundated with calls" from farmers who want to sell their cattle, and from international customers looking for deliveries.
"It is extremely disappointing that despite agreements reached in good faith with all farming organisations last weekend, we have seen no evidence that blockades at our plants are set to cease."
Meanwhile, Minister for Agriculture Michael Creed has told beef protesters that their voice has been heard and asked them to step away from the factory gates.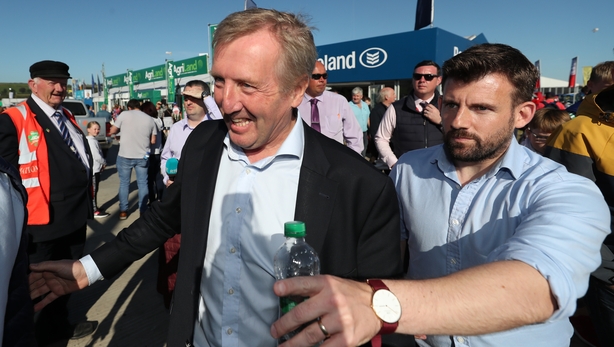 Mr Creed was speaking at the National Ploughing Championships in Co Carlow amid reports that many of the protests outside beef processing plants are being wound down, although some producers have said they intend to maintain their presence.
"Their voice has been heard loud and clear and we have responded to that, and I would say to listen to the farm organisations, all seven that negotiated on their behalf," Mr Creed said in a message to the various beef movements and individual farmers who have been campaigning for better beef prices.
He also welcomed President Michael D Higgins's intervention earlier this week when the president called for "transparency" on beef prices and said the deal finalised on Sunday was worth building on.
Mr Creed said he had "reached out" and met, either directly or indirectly, with people on most of the picket lines.
He said an "all-island agri-food economy is really, really important to us," as is the continuation of that economy. The minister said "we live or die" by international trade in this country, and it is important to maintain our position.
"It's cut-throat and there are many who would willingly knock us off our perch."
Speaking at @NPAIE @creedcnw appeals "earnestly" to protestors to stand down from blockades @rtenews pic.twitter.com/dLa5dp0PL0

— Fran McNulty (@franmcnulty) September 19, 2019
---
Read more:
---
A group representing more than 4,500 farmers said it is backing the beef talks agreement and wants blockades to end.
Irish Hereford Prime is a beef producer organisation and said the agreement reached is positive for its farmers, adding "the time is now right to move forward".
The group said it is becoming "very worried" that Ireland's reputation as a supplier will be lost. It said it wants to see farmers get back to serving customers, before "irreparable damage is done".
Fianna Fáil leader Micheál Martin called on the Government to demand more money from the EU for farmers hit by falling beef prices.
He accused the Government and the beef industry of being slow in dealing with farmers' concerns "and an emerging and growing crisis that clearly has been compounded by Brexit...and by other factors".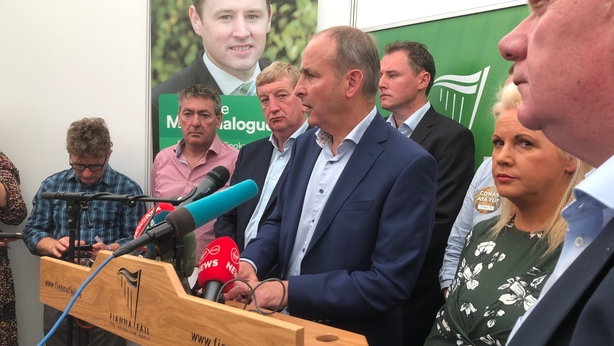 He said there are too many conditions attached to the €100 million "market disturbance fund" announced in May.
"We're calling on the Government to urgently engage with the EU commission with a view to getting further funding for our beef farmers because of the very large fall in prices since May," he said at the National Ploughing Championships.
Protesters at the ABP meat plant in Ferrybank, Co Waterford, voted to lift a blockade of the facility, however some farmers have remained outside the gates.
ABP was the first meat processing plant to be locked down by protesters on 31 July.
A number of protesters who voted to end the blockade said they feel discussion and dialogue is now the way forward rather than continuing to blockade the plant.
Meetings to decide on the continuation of blockades are taking place around the country.
Close to 70 people met outside ABP last night and following a tense meeting, they decided to stand down their blockade.
It is understood some people are disputing the legitimacy of the vote.
Other protests though are standing firm with those involved insisting they will not leave the gates until the price they are paid for their cattle improves.
In Cahir, Co Tipperary, a meeting of protesters broke up last night after a small number indicated they would continue to blockade the plant regardless of any vote to stand it down.
The majority of those present walked away and vowed not to have any role in blockading the plant.
It and other protest locations have struggled with numbers in recent days.
Additional reporting Conor Kane