Protesters have ended a blockade of the Dawn Meats plant in Slane in Co Meath.
Protesters at the facility have stood down the blockade and several containers of finished beef left the plant in the last 24 hours.
It comes as a number of groups of protesters who have been blockading plants are meeting this evening to decide whether or not to continue blockades.
Protesters had said there had been declining numbers on the gate and maintaining the blockade was difficult. 
The Independent Farmers of Ireland said: "Our faith now lies with Minister Creed and the even handed behaviour of the task force proposed in Sunday's agreement."
A spokesperson for Dawn Meats confirmed that the blockade was no longer in place.
In a statement, IFI said the decision to stand down was in the best interests of the beef industry, saying it hoped it was the first step in ratifying the agreement reached last weekend.
It said while the agreement did not provide all the answers, it was the first step to root and branch reform of the beef industry, and called it a "solid foundation that can lead to positive changes".
It said it hoped the move by those protesting at Slane would be viewed as positive by their fellow protesters around the country.
"There is much work still to be done but it appears to us that the peaceful pickets have achieved all they can, and it is now time to enter the next stage of this process. Our energy now needs to be focused on dialogue and mutual advancement not aggression and division," it concluded.
This is the first plant to have a blockade lifted in this manner. There are reports of reduced numbers on some other pickets.
It comes as the Chief Executive of Bord Bia has said the ongoing beef dispute was damaging Irish beef in the market.
In an interview with RTÉ News, Tara McCarthy said that planned visits by international buyers had been cancelled and postponed as a result of the ongoing blockades at meat plants.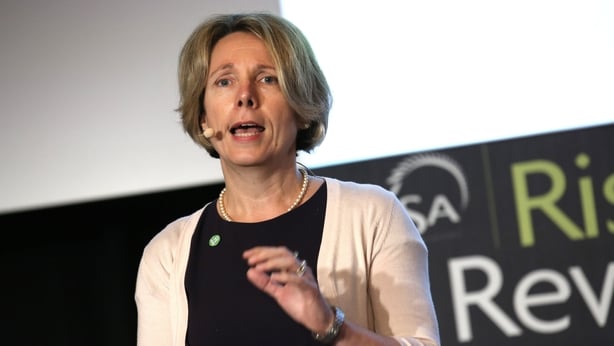 She said customers who had been loyal to Ireland had been told that "without a doubt" there was a supply issue, and that Bord Bia had been transparent with customers.
"There is nothing our customers like less than empty shelves, and they are reflecting on their options," she said.
Ms McCarthy went on to say that Bord Bia was aware of some international buyers who had been looking at other options, and that the situation was not good in the long run.
She said there was a risk that Ireland can be substituted, and it would then have to rebuild the brand.
Ms McCarthy added that Ireland needs to be a "regular and solid" supplier of beef, and not "someone who can't be depended on".
Earlier, legal threats were issued against the Beef Plan Movement.
Last night, the directors of the group, which has been campaigning for better cattle prices, received legal correspondence from one meat processing company threatening to pursue them for costs.
In a letter seen by RTÉ News, one director, Hugh Doyle, was informed by Dawn Meats that "perishable meat products" valued at €500,000 needed to be dispatched from its plant in Slane.
The company said if the product was not allowed leave the site it would be condemned and destroyed, and it threatened to hold Mr Doyle personally liable for any losses suffered as a result.
Dawn Meats separately also confirmed it has contacted gardaí about protesters wearing masks outside some of its facilities, describing it as a "sinister development".
There have been reports of people concealing their faces at several locations over recent weeks.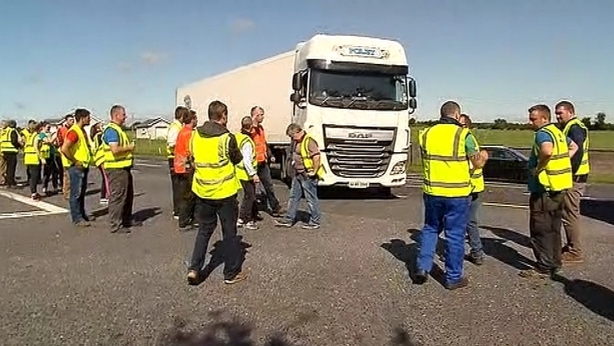 Meanwhile, the Restaurants Association of Ireland is calling on protesters to stand down their action in the national interest and say restaurants are facing meat shortages due to the dispute.
It said that if the blockades are not lifted soon, restaurants will not have beef on the menu from next week.
The association said there was currently "zero supply" from meat distributors. As protests continue around the country, the meat processing industry is still at a virtual standstill.
CEO Adrian Cummins said: "About 50% of restaurants from next week won't have a supply of beef for their menu.
"We're appealing to protesters to step away from the picket lines and sign up to the agreement that was agreed by seven farm organisations over last weekend and let the deal work its way through."
Speaking on RTE's Morning Ireland, Mr Cummings said: "if the meat industry don't live up their agreement well then they have shown to the Irish people, who are fully supportive of the farmers, and we are fully supportive of the farmers' cause on this, that if these picket lines aren't lifted we are in serious, serious problems next week and down into the future."
RAI President Mark McGowan said restaurants are at risk of losing business if they do not have a good farm option on their menus.
Speaking on RTÉ's Today with Sean O'Rourke, Mr McGowan, who is also the Managing Director of the Scholars Townhouse Hotel in Drogheda, said that while beef is still on the menu, they will have to look at alternatives from Monday.
On the same programme, IFA National Livestock Chairman Angus Woods said there were a number of farmers in severe financial difficulty who urgently need to move stock.
Mr Woods said they were reaching deeper and deeper into their overdrafts to keep their farms going.
"The price of cattle is under severe difficulty right across Europe. It's a European wide issue now, and we need to get farms able to move stock and get the system back up," he said.
The Minister for Business, Enterprise and Innovation has echoed the RAI's call to end the blockades.
Speaking at the National Ploughing Championships in Co Carlow, Heather Humphreys said those still protesting need to look at the deal again. She added that there is a real risk of contracts being lost.
Last night, Minister for Agriculture Michael Creed warned the future of the beef sector is "hanging in the balance."
Meanwhile, it has emerged that the number of cattle killed in Ireland last week was 11,675, down 70% on the same week last year, highlighting the severe impact the dispute is having on beef processing.
Additional reporting Joe Mag Raollaigh