Brazil's President, Jair Bolsonaro, has recently come under international pressure for his comments about Brazil's mismanagement of wildfires that are burning the Amazon, with French President Emmanuel Macron saying the fires are an international crisis.
Taoiseach Leo Varadkar has also come out strongly on the issue, saying Ireland will not vote for the EU-Mercosur Free Trade Agreement if Brazil does not honour its environmental commitments.
This is not the first time Mr Bolsonaro has come under scrutiny for his divisive comments.
The 64-year-old won Brazil's presidential election, riding a wave of frustration over corruption and crime that brought a dramatic swing to the right in the world's fourth-largest democracy.
The former army captain ran on a platform of liberalising gun laws, while cracking down on crime and corruption.
A member of the relatively small, conservative Social Liberal Party, he also has the backing of millions of evangelical Christians who praise his anti-abortion stance.
In 2016, he said during an interview with Brazilian TV presenter Luciana Gimenez that he would not employ a woman "with the same salary as a man" because women get pregnant.
He has said he was misinterpreted and that he was only voicing the rationale of employers.
Mr Bolsonaro also told Congresswoman Maria do Rosario, from the left-wing Workers Party: "I wouldn't rape you because you don't deserve it."
These comments led to demonstrations against him online and on the streets. Tens of thousands of women took to the streets to protest against him.
The words 'Ele Não' (Not Him) were seen on stickers and banners and were shouted by the crowds.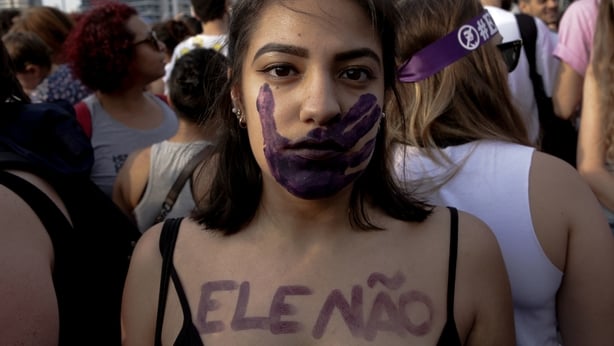 He has also caused divisions for his praise of Brazil's 1964-1985 military dictatorship, which saw the widespread use of torture.
Some of his opinions have landed him in court cases. He was accused of racism after remarks he made about descendants of African slaves in 2017. In September 2018, the Supreme Court cleared him of these charges.
Supporters of Mr Bolsonaro, nicknamed "bolsominions", had also taken to the streets to defend him, saying they are fed up with political corruption and rising crime.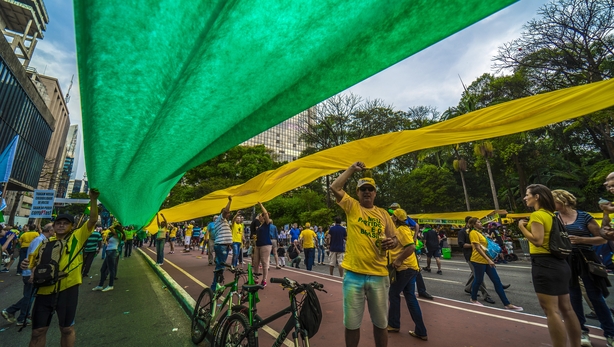 Victim of stabbing
Mr Bolsonaro was seriously injured in the run up to the presidential election when he was attacked with a knife while campaigning on 6 September 2018.
His son, Flavio Bolsonaro, initially described his wounds as superficial, but later tweeted that his father suffered injuries to the liver, lung and intestine and "lost a lot of blood".
He was discharged days later, with his poll numbers increasing while he was in hospital.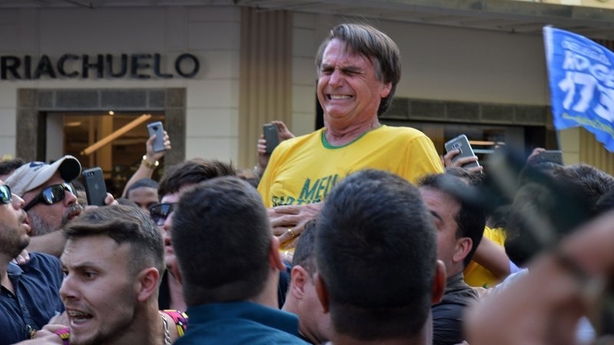 Amazon wildfires
Mr Bolsonaro said his government lacks the resources to fight a record number of wildfires burning in the Amazon rainforest, just weeks after telling donors he did not need their money.
"The Amazon is bigger than Europe, how will you fight criminal fires in such an area?" he asked reporters as he left the presidential residence.
"We do not have the resources for that."
Mr Bolsonaro has also said Non-Governmental Organisations could be behind the record number of wildfires this year, claiming that the NGOs were setting wildfires in the Amazon to damage his government's image after he cut their funding.
When questioned about those comments, Mr Bolsonaro said that he could not prove those comments but said "they are the most likely suspects".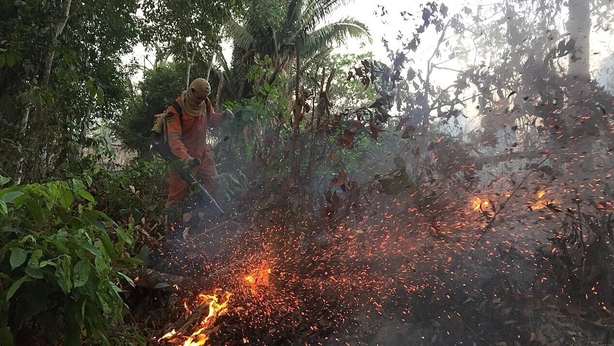 Official figures show nearly 73,000 forest fires were recorded in Brazil in the first eight months of the year - the highest number for any year since 2013. 
That compares with 39,759 in the same period of 2018, according to the embattled National Institute for Space Research, which has been in Mr Bolsonaro's cross-hairs since it released data showing a surge in deforestation in recent months.