In a move unprecedented in modern Irish Catholic Church history, Pope Francis has appointed the Archbishop of Armagh, Eamon Martin, as Apostolic Administrator of the neighbouring diocese of Dromore.
He replaces Bishop Philip Boyce who was brought out of retirement just over a year ago to temporarily replace Bishop John McAreavey following his resignation over his response to the paedophile priest, Fr Malachy Finegan, including his decision to celebrate his funeral Mass.
Archbishop Martin's appointment to Dromore is pending the pope's appointment of a new bishop.
While Apostolic Administrators are employed from time to time here, it is unknown in modern times for two to be appointed back-to-back.
The most recent precedent was in 1731, when the then Archbishop of Armagh, Hugh McMahon was appointed Apostolic Administrator of Dromore.
He retained the role until his death in 1737 and his successor in Armagh, Bernard McMahon, remained on as Administrator until his death in 1747.
New Direction
In the church statement announcing today's move, there's a hint of a new direction being taken by Pope Francis in light of the landmark child abuse summit he called in the Vatican last February.
The statement describes Dr Martin - who represented the Church here at the summit - as the "Metropolitan Archbishop of the ecclesiastical province of Armagh", a term rarely used in his own public pronouncements.
Church law states that Metropolitans exercise vigilance over the dioceses in his province "so that the faith and ecclesiastical discipline are observed carefully and to inform the Roman Pontiff of abuses" (Canon 435).
Dromore is in the Province of Armagh.
During February's summit, Chicago's Cardinal Blaise Cupich proposed that metropolitan bishops should be tasked with conducting investigations into abuse allegations in the dioceses in their respective provinces - with the help of lay experts.
The cardinal, who was one of the four bishops who organised the conference on the pope's behalf, said the metropolitan bishop would then forward the results of his investigation to the Vatican.
Imminent visit
In a letter issued today to Dromore's 90,000 Catholics, Archbishop Martin announced his intention to pay his first visit to the diocese's cathedral in Newry, Co Down in three days' time.
He will officiate at Holy Thursday Mass which is attended by, among others,  the priests of the dioceses.
Dr Martin, who is also Primate of All Ireland, said he will also officiate at next Sunday's morning Mass at the cathedral, marking a highly unusual departure from the tradition of the Primate saying Mass in the archdiocese of Armagh.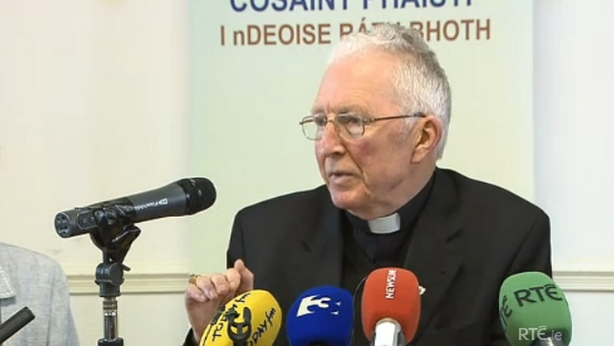 In a statement welcoming today's Vatican announcement, 79-year-old Bishop Boyce said that while he looked forward "to (resuming) my retirement", he remained available to pastorally support Archbishop Martin, and the diocese of Dromore, in any way that he can.
He also thanked the people and clergy of the diocese "for their prayers, goodwill, encouragement and unstinting support over the last year".
In today's letter to the faithful of Dromore, Dr Martin said he aimed to provide as much stability as possible for Dromore as it awaits Pope Francis' decision on the appointment of a successor to Bishop McAreavey.
The archbishop said one of his first priorities in Dromore will be to receive a full briefing on safeguarding issues and to be updated on any statutory investigations into these matters. 
"I shall, of course, fully cooperate with developments in this regard," he said.
As well as being forced to apologise for his decision to celebrate Fr Finegan's funeral Mass in 2002, Bishop McAreavey was also criticised for concelebrating Mass with him, despite knowing he was a paedophile when Finegan showed up unexpectedly to participate in celebrations of the 150th anniversary of Hilltown-Clonduff parish church in rural South Down.
There, as parish priest, Finegan had sexually abused at least one local boy, Sean Faloon who publicly called for McAreavey's resignation days before he stepped down in February 2018.
At the time of the concelebration, Finegan had agreed not to say Mass in public after the diocese had been forced to make private legal settlements with some of his victims.
Finegan is alleged to have sexually abused 13 boys. He was a teacher at St Colman's College in Newry - where many students were boarders - from 1967 to 1976.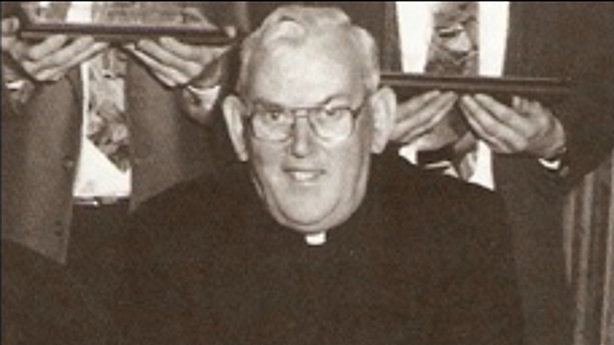 He was promoted to the presidency of what remains the top diocesan school where he ruled, often violently according to some past pupils, for eleven years before being transferred to Hilltown-Clonduff as parish priest.
He died in 2002, three years after Bishop McAreavey's appointment as bishop.
Clem Leneghan, the youngest brother of former President Mary McAleese has said Finegan abused him physically and psychologically.
Following Bishop McAreavey's resignation, he called for an independent inquiry into allegations of sexual abuse at the college.
Local Sinn Féin Assembly member Conor Murphy has said he was savagely beaten by the priest and that he had also attempted to sexually groom him.
Controversial appointment
Last year, residents of Bishop Philip Boyce's former diocese of Raphoe criticised Pope Francis' decision to take him out of retirement to run the Dromore dioceses pending the appointment of a successor to Bishop McAreavey.
As the New York Times reported on the eve of the pope's visit here last August, Bishop Boyce had been heavily criticised for his refusal to defrock the notorious - and recently deceased  - Father Eugene Greene when the priest was under his management in the late 1990s.
Greene served ten years in prison for raping and molesting 26 boys between 1965 and 1982.
"Residents said Francis' appointment of Bishop Boyce demonstrated that the church's record of shuffling along abusers and those who protected them remained unbroken," the NYT reported.
The paper quoted the church-established National Board for Safeguarding Children in the Catholic Church in Ireland's (NBSCCCI's) 2011 finding that Bishop Boyce "was keen to protect the family of the convicted priest from further trauma by not initiating laicization."
At the time, Bishop Boyce did not respond to the NYT's requests for comment.
In today's letter to the faithful of Dromore, Archbishop Martin thanked Bishop Boyce "for so willingly giving up a full year of his retirement to step in at short notice and accept governance responsibility for the Diocese of Dromore".
The diocese of Raphoe, where Bishop Boyce served from 1995 until 2017, is also in the ecclesiastical Province of Armagh. 
Speaking to RTÉ's Morning Ireland last August, the current bishop there, Alan McGuckian said the 2011 audit by the NBSCCCI had "commended Bishop Boyce for the work he had done".
"It said he was slow getting into the job but he had done an excellent job and was very, very committed to the safeguarding of children. And while there was criticism of him, there was never any suggestion anything he ever did left children vulnerable.