Taoiseach Leo Varadkar has said that it was in Ireland's interests to protect the European Union single market and there was no better alternative than the backstop.
He was speaking at a news conference after talks with French President Emmanuel Macron in Paris.
Mr Varadkar said that any request from the UK for an extension to the Brexit process would have to have a purpose and one would have conditions attached.
He said that such a request requires unanimity from the rest of the EU and "that is not guaranteed".
Mr Varadkar said that a no-deal scenario "puts us in a difficult situation" as "we have to reconcile the Good Friday Agreement and obligations to protect the single market".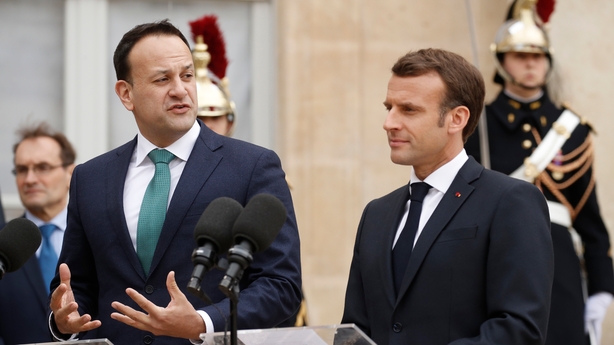 Earlier, the Taoiseach said that European leaders need to be open to any credible proposals that British Prime Minister Theresa May puts forward to break the Brexit deadlock at an emergency summit next week.
Speaking as he arrived for the meeting with Mr Macron, Mr Varadkar said that if the UK changes its red lines, changes could be made to the declaration on a future relationship.
He said there was still time for Mrs May to present the European Council with credible proposals.
Mr Varadkar also said that while the UK is consumed with Brexit, Ireland, France and the EU should not be.
"There is still time for the prime minister to come to the European Council with proposals, proposals that are credible and have a clear pathway to success," he said.
EU must be open to credible UK proposals, says Taoiseach | https://t.co/lqSjDTWEN5 pic.twitter.com/KZppXR7Dht

— RTÉ News (@rtenews) April 2, 2019
---
Read more:
Latest Brexit headlines
May to seek further Brexit extension and offers to meet Jeremy Corbyn
---
Je suis heureux d'accueillir @LeoVaradkar pour exprimer une nouvelle fois l'unité et la solidarité avec l'Irlande des 27 pays de l'Union européenne dans le cadre du Brexit. Nous n'abandonnerons jamais l'Irlande et les Irlandais. La solidarité est le sens même du projet européen.

— Emmanuel Macron (@EmmanuelMacron) April 2, 2019
"We need to be open to any proposals that she may bring forward to us," adding that as things stand the UK is heading towards a no-deal exit.
In his comments prior to the meeting, Mr Macron said France would never let Ireland down and said he was aware of the difficulties a no-deal Brexit would mean for Ireland.
They were speaking before Mrs May announced that she would seek a further Brexit extension and would be willing to meet Labour leader Jeremy Corbyn to find a way forward to "break the logjam" in the House of Commons.
Mr Vardakar will host German Chancellor Angela Merkel in Dublin on Thursday.
Irish officials are keen to stress that the two meetings this week have a broader agenda than Brexit, and even when Brexit is on the agenda, it will be about more than just the Irish border.