Volodymyr Zelensky's bid for the presidency is no laughing matter. The comedian has just won the most votes in the first round of Ukraine's presidential elections.
Taking April Fools' Day in his stride, he warned last night: "1 April comes within three hours. Let's laugh, but then be done with it. Friends, this is not a joke."
He is someone that was originally dismissed as a joke, but Ukraine's current President doesn't find this one bit funny, labelling the result as a "harsh lesson".
The name Volodymyr Zelensky is not commonly known outside of Ukraine's borders, never mind the country's political sphere. So, who is he?
He was born to Jewish parents in the industrial city of Kryvyi Rih in south-eastern Ukraine.
The son of a university professor and engineer, Mr Zelensky graduated from the Kryvyi department of the Kiev National Economic University, where he majored in law.
However, the funny man never practiced moving his career into the world of entertainment and laughter.
The native of the gritty steel and mining city has been touring the region for over two decades, ridiculing the country's top politicians.
He began his career on KVN, a comedy contest on Russian TV that was massively popular in the former Soviet Union.
The 41-year-old usually speaks Russian, representing a large cohort of people who do so in south-eastern Ukraine, and gaining him support in the region when language rights are hugely controversial.
In the late 90s, he took his comedy experience to the next level by forming and launching a production company with other entertainment gurus. 
Studio Kvartal 95 blossomed into a major business for Ukrainian TV by producing TV shows, feature films and comedy series, while making millions every year. The comedian continued touring with his group around Ukraine, amassing a following.
But Mr Zelensky recently honed his appeal through a popular comedy programme. It sees him playing a regular school teacher, who unexpectedly is elected President of Ukraine after the teacher's political and anti-corruption rant becomes viral.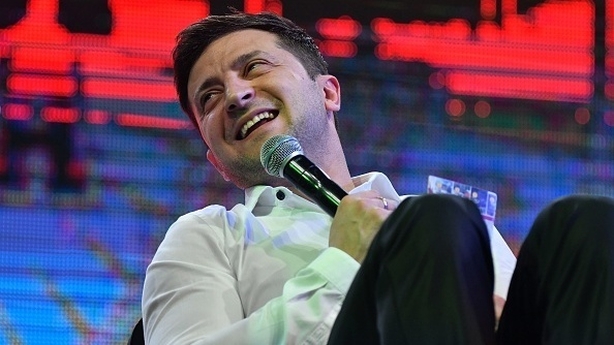 Many Ukrainians latched on to the unpredictability of his character in 'Servants of the People' with Mr Zelensky later giving his new political party the same name as the TV show. 
However, his involvement in Kvartal 95 has landed him in hot water and a cloud of speculation. One of Ukraine's most controversial oligarchs, Igor Kolomoisky is the owner of the TV Channel '1+1' which broadcasts Mr Zelensky's show. 
Mr Kolomosiky faces many investigations in Ukraine into his business dealings, but Mr Zelensky has denied any political links and said he's "no puppet" of the man. 
In 2003, he married his schoolmate and screenwriter Yelena Zelensky and they have two children. 
Prior to announcing his candidacy on New Year's Eve, he was already one of the frontrunners in opinion polls for the election and Mr Zelensky has ripped up the handbook of political campaigning and aspirations.
The entertainer scrapped traditional rallies in favour of playing gigs. Astonishingly, he has avoided in-depth interviews and debates with his opponents, using social media as a tool to gain follows and touring his comedy performances. 
In a recent video, the comedian said he wouldn't write a manifesto like the traditional politician because he quipped that they all sound the same and the promises outlined are never kept. Mr Zelensky instead asked the population to nominate five issues they think are the biggest for Ukraine. 
He is part of a growing consensus to step up diplomatic efforts to end the Ukrainian conflict with Russia, while keeping Ukraine's path of western integration.
The comedian has also expressed largely pro-EU opinions, but his political experience goes as far as the big screen and his platform is vague.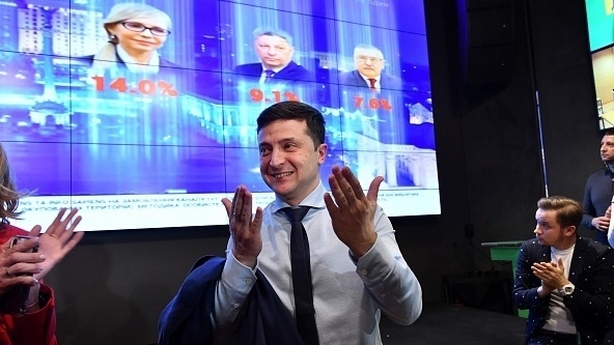 He represents the opposite of Ukraine's politics, which highlights growing uneasiness and frustration with corruption and low living standards. 
Following the toppling of pro-Russian President Viktor Yanukovych in 2014, many have been left disappointed with Petro Poroshenko, who hasn't made change happen quickly enough. 
It seems Ukrainians are yearning for new political faces and Mr Zelensky offers a change to the status quo by honing his appeal through his popular comedy where he mocks the political establishment.
He's the comedian that has a serious chance of becoming president and all eyes are on the next act - the run-off with Mr Poroshenko on 21 April. 
We need your consent to load this rte-player contentWe use rte-player to manage extra content that can set cookies on your device and collect data about your activity. Please review their details and accept them to load the content.Manage Preferences