European Council President Donald Tusk has said that the EU27 will make no new offer in the Brexit negotiations.
He was speaking at joint press conference with Taoiseach Leo Varadkar in Brussels.
Mr Tusk said: "I've been wondering what that special place in hell looks like, for those who promoted Brexit, without even a sketch of a plan how to carry it out safely."
Following Mr Tusk's remarks, Taoiseach Leo Varadkar was picked up on a microphone suggesting to Mr Tusk that: "They'll give you terrible trouble in the British press for that."
Mr Tusk replied, "I know." 
Mr Tusk said that the EU27 had decided in December that the Withdrawal Agreement was "not open for renegotiation".
He said: "I hope that tomorrow we will hear from Prime Minister May a realistic suggestion on how to end the impasse in which the process of the orderly withdrawal of the UK from the EU has found itself following the latest votes in the House of Commons."
Mr Tusk said the Irish border issue and the need to preserve the peace process remained the EU's "top priority".
"The EU is first and foremost a peace project," he said.
"We will not gamble with peace or put a sell-by date on reconciliation. This is why we insist on the backstop."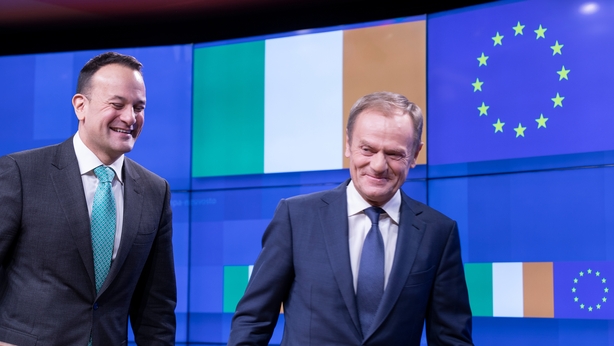 In a message to Mrs May, Mr Tusk said: "Give us a deliverable guarantee for peace in Northern Ireland and the UK will leave the EU as a trusted friend.
"I hope that the UK Government will present ideas that will both respect this point of view and at the same time command a stable and clear majority in the House of Commons.
"I strongly believe that a common solution is possible and I will do everything in my power to find it."
The Fianna Fáil leader Mícheál Martin has described as unhelpful the language used by Mr Tusk.
Speaking on BBC Newsnight Mr Martin said people needed to cool the jets and that calm reflective engagement was what was needed.
"What happened today with Donald Tusk making that remark…that kind of language is not helpful at this stage and does nothing to advance a resolution of this. I think it's time for people to cool the jets and we need calm reflective engagement here. The stakes are too high", Mr Martin said.
The DUP's Brexit spokesperson Sammy Wilson has criticised Mr Tusk following his comments.
He called Mr Tusk a "devilish Euro maniac" who is "doing his best to keep the UK bound by the chains of EU bureaucracy and control".
DUP leader Arlene Foster accused Mr Tusk of being "deliberately provocative". "Clearly the pressure is beginning to mount in Brussels," she said.
"I think it was deliberately provocative I have to say, very disrespectful to those of us who voted to leave the European Union. He should reflect on what he had to say."
Responding to Mr Tusk, leading Brexiteer Nigel Farage said that Brexit will be heavenly for the UK because it will be free from bullies in Europe.
"After Brexit we will be free of unelected, arrogant bullies like you and run our own country.
"Sounds more like heaven to me," Mr Farage said on Twitter.
After Brexit we will be free of unelected, arrogant bullies like you and run our own country.

Sounds more like heaven to me. https://t.co/pTOEmKWJpn

— Nigel Farage (@Nigel_Farage) February 6, 2019
European Parliament Brexit co-ordinator Guy Verhofstadt said Ireland had "unequivocal support" from MEPs after his meeting with Mr Varadkar.
"We will never abandon Ireland," he said.
He also responded to Mt Tusk's comments, saying that Brexiteers would manage to "divide hell".
Well, I doubt Lucifer would welcome them, as after what they did to Britain, they would even manage to divide hell 🙂 https://t.co/AS367egjZP

— Guy Verhofstadt (@guyverhofstadt) February 6, 2019
---
Read more:
EU ready to assist Ireland in no-deal Brexit scenario -Juncker
May faces competing demands over backstop during NI meetings
More Brexit stories
---
Earlier, the Taoiseach said that while the EU is open to further discussions with the UK, the Withdrawal Agreement was negotiated over many months and was the best deal possible.
He said that in light of ongoing uncertainty in the UK, EU leaders have agreed that no-deal preparation must continue and intensify.
Mr Varadkar also said that political instability in the UK shows exactly why they need a legal guarantee.
He said if British intentions for the future relationship between the UK and EU evolve, the contents of the political declaration could be changed.
He added that the solidarity shown by the EU resonates deeply in all small member states.
Mr Varadkar plans to travel to Belfast on Friday to meet all the main political parties.
Finishing up in #Brussels by sitting down with @PhilHoganEU to discuss @EU_Commission supports for #Ireland and securing a good #Brexit outcome pic.twitter.com/eF9IEblg4l

— Leo Varadkar (@campaignforleo) February 6, 2019