Minister of State for European Affairs Helen McEntee has said the UK must live up to its obligations to prevent the return of a hard border and protect the peace process.
Speaking on BBC Radio 4's Today programme, Ms McEntee said: "We absolutely expect that the UK will fulfil its commitment, and will live up to its obligations because Brexit, or no Brexit, the UK government is a co-guarantor of what is an international peace treaty.
Ms McEntee said that for Ireland, the Good Friday Agreement is much more important than Brexit.
She said that Ireland and the EU have "yet to see another way to avoid a border without a withdrawal agreement".
Ireland's insistence on a backstop agreement was not an attempt to thwart the UK's plans to leave the EU, she added.
Ms McEntee said that Ireland respects the UK's vote to leave the EU, but said that "any suggestion they can walk away" from protecting the Good Friday Agreement would not be accepted.
"Integral to protecting that peace treaty is ensuring that we never return to any kind of borders that we saw in the past," she said.
The minister insisted a backstop to prevent a hard border was "absolutely necessary", saying: "There seems to be a discussion ongoing at the moment that we will tweak, or we'll amend, or we might take out the Irish backstop.
"We are not at the beginning of negotiations. This is not a question as to whether or not we need an Irish backstop.
"Brexit happened more than two-and-a-half years ago, negotiations have been ongoing for two years and it is because of the UK's red lines, it is because the UK has said we are leaving the single market, we are leaving the customs union, and for us that makes it more difficult to avoid a border.
"It is because of those red lines that a backstop is absolutely necessary."
---
Read more:
Brexit: No Deal and the Irish Border
More Brexit stories
---
She stressed the commitments given a number of times by British Prime Minister Theresa May, underscored by the Joint Report in December 2017 to protect the peace process.
She said Ireland wants to see a deal done and a withdrawal agreement put in place, and is trying to ensure Ireland has "the same close relationship" with the UK moving forward.
Ms McEntee said that she does not accept the backstop is the only reason the UK government failed to secure support in Westminster for its withdrawal proposals two weeks ago.
The minister suggested that while people in the UK voted to leave the EU, it was a UK government decision to decide to leave the single market and the customs union.
Ms McEntee said that in the event of a no-deal Brexit Ireland is not planning for a re-introduction of a border.
Ms McEntee's comments come as a protest is expected later on the border near Dundalk over the prospect of a hard Brexit.
Ms McEntee said: "I think now, for some reason, the onus by the UK has been shifted back on Ireland. That we should compromise. That we are the ones that are trying to be awkward or difficult.
"We did not vote for Brexit. We do not believe in it. We absolutely respect that it was a democratic decision, of course we do.
"We are protecting a peace process. There is an obligation on the UK to ensure that the peace process, the Good Friday Agreement, is protected.
"And any suggestion that they can walk away from that, we simply won't accept that."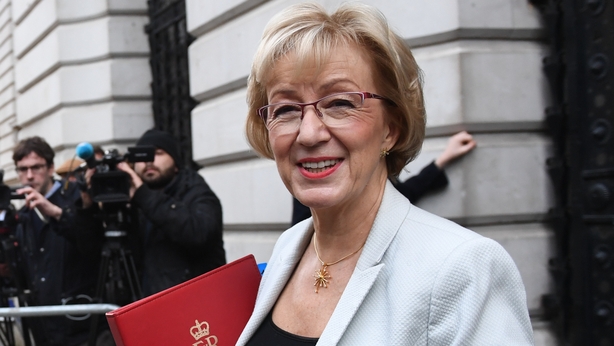 Brexit date could be pushed back by a 'couple of extra weeks' - Leadsom
Meanwhile, the date Britain leaves the EU could be pushed back by a couple of weeks to give time for legislation to be approved by MPs, the leader of Britain's lower house of parliament Andrea Leadsom has said.
She is the most senior figure to make such a suggestion.
Britain is due to leave the bloc on 29 March but after MPs rejected Mrs May's negotiated deal, it remains unclear how the country will leave the EU, opening up the possibility of a no-deal exit.
Parliament will vote on a series of amendments on Tuesday as the clock ticks down on Britain's departure date.
"We can get the legislation through and I think we do, in spite of everything, have a very strong relationship with our EU friends and neighbours and I am absolutely certain that if we needed a couple of extra weeks or something then that would be feasible," Ms Leadsom told the BBC.
Responding to the idea that this would mean extending the two-year Article 50 negotiation period, Ms Leadsom told the BBC:
"It doesn't necessarily mean that. I think we would want to think carefully about it. But as things stand I do feel that we can get, with the support of both Houses - the House of Commons and the House of Lords - with goodwill and a determination we can still get the legislation through in good time."