A family who spoke movingly on RTÉ News about the impact of living in homelessness has received the keys to a new home from Dublin City Council and hopes to move in on Christmas Eve.
Last October, fifth year student 'Amanda', described on RTÉ Radio how she felt she had "no life left" and was too afraid to tell classmates that she was homeless for fear that they or their parents might judge her.
She described a daily struggle with her mental health and urged politicians to address the homeless crisis or give their jobs to "someone who actually cares".
The family of four has been living in a hotel room for almost two-and-a-half years.
The mother and three children, who do not wish to be publicly identified, became homeless three years ago when the family home was repossessed after a marriage breakdown led to financial difficulties.
They received the keys to a Dublin City Council house last week and will finally move in to a three-bedroom home in the capital before Christmas.
Speaking to RTÉ News this week in candlelight at their new home (the electricity has yet to be turned on), 'Teresa', the mother, called for an end to the repossession of family homes.
"They need to stop people coming into homelessness", she said. "There needs to be a halt on repossessions, and on landlords putting people out."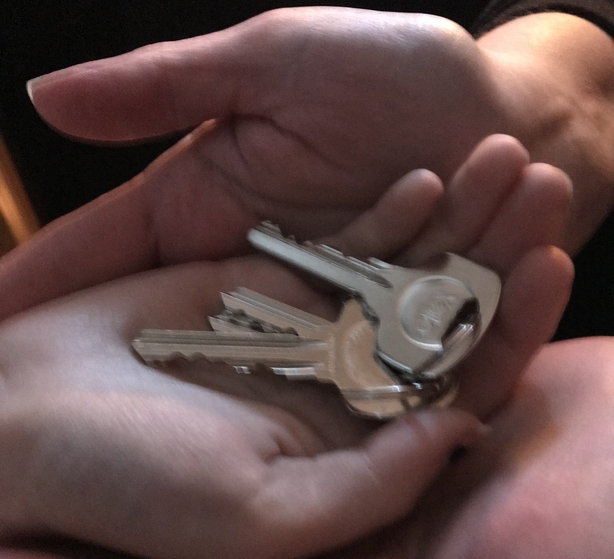 "Once the electricity is switched on we are going to hopefully get the Christmas decorations up," she said.
"Then my sister and I are going to put lino down in the kitchen and then, even if just the two downstairs rooms are ready, we'll hopefully be here for Sunday, maybe Christmas Eve, and then start preparing to cook a meal and have a first Christmas dinner, in the house."
Teresa said she was ecstatic but had not had time yet to process the change.
"It's going to be huge, it really is", she said. "Once the running around is over and we're just able to sit down, I think it will begin to sink in, what we've been through, and the people we've left behind in the hotel.
"We'll be thinking of them, and hoping that they get their home, just like we have" she said, fighting back tears. "It's a totally new start, a new life.
"The people that we leave behind, there are some lovely families who don't belong there. These are good solid families and they are struggling to raise their babies and their children. We're out but they're left behind."
Teresa's 18-year-old daughter Amanda said she was "dying to spend the night" in her new home.
She said the fact of finally having a home had yet to sink in.
"It's very difficult to process", she said. "You were homeless, you'll never forget how you felt. It is scarring, but it is a blessing to leave it behind."
"Amanda" a young girl living in a hotel room for over 2 years tells of her joy after finally a receiving a home in time for Christmas https://t.co/nAAOoz1U2Q

— Morning Ireland (@morningireland) December 19, 2018
---
Read more:
'Your voice is gone' - student speaks of being homeless
'I feel like I've been stolen of most of my life'
Listen to the full October 2018 interview below:
---
Amanda, who will share a bedroom with her older sister, said she was looking forward to decorating her half of the bedroom, putting up fairy lights and pictures, and getting a desk so that she can study.
But she too says that it is difficult to think of the people they are leaving behind in the hotel, and she has reiterated her mother's call for an end to the repossession of family homes.
She said not enough was being done for the many families who are homeless this Christmas.
"More people need to start caring, and the right people," she said, adding "whether it's stopping repossessions like my mother said, they need to put their foot down".
Teresa's youngest child, a 12-year-old boy, is looking forward to getting the family dog back.
Their dog has been living with his grandmother since the family first became homeless.
Her oldest child has won a scholarship, which will send her to Africa on an internship as part of her third-level studies.
Teresa completed a degree in accounting while homeless and is now hoping to find work.
The family says they are already arguing over what will be their first meal in their new home.
The children are adamant that it should be "chicken pasta bake".
This is the family meal they most missed during the years that they lived at the hotel and had no cooking facilities.
But after two Christmases living in a hotel room, Teresa is longing to cook a traditional turkey and ham Christmas dinner for her children.
The family wonders how they will cope with sleeping in separate rooms having spent 28 months sleeping together in the same one.
They spent a week away in a holiday home recently and found it very difficult to be apart at night. "It's going to be strange," Amanda said.
"It will be lonely. But I'm definitely going to get used to it."
The family said they wanted to thank all those who had sent messages and offers of support to them after hearing them speak.
Teresa said there would be a candle lit and a prayer said for them at their new home this Christmas.
Last October, Amanda warned vividly that she felt she would not be able to cope for much longer living in the hotel room.
This week, she again became emotional as she described how it felt to leave school and go "home".
The word home used to be a painful one for her, but not anymore.
"It was so relaxing just to come home and get changed from your uniform in your own home. It was so nice and peaceful. This is my home. I can say it however many times I like. This is my home."