The Irish-based human rights organisation, Front Line Defenders, has received the United Nations Human Rights Prize for 2018.
The award is given to individuals and organisations in recognition of outstanding achievement in human rights.
Starting in #Dublin in 2001, the Front Line Defenders have worked to protect #HumanRights defenders at risk. Today the @UN recognizes their commitment to ensuring defenders can continue their essential work without harassment, intimidation or arrest. #StandUp4HumanRights pic.twitter.com/N00HLuhZti

— IrelandUnitedNations (@irishmissionun) December 18, 2018
Previous winners include Eleanor Roosevelt, Martin Luther King, Nelson Mandela, Jimmy Carter and Malala Yousafzai.
Front Line Defenders Executive Director, Andrew Anderson and Chair of the FLD Board, Denis O'Brien were at the ceremony at the UN Headquarters in New York this evening.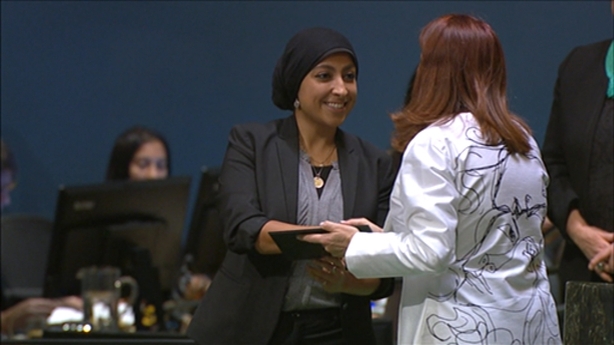 However daughter of human rights activist, Abdulhadi Al-Khawaja accepted the prestigious prize on behalf of Front Line Defenders.
In 2011, he was sentenced to life in prison following pro-democracy protests in Bahrain.
Thank you @FrontLineHRD for inviting me to receive the award on your behalf, and @ettrick49 for speaking about my father. Thank you for all the work you do for human rights defenders everywhere #Bahrain
Honor the dead, and fight like hell for the living pic.twitter.com/lAAK7Ocw6Q

— Maryam Alkhawaja (@MARYAMALKHAWAJA) December 18, 2018
Front Line Defenders support and protect those who struggle to defend rights for their communities.
It was founded in Dublin in 2001 after being set up with a multi million euro in financial support from businessman Denis O'Brien.
Front Line Defenders said they accepted the prize in honour of the thousands of human rights defenders at risk around the world, struggling to defend their communities.
The organisation called to free imprisoned human rights defenders with the publication of a report called 'Set Them Free', detailing the cases of nine imprisoned human rights defenders around the world.
The Irish charity was one of four winners of the award.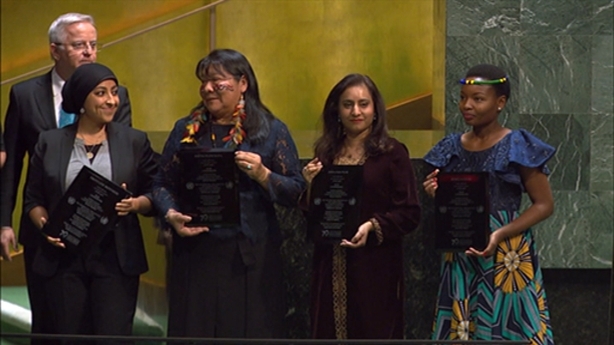 Other prize winners include women's rights activist in Tanzania, Rebeca Gyumi, Pakistani human rights lawyer Asma Jahangir and activist for the rights of indigenous Brazilian communities Joênia Wapichana.