A tiered system of sanctions is set to be introduced for assaults on referees following a meeting between FAI officials and the Irish Soccer Referees Society.
The meeting between FAI officials, including chief executive John Delaney, and the president of the ISRS, took place at last night's friendly international between the Republic of Ireland and Northern Ireland at the Aviva Stadium.
It was held in the wake of a serious assault on a referee in the midlands last weekend.
Daniel Sweeney was left with serious facial injuries, including a broken jaw, following the match in Horseleap on Sunday.
Speaking on RTÉ's Today with Sean O'Rourke, ISRS President Paul O'Brien said the support and positivity he received from two unnamed FAI officials was unbelievable.
He said that at present, anyone who assaults a referee gets a minimum one-year suspension.
Mr O'Brien said following the discussions it was agreed to introduce a tiered system of sanctions, depending on the severity of the assault.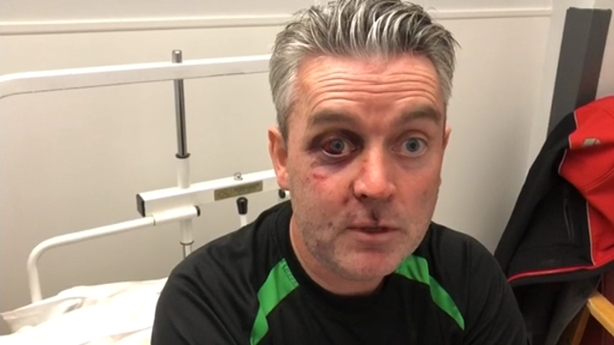 He said in cases such as the assault on Mr Sweeney, the perpetrators would face a lifetime ban under the new proposals.
He said a working group has been established which is to report back to the FAI by the end of December, with a view to implementing the new rules at an EGM in January.
Mr O'Brien added that the meeting with Mr Delaney was not scheduled to take place until next week, but he received word after meeting with the two FAI officials that Mr Delaney was keen to speak to him at half-time during the game.
He also said that Mr Sweeney underwent surgery for five hours yesterday, adding that it went well.
He reported that Mr Sweeney has gotten "four or five" plates in his jaw, and the recovery process is expected to take up to eight weeks.
Mr O'Brien also said that it was agreed to look into abuse of match officials, both at games and on social media, which he claimed is a contributory factor to assaults.
"No one is pretending this is an easy fix, but we have to start somewhere," he said.
Mr O'Brien added that safety is the minimum anyone can expect when doing their job, and he said he received assurances from the FAI in this regard.