British Prime Minister Theresa May has vowed to fight for her Brexit divorce deal, which she said was in the best interests of voters.
Striking a defiant tone at a press conference at Downing Street this evening, Mrs May said that the deal is in the best interests of the British people, and ruled out a second referendum on Brexit.
Her comments came after a dramatic series of events at Westminster saw the resignation of three ministers, including Brexit Secretary Dominic Raab, and a backlash against her leadership.
"Am I going to see this through? Yes," Mrs May said.
"I am going to do my job of getting the best deal for Britain and I'm going to do my job of getting a deal that is in the national interest.
"I believe with every fibre of my being that the course I have set out is the right one for our country and all our people.
"From the very beginning I have known what I wanted to deliver for the British people to honour their vote in the referendum."
Mrs May acknowledged the agreement had involved "difficult and sometimes uncomfortable decisions".
"I understand fully that there are some who are unhappy with those compromises but this deal delivers what people voted for and it is in the national interest," she said.
"We can only secure it if we unite behind the agreement reached in cabinet yesterday."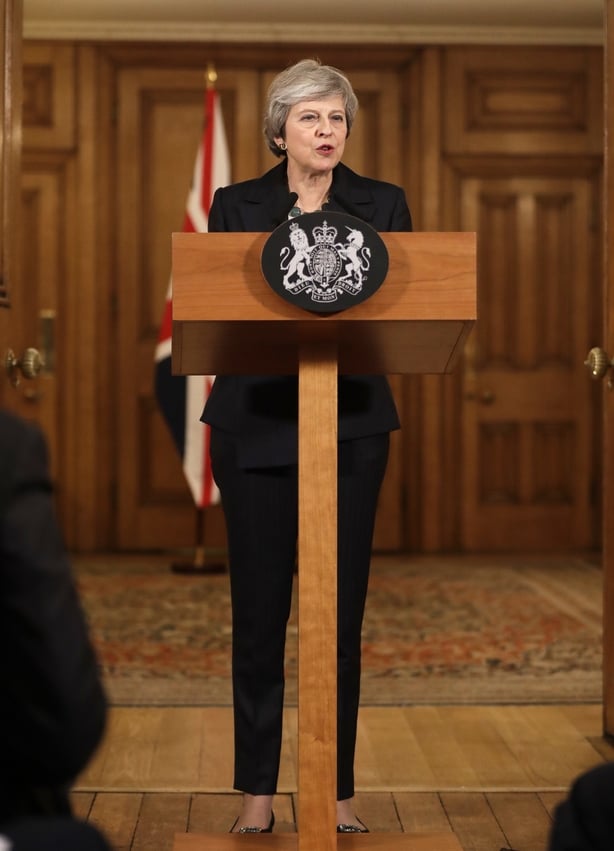 Mrs May said there were two inescapable facts about the Brexit deal and nobody had put forward any alternative proposal that dealt with them.
She said: "One simple fact remains and that is that nobody has produced any alternative proposal which both delivers on the referendum and also ensures there is no hard border between Northern Ireland and Ireland.
"There is another inescapable fact - there is no deal which can be agreed with the EU that does not involve a backstop to act as an insurance policy against a return to the borders of the past in Northern Ireland.
"All the other approaches - Norway, Canada Plus - would all require a backstop.
"And the alternative of repudiating that backstop would not only mean reneging on a promise to the people of Northern Ireland but it would also collapse the negotiations and end hopes of securing a deal," she said.
"If we do not move forward with that agreement, nobody can know for sure the consequences that will follow. It would be to take a path of deep and grave uncertainty, when the British people just want us to get on with it."
Asked if she would contest a confidence vote and carry on as prime minister if she won by a single vote, Mrs May said: "Leadership is about taking the right decisions, not the easy ones."
The prime minister said she believed MPs in her party would back her deal, despite having suffered a series of resignations and submissions of no confidence letters in the hours before her speech.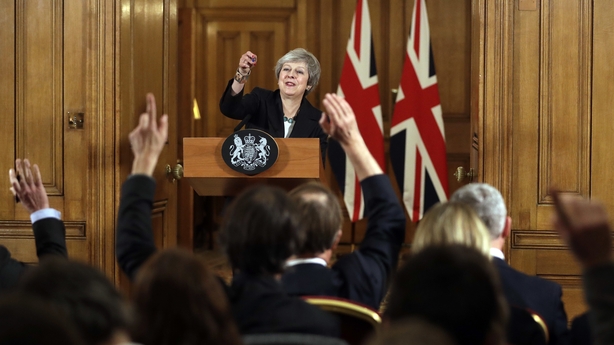 Media reports are suggesting that the British Conservative Party's deal with Northern Ireland's DUP on Brexit will be over over unless Mrs May is replaced with a new leader.
The DUP will vote down the withdrawal agreement in Parliament, and its support now "depended on who the leader of the Conservative Party is," according to a report in the Daily Telegraph, citing sources close to DUP leader Arlene Foster.
Earlier, Conservative MP Jacob Rees-Mogg, leader of the hardline pro-Brexit European Research Group, requested a vote of no-confidence in Mrs May.
The ERG leader handed in a letter to the party's parliamentary group in the House of Commons after a raucous session of parliament in which Mrs May sought to defend her draft Brexit agreement despite trenchant opposition.
"Regrettably, the draft Withdrawal Agreement presented to parliament today has turned out to be worse than anticipated and fails to meet the promises given to the nation," he wrote in the letter to 1922 Committee chairman Graham Brady.
"Therefore, in accordance with the relevant rules and procedures ... this is a formal letter of No Confidence in the Leader of the party."
If 48 Conservative MPs write similar letters then a leadership contest is triggered.
Although other MPs have already sent letters, all eyes were on Mr Rees-Mogg given his influence over Brexit supporting MPs.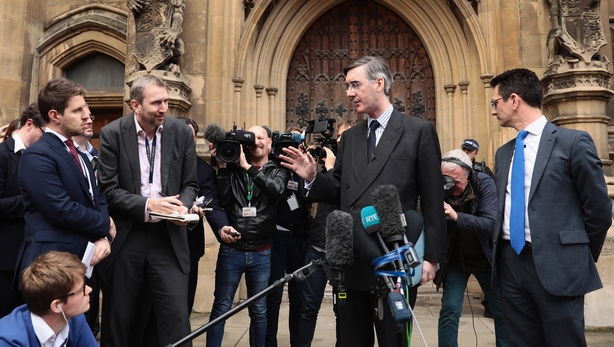 Only Mr Brady knows how many letters have so far been submitted, with speculation mounting that the threshold may be close following the publication of Mrs May's Brexit divorce deal.
Mr Rees-Mogg yesterday rejected the deal, saying it threatened the integrity of the United Kingdom, prevented Britain from striking free-trade deals with the rest of the world and made the country a "permanent rule taker" from Brussels.
If Mrs May wins a leadership contest, she will remain in office and cannot be challenged again for a year, but if she loses, she must step down and cannot stand in the leadership election.
The move comes as a number of UK ministers resigned this morning saying they cannot support Mrs May's deal on withdrawing from the European Union.
Mrs May issued an ultimatum to the House of Commons - back her Brexit deal, leave with no deal, or have no Brexit at all.
Brexit Secretary Dominic Raab, Work and Pensions Secretary Esther McVey and junior ministers Shailesh Vara and Suella Braverman all tendered their resignations this morning.
---
Read more:
Live: Brexit withdrawal agreement updates
No-deal contingency plans will continue - Coveney
Taoiseach says Irish priorities upheld
---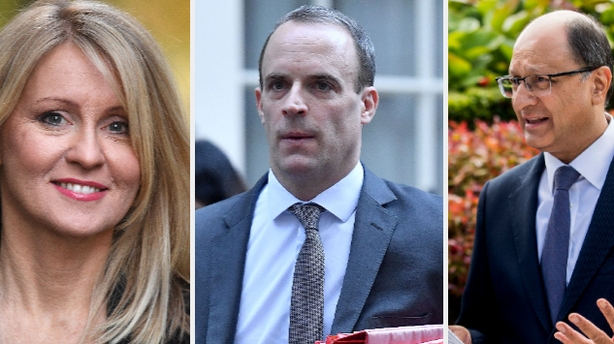 Anne-Marie Trevelyan announced she was quitting as an unpaid parliamentary aide in the Department for Education, while Ranil Jayawardena has quit his post as a parliamentary private secretary in the Ministry of Justice.
Mr Raab said he could not in good conscience support the terms proposed on Britain's EU withdrawal to the House of Commons.
In a letter to Mrs May, Mr Raab said he cannot support the deal because the proposed regulatory regime for Northern Ireland presents a "real threat to the integrity of the UK" and the indefinite backstop arrangement allows the EU to hold a veto over "our ability to exit".
Today, I have resigned as Brexit Secretary. I cannot in good conscience support the terms proposed for our deal with the EU. Here is my letter to the PM explaining my reasons, and my enduring respect for her. pic.twitter.com/tf5CUZnnUz

— Dominic Raab (@DominicRaab) November 15, 2018
"No democratic nation has ever signed up to be bound by such an extensive regime, imposed externally without any democratic control over the laws to be applied, nor the ability to decide to exit the arrangement," he said in his resignation letter.
Earlier this morning, Mr Vara quit as Northern Ireland Minister, saying he cannot support Mrs May's Brexit agreement, which he said "leaves the UK in a halfway house with no time limit on when we will finally be a sovereign nation".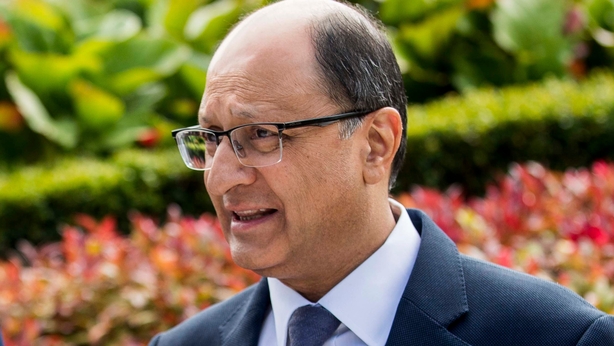 Work and Pensions Secretary Esther McVey also resigned, saying the deal does not honour the result of the referendum.
Earlier this morning I informed the Prime Minister I was resigning from her Cabinet pic.twitter.com/ZeBkL5n2xH

— Esther McVey (@EstherMcVey1) November 15, 2018
Mrs May cleared the first hurdle when British cabinet ministers finally approved the draft terms of her agreement with Brussels at a five-hour meeting yesterday.
But she faces a battle to get it through Parliament as pro-Leave Conservative MPs - as well as some Remainers - lined up to condemn the plan, accusing her of breaking promises and leaving the UK at the mercy of Brussels.
Northern Ireland Secretary Karen Bradley has urged Conservative party colleagues to get behind the prime minister, saying "there is no better person for the job".
Earlier, Mrs May said the draft treaty was not a final agreement, but brings the UK "close to a Brexit deal".
There was laughter as she said that it would allow the UK to leave "in a smooth and orderly way". 
"It takes back control of our borders, laws and money. It protects jobs, security and the integrity of the United Kingdom, and it delivers in ways that many said could simply not be done."
---
Read more:
Draft Brexit Withdrawal Agreement
Solution found to avoiding Irish hard border - Barnier 
Has Theresa May got the numbers for her Brexit plan?
---
We need your consent to load this rte-player contentWe use rte-player to manage extra content that can set cookies on your device and collect data about your activity. Please review their details and accept them to load the content.Manage Preferences
Labour leader Jeremy Corbyn hit out at Mrs May's "leap in the dark" draft deal, warning it cannot be put to Parliament.
Mr Corbyn said the government is in "chaos", describing the draft as a "huge and damaging failure".
"After two years of bungled negotiations the Government has produced a botched deal that breaches the Prime Minister's own red lines and does not meet our six tests," he said.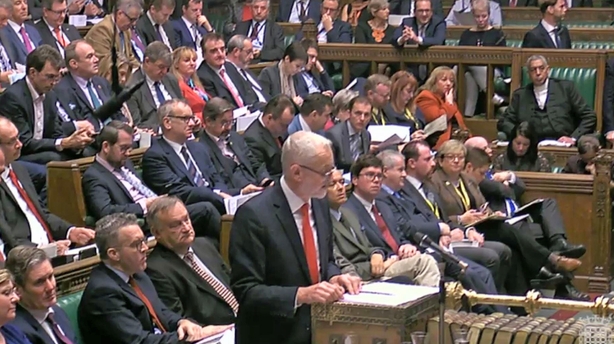 "The Government is in chaos. Their deal risks leaving the country in an indefinite halfway house without a real say.
"When even the last Brexit Secretary, who theoretically at least negotiated the deal, says 'I cannot support the proposed deal', what faith does that give anyone else in this place or in this country?
"The Government simply cannot put to parliament this half-baked deal that both the Brexit Secretary and his predecessor have rejected."
Nigel Dodds, the deputy leader of the DUP, criticised Mrs May over how the deal handles the border on the island of Ireland.
"I could today stand here and take the prime minister through the list of promises and pledges she made to this house and to us, privately, about the future of Northern Ireland in the future relationship with the EU.
"But I fear it would be a waste of time since she clearly doesn't listen.
"The choice is now clear: we stand up for the United Kingdom, the whole of the United Kingdom, the integrity of the United Kingdom, or we vote for a vassal state with the breakup of the United Kingdom, that is the choice."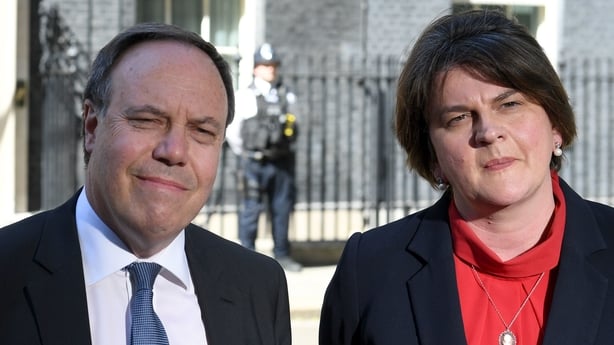 Scotland's First Minister Nicola Sturgeon has said Brexit has strengthened the case for Scottish independence.
It was "reasonable" to think that the timing of a possible new vote on secession would depend on how Britain's current political chaos over Brexit played out, she told the devolved parliament at Holyrood.
"That time will come, and when it does I have no doubt that the people of Scotland will choose to be independent," she said.
Deal contains 'sliding scale' of commitments
The facilitated customs arrangements and "common rulebook" proposed in Mrs May's Chequers plan are replaced by the concept of a "sliding scale" of commitments and market access, which means the UK would not be tied to an off-the-shelf deal of the kind previously offered to countries such as Canada.
Under backstop arrangements designed to keep the Irish border open, if no trade deal is agreed by the end of the transition period in December 2020, a temporary "EU-UK single customs territory" would be established.
This could be terminated only by mutual consent of Brussels and London but each side would be legally bound to make "best endeavours" to bring it to an end by sealing a permanent deal on their future relations.
Mrs May described the debate around the cabinet table as "long, detailed and impassioned", in a clear indication her proposals had come under intense challenge from ministers.
Speaking outside 10 Downing Street minutes after the meeting concluded, she acknowledged she faced "difficult days ahead" as she attempts to win round critical MPs.
"I firmly believe, with my head and my heart, that this is a decision which is in the best interests of the United Kingdom," she said.
At the same time she warned Brexiteers that if they failed to back her plan they risked ending up with "no Brexit at all".