Taoiseach Leo Varadkar has said he is pleased that Ireland's concerns and priorities have been addressed in the new draft Brexit deal.
Speaking after the publication of the text this evening, Mr Varadkar said decisive progress has been made.
He was "pleased to report" that the deal reached a satisfactory outcome on all the key Irish priorities, including the protection of the peace process, the common travel area and its associated benefits for Irish citizens, maintaining Ireland's place at the "heart of Europe", and protecting jobs and the economy.
The current commitment from the UK on the Northern Ireland border is stronger than that of last December, he said.
Mr Varadkar said avoiding a hard border had been "one of the most difficult challenges" of the process, but the draft withdrawal agreement had fully spelt out the backstop arrangement.
The Taoiseach said the EU and UK would establish a shared customs territory, with Northern Ireland applying some additional rules for goods to ensure a free-flowing border.
He made clear the backstop would remain in place "unless and until" a better solution is agreed.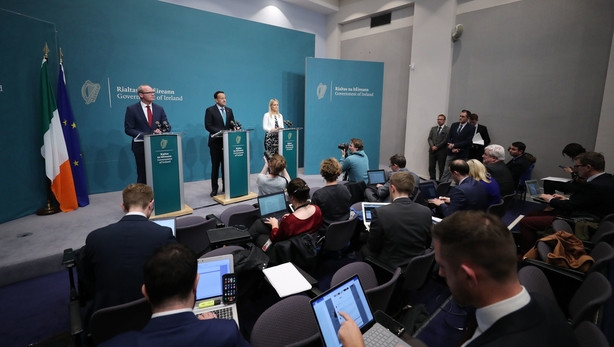 "I firmly hope that we can achieve a better solution and we will be working strenuously to that end," he said.
---
Read: Taoiseach's statement in full
---
On the backstop's review mechanism, Mr Varadkar stressed that any decision to end the measure could not be done unilaterally.
"It can only be taken jointly by the United Kingdom and the European Union," he said.
He added that the trading arrangements envisaged in the transition period were very welcome for Irish businesses trading with the UK.
"The confirmation the UK will facilitate the transit of goods to and from Ireland is also very welcome - this is the UK land bridge to our European markets," he said.
Mr Varadkar also said the deal presented an economic opportunity for Northern Ireland.
"I also believe that the trading arrangements envisaged in the text, if embraced, represent a genuine economic opportunity for Northern Ireland business, with unfettered access both to Great Britain and the EU markets," he said.
He thanked other EU leaders and opposition parties in Ireland for supporting the Irish Government's objectives in the negotiation process. 
Asked what happens if the draft agreement is not voted through Westminster, Mr Varadkar said: "I think what we have in the joint political declaration is an outline of what the future relationship could look like and should this deal be agreed by Westminster and the European Parliament we can then begin negotiations on that future relationship.
"It is a very ambitious one, one that involves a deep and close relationship between the EU and the UK and something that we look forward to working on during the transition phase - if we get to it.
"It's impossible for me to predict how vote in Westminster will go, but I do think people have consistently underestimated the mettle and courage of Prime Minister May, so let's see how she gets on.
"Obviously if it's defeated in Westminster, it's hard to know where we go from there, as others have said it's maybe hard Brexit or no hard Brexit at all, but that's a decision for the UK parliament to make."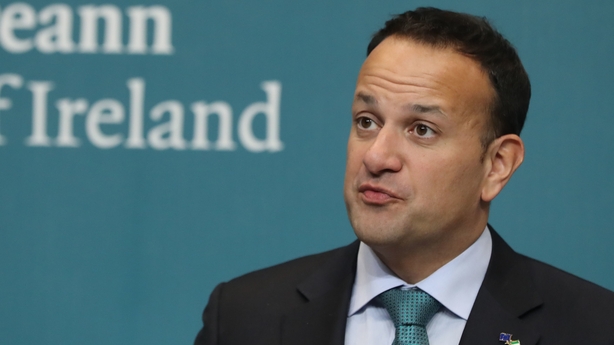 Mr Varadkar said he had not spoken to British Prime Minister Theresa May today.
He said: "I haven't had a chance to speak to her today, I'm sure we will speak over the next couple of days.
"I'm very conscious that what's going to happen at Westminster is an internal matter for the United Kingdom and it may not be appropriate for the Irish government to be interfering or lobbying in their affairs, but certainly I will be speaking to the Prime Minister over the next couple of days.
"I will be speaking to some of the Northern Ireland parties tomorrow, Sinn Féin, SDLP, Alliance and the Northern Ireland Green Party."
Mr Varadkar also complimented Mrs May for "honouring her promise" in relation to Ireland. "No international negotiation gives one side everything it wants," he said.
"For us the very notion of Brexit is unwelcome and brings adverse consequences.
"At the same time I want to acknowledge that these negotiations have been very tough and a difficult experience for everyone involved and, with this in mind, I want to acknowledge Prime Minister May's integrity in honouring her promise to protect the peace process and the Good Friday Agreement, and her commitment of avoiding a hard border. She has been true to her word."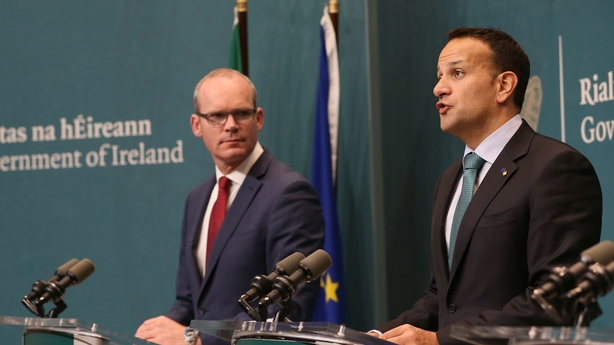 ---
Read more:
May fights to get backing for draft Brexit deal
Barnier briefs EU 27 on Brexit backstop agreement
EU, UK officials reach agreement over text on Irish border
More Brexit stories
---
He said he had not yet spoken to DUP leader Arlene Foster.
"There are sensitives there and I certainly heard what Arlene had to say today, the DUP is the DUP, it's a unionist party, it's not going to be told what to do by the Irish government, but the door is always open and the phone is always on.
"I am always willing to speak to her or anyone in the DUP to offer any clarifications or any assurances that they may wish to have."
Mr Varadkar said he was absolutely committed to working with the UK to secure a "deep future relationship" post-Brexit and to restoring the power-sharing institutions at Stormont.
He also repeated a message he directed to Northern Ireland unionists earlier in the day.
"Our approach is not intended in any way to be a threat to you or to your identity," he said.
"We never wanted Brexit - our goal is simply to protect the peace and the Good Friday Agreement from any unintended or undesirable consequences."
He said the draft withdrawal agreement "states in black and white" that Ireland and the EU fully respect the constitutional status of Northern Ireland as part of the UK.
"This can only change if the majority of people in Northern Ireland want it to," he said.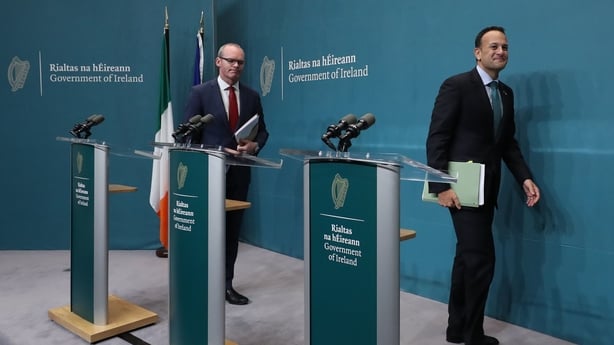 Overall, the Taoiseach said his mood is "pretty good" after the news of the deal, saying that this is one of his "better days in politics".
Sinn Féin leader Mary Lou McDonald has said the analysis that her party could enter the House of Commons to stop Brexit was not realistic.
Speaking on RTÉ's Six One News, she said even if the party's seven MPs were to enter the House of Commons it could have unintended consequences.
She said such a move could make the situation within the Conservative Party even more fraught.
Ms McDonald added that Irish interests are protected in the Brexit process by the Government in Dublin, working in conjunction with EU counterparts.
She also said that Sinn Féin has worked extensively during the Brexit process and that regardless of what happens, there is no good Brexit.