An Irish actor living in Malibu has told RTÉ News he believes his home has been destroyed in the Woolsey wildfire.
At least 23 people have died in the California wildfires, making it the most destructive fire in the US state's history.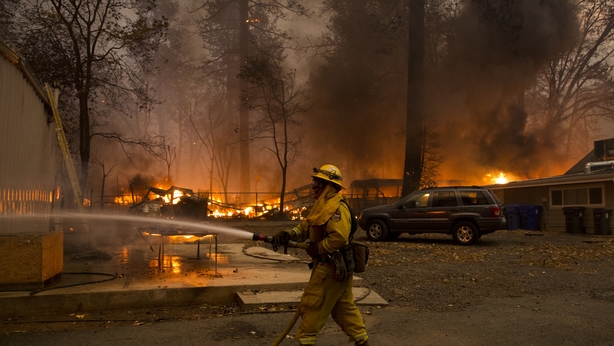 Fair City actor Victor Burke said he was reluctant to leave his home when news of the fires broke as he thought everyone was "exaggerating".
However, he said once he saw huge flames coming over the hills, he and his family bundled themselves into their car and fled the area.
Mr Burke said every five minutes the flames would move "football fields" closer.
"We just ran. I grabbed the kids and the dog and whatever we could grab... and drove north", he said.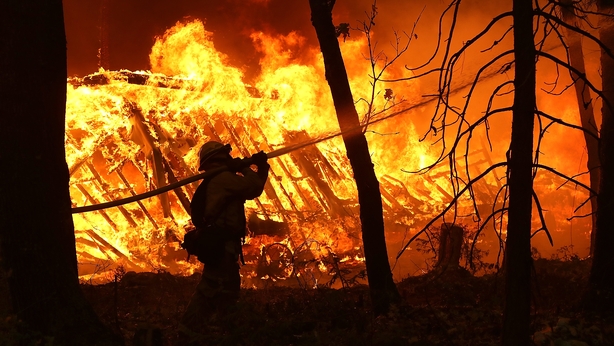 Mr Burke and his family have been living in Malibu for the past three years.
They are staying at a hotel as they figure out what is next for them.
Many of his neighbours have lost their homes too.
He said that people do not realise that Malibu is rural and most places only have one way in and one way out.
Mr Burke said he is very worried about some of his friends, who he has not heard from yet.
He said he is in Santa Monica and the smell of smoke is getting worse as the winds change, describing the whole situation as "pretty grim."
Fair City actor Victor Burke was among the thousands forced to flee their homes in Malibu due to large wildfires in California | Read more: https://t.co/mETiBBkpnA pic.twitter.com/YTgICmgKPp

— RTÉ News (@rtenews) November 10, 2018