The Ryanair pilots Union Fórsa/IALPA has told Ryanair that Tuesday's strike is set to proceed, while further strike days will be notified "in due course".
Yesterday, Ryanair gave the union until 7pm last night to call off next week's third stoppage, or it would be forced to cancel 16 flights in and out of Ireland.
The airline has since confirmed those cancellations.
In a response from Fórsa, National Secretary Angela Kirk describes yesterday's Ryanair ultimatum as unreasonable and cynical.
She notes that the management letter containing the 7pm ultimatum arrived at 5pm, allowing only two hours for consideration.
She notes the pilot representatives at shift workers with no computer access while flying.
She says Wednesday's meeting between airline management and the union delivered no material change in the positions of either party - and confirms that Tuesday's strike will proceed.
However she also warns that further strike days will be notified to the airline "in due course".
She says that the union remains available for talks, but if Ryanair wants Fórsa to consider amendments to its strike notifications, it will have to respond positively to the pilots 11 demands for a seniority agreement.
This afternoon, Ryanair accused Fórsa/IALPA of wasting the airline's time, and disrupting the travel plans of Irish customers.
Chief People Officer Eddie Wilson notes that Fórsa's latest letter arrived 2 hours after they had been forced to cancel 16 flights on Tuesday.
He points out that since Wednesday ,Ryanair has concluded union recognition agreements in Germany and Italy.
He says that over the same two days, Fórsa has done nothing except hold another pointless strike supported by only a quarter of their pilots, and refused to call off Tuesdays equally pointless strike.
There remains no sign of any breakthrough to end to resolve the row that is disrupting travel plans of thousands of passengers.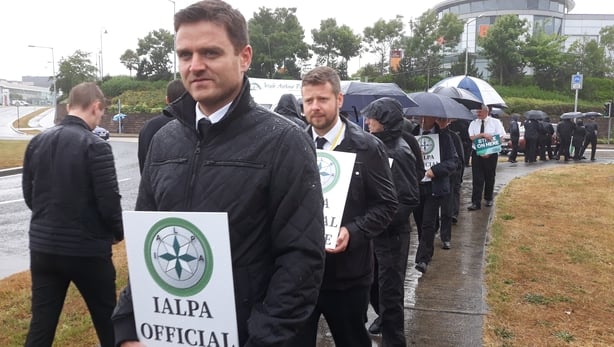 It comes as Ryanair pilots based in Ireland held their second 24-hour strike in a week in the dispute about their terms and conditions.
The airline has been forced to cancel 24 of its 290 flights today disrupting the travel plans of around 4,000 passengers.
A further one-day pilots' strike is planned for next Tuesday, while cabin crew in Belgium, Italy, Portugal, and Spain, will strike for two days next week.
There will not be queues of disgruntled passengers at airports, as the airline said it had already organised re-routing or refunds for those affected.
It has also concentrated today's cancellations on high frequency Ireland-UK routes.
However, the Irish dispute will be dwarfed by the chaos caused by cabin crew strike action in Belgium, Italy, Spain, and Portugal scheduled for next Wednesday and Thursday.
That will see 600 flights cancelled, affecting more than 100,000 passengers in and out of peak holiday season destinations.
With no sign of a breakthrough in talks in either dispute, the uncertainty for passengers looks set to continue.
In a statement this morning, Ryanair apologised to affected customers for what it called an "unnecessary strike".
It said: "We apologise to these 4,000 Irish customers who flights were cancelled (and re-accommodated / refunded) due to today's 2nd unnecessary strike by less than 25% of our Irish pilots (who earn €150,000-200,000 pa) over 'seniority and base transfer proposals' which they can't explain and which don't affect them.
"We call on Fórsa to cancel the 3rd strike (next Tue 24th) which is supported by less than 25% of our Irish pilots.
"Our pilots should resolve these issues through our working group and not disrupt any more customer holidays."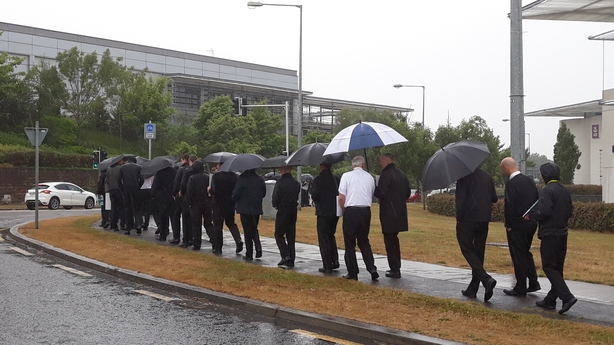 Bernard Harbor, Fórsa says he thinks third part involvement is required to resolve the Ryanair pilots dispute | https://t.co/xjuOfhsNJi pic.twitter.com/r7DBhnmzsO

— RTÉ News (@rtenews) July 20, 2018
The Communications Director of the Irish pilots' union Fórsa said third party involvement was required to resolve the dispute.
Speaking on RTÉ's Morning Ireland, Bernard Harbor said while Ryanair had accepted that it "should get an agreement in place" he believed they needed intervention to move talks along.
He said: "An independent broker in the talks would be useful, it would help both sides to move forward and help build trust between two parties who for 30 years haven't sat around a negotiating table.
"So we think that the measures could be taken to move this along. At the moment we have had a very small number of hours in negotiations and we really need to get under the bonnet of the issues."
Mr Harbor said the main issue that pilots want resolved was how the company organised transfers between bases.
He said: "Pilots have to move from one base to another from time to time and we want to agree a methodology for transferring pilots and for it to be done in a fair and transparent way."
He said he does not think these changes would incur a huge cost for the company.
Speaking outside Ryanair headquarters in Dublin, Fórsa Communications Officer Niall Shanahan said the strike was an action of last resort.
However, he said the fact that they had engaged in such strikes indicated how deeply they felt about the issue of a seniority agreement.
Mr Shanahan said a recent two-hour meeting with Ryanair, while useful, had delivered no material change to the dispute.