Concerns have been expressed that children with disabilities could be excluded from the trial stages of a new scheme in which disabled people or a person acting on their behalf will be given greater control over the funding for their care needs.
On Tuesday, the Government is due to announce the roll out of a new system of so-called Personalised Budgets.
Under a personalised budget, people with disabilities or an advocate on their behalf, are given greater control over the funds needed to pay for care and support services - rather than those funds being controlled entirely by the HSE.
The new scheme follows the work of a multi-agency Government Taskforce, who have produced a report which will be published next week by the Minister for Disabilities, Finian McGrath.
According to the report - a draft copy of which has been seen by RTÉ's This Week programme - disabled people and their carers will be given the choice of three models under which they can control the reins of how money is spent in their case.
They can control the budget themselves, they can opt to co-manage the budget with the HSE, or they can choose to use the services of a third-party broker.
Participants have to meet certain criteria to participate - service providers will require HSE approval, while the actual spending choices will still be subject to HSE monitoring and agreement.
The new scheme is described as a "fundamental shift" in disability services provision.
However, one of the members of the Taskforce has said that they had significant concerns that children would not be included under the pilot projects which will take place once the new scheme is rolled out.
Chief Executive of Inclusion Ireland Paddy Connolly sat on the Taskforce's Strategic Group.
He said that he had written to Minister McGrath seeking assurances that children would be included in the pilot projects - called 'demonstration sites' in the report.
However, he said that the Minister had written to him saying he would adopt the recommendations of the Taskforce, which was to roll out the new regime of personalised budgets to adults in the first instance.
Mr Connolly said that it was a considerable missed opportunity to leave thousands of disabled children out of the initial stages of the new scheme, as it may be many years before children are allowed to participate at a later point, meaning many children currently in disability services would not avail of the potential benefits of a personalised budget.
Responding to RTÉ, Minister McGrath indicated that he would follow the Taskforce's recommendations but was open to exploring the idea of children being given access to personalised budgets at a later stage, once any potential problems with the new model have been identified and ironed out.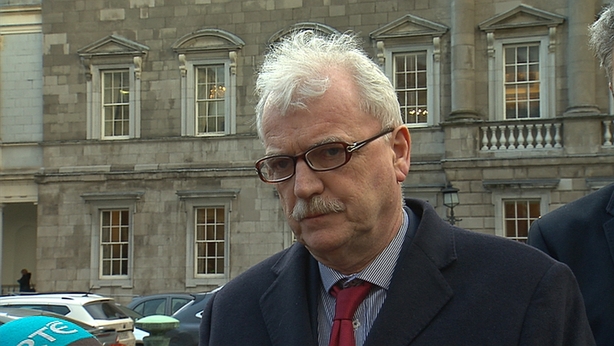 "I have considered the findings of the Taskforce on Personalised Budgets and intend to publish its report on Tuesday. I am aware that some members expressed a view that children should be included in the demonstration projects in the final stages of the Task Force's work," he said in a statement.
"The majority view of the Taskforce and reflected in the report is that children's services are a potential area for future expansion of personalised budgets," he added.
A number of parents and carers who spoke to RTÉ's This Week said they felt that personalised budgets worked best if the person with a disability could access them from childhood, ideally from the point of diagnosis.
David and Mary Maher, from Kilkenny, said their son Michael, now 19 years old, could have benefitted from better outcomes if they had control over his personalised budget when he was a child.
They have only recently been given control over his spending - and Ms Maher said that while they had been on a waiting list for some specialist appointments for several years while the budget was overseen by the HSE, they had managed to secure an appointment in two weeks when they controlled the budget themselves.
Jane Johnston, from Bridgetown in Co Wexford, said that her eldest son Evan, who has profound autism, suffered a significant gap in his respite and other services when he turned 18 in May of this year, and effectively left child services.
She said that if she had control over his budget since he was 15 or 16, she could have planned for a seamless transition rather than ending up with a four month gap in care, which she said led to "unnecessary suffering" for her eldest son.
Her younger son Daniel, 14, also has autism, and she said it made little sense to give Evan access to a personalised budget as an adult but not to Daniel.