Rescuers raced to pump water from a cave in northern Thailand as forecasted heavy rain threatened to complicate efforts to free a young soccer team trapped for ten days.
Divers struggling through narrow passages and murky waters found the 12 boys and their coach last night on an elevated rock about 4km from the mouth of the cave.
The boys were weak, but had only minor injuries.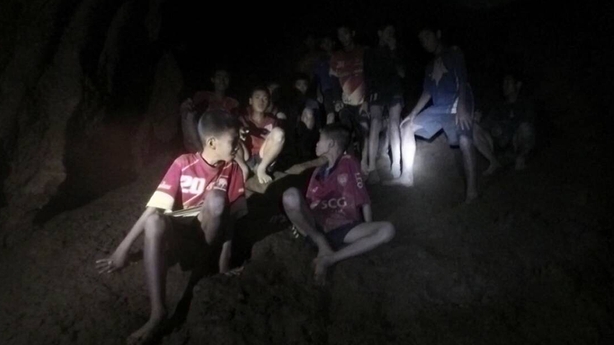 News of the survival of the "Wild Boar" team sparked jubilation in a nation gripped by the drama, with news websites and Facebook users celebrating their discovery and hailing the rescuers as heroes.
"Thank you all Thais, thank you all foreigners, everybody is a hero and everybody helped each other," Prime Minister Prayuth Chan-ocha told reporters.
A video shot by the rescuers in flickering torchlight revealed boys clad in shorts and red and blue shirts sitting or standing on the rock above an expanse of water.
"How many of you are there - 13? Brilliant," a member of the multinational team tells the boys in English. "You have been here 10 days. You are very strong".
"Thank you," one of the boys said.
Another asked when they will get out, to which the rescuer answered: "Not today. You have to dive."
---
Read more
---
Aged between 11 and 16, the boys went missing with their 25-year-old coach after training on 23 June, when they set out to explore the caves in the forest park.
Rescuers now have to decide how best to get the group out safely, and warned it could take time.
Rain continued to fall in Chiang Rai and was forecast to intensify from tomorrow, pushing authorities to double efforts to reduce water levels in the cave and try to get the boys out sooner.
"If it rains too much, water levels will rise and make getting them out harder," Interior Minister Anupong Paochinda told reporters.
We need your consent to load this rte-player contentWe use rte-player to manage extra content that can set cookies on your device and collect data about your activity. Please review their details and accept them to load the content.Manage Preferences
At the Tham Luang cave complex in Thailand's northernmost province, security personnel turned away scores of people who came to show their support as more journalists arrived, joining hundreds of media who have covered the rescue operation for more than a week.
Two British divers experienced in cave rescues, John Volanthen and Rick Stanton, were first to reach the boys and were accompanied by a team of Thai navy SEALS divers.
The boys and their coach have been given energy gels to sustain them while extraction plans were being worked out.
A SEAL team was still with the boys and lights, a power supply and communications equipment were being installed.
Options today included waiting until water levels subside, or teaching the group to use diving gear to navigate the flooded cave.
"Helping the kids will take time," said navy chief, Admiral Naris Pratoomsuwan, adding it took three hours to reach the place where the boys were found.
The divers had focused on an elevated mound, which cavers have named "Pattaya Beach", knowing that it could have provided the boys with a refuge when rains flooded the cave.
Chiang Rai governor Narongsak Osottanakorn said the divers reached Pattaya Beach but found it flooded, so they went 400 metres further and found the team.
Relatives waiting at a nearby shelter were seen cheering, smiling and receiving calls after hearing the boys had been found.
Sura Jeetwatee, a doctor who is part of the operations, said the boys could walk and had survived by staying where they were and drinking water that dripped from stalactite formations.
A government spokesman, said the prime minister wanted the cave rescue to be "a lesson in disaster relief in the future."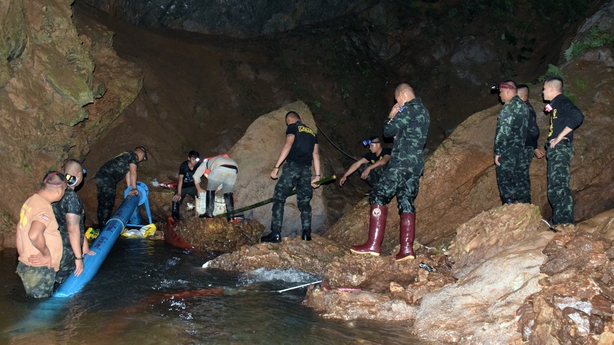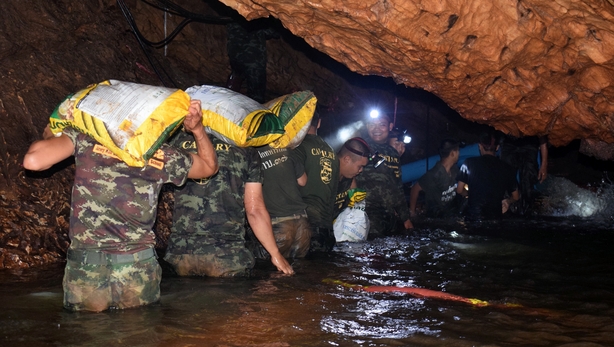 The group's health was assessed overnight by medical teams, who will continue to check the health of the group, said the governor, explaining that the boys had sustained light injuries.
"We categorised their health condition as red, yellow or green, red being the most severe injuries, yellow being mild and green being light. Yesterday, unofficially, we assessed that most are in the green category," he said.