Amazon Web Services (AWS), a company offering pay-as-you go cloud and data storage services, is to nearly double its Irish operation with the creation of 1,000 high-skilled technology jobs in Dublin.
The firm, a subsidiary of US online retailer Amazon, said it expects to fill the new roles within two years.
The new jobs will be spread across both AWS and its parent company.
They will be in areas including software engineering, network engineering, data specialisation and machine learning and will be located on Amazon sites in north county Dublin, Blanchardstown and Tallaght.
AWS also officially opened its new Irish headquarters today, an expansion of its existing base on Burlington Road in Dublin city centre.
Taoiseach Leo Varadkar attended the opening of the 170,000 sq ft building, which can accommodate up to 1,400 employees.
Opening the new @amazon building in Dublin and announcing 1,000 new jobs with @awscloud across the city. A real testament to our ability to attract top tech talent. #jobs #investment @IDAIRELAND pic.twitter.com/6BQfTILy68

— Leo Varadkar (@campaignforleo) June 18, 2018
Internationally AWS's clients include Netflix, while in Ireland the company works with companies such as Ryanair and Bank of Ireland.
The company set up its Irish operation in 2007, which at the time was its first new region for expansion outside North America.
Amazon currently employs around 2,500 people in Ireland.
The general manager of Amazon Web Services in Ireland, Mike Beary, said the company is already "actively recruiting" to fill the roles.
"Ireland has been a great place for us to attract great high-tech talent and it's a great business environment for us," he added.
The Taoiseach said that Amazon's decision to bring another 1,000 jobs to Ireland underpinned the Government's mission to make the country an innovative, digital economy and a global leader for the tech sector.
"The creation of these new jobs and the company's commitment to investing in research and innovation here is fundamental to maintaining Ireland's reputation as tech hub for Europe," the Taoiseach said.
IDA Ireland's chief executive Martin Shanahan said today's announcement by Amazon was a testament to the country's highly-skilled, diverse workforce.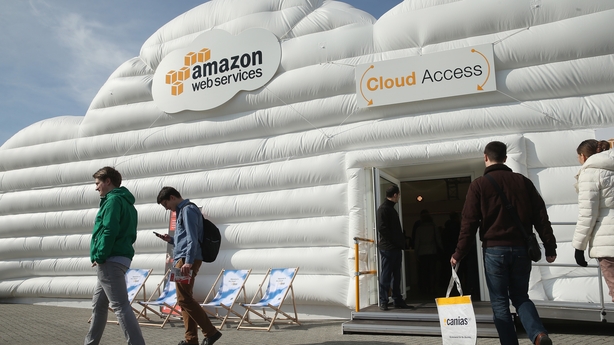 "Tech talent and investment are fundamental to our country's continued growth, and companies like Amazon are bringing even more energy, vision, innovation - and good jobs - to Ireland," Mr Shanahan added.
Minister for Business, Enterprise and Innovation Heather Humphreys said the Amazon investment supported the notion that Ireland continues to be a sustainable international destination for tech infrastructure.
"The company's continued commitment to our country will help us to power the Irish digital economy into the future, which will impact positively on our people, businesses and communities," the Minister said.
Today's jobs announcement is the largest by a multinational company in Ireland this year.
It adds to the 11,300 announced by foreign companies in the first half of the year, a slight increase on the same time a year ago, according to IDA Ireland.