More than half of Irish news consumers say they are concerned about "fake news", according to an international study released today.
The Reuters Institute Digital News Report annual study is published by the Reuters Institute for the Study of Journalism.
The Broadcasting Authority of Ireland funds an Irish component of the study, which is analysed by researchers at Dublin City University.
Of those surveyed, 57% said they were concerned about "fake news", similar to the UK figure of 58%.
However, while 61% of Irish consumers said they were very or extremely concerned about stories made up for political or commercial reasons, only 17% recalled seeing this kind of disinformation.
In terms of addressing disinformation, some 63% of Irish consumers said it was the Government's responsibility to do more, while 76% believe journalists and media companies should do more.
The report also found that consumers in Ireland and worldwide have limited understanding of how news appears in their social media feeds.
Only 28% of those surveyed said they understood the role of 'algorithms'. Internationally, only 27% were aware of the role of algorithms and 73% either did not know the answer or assumed that social media companies employ journalists.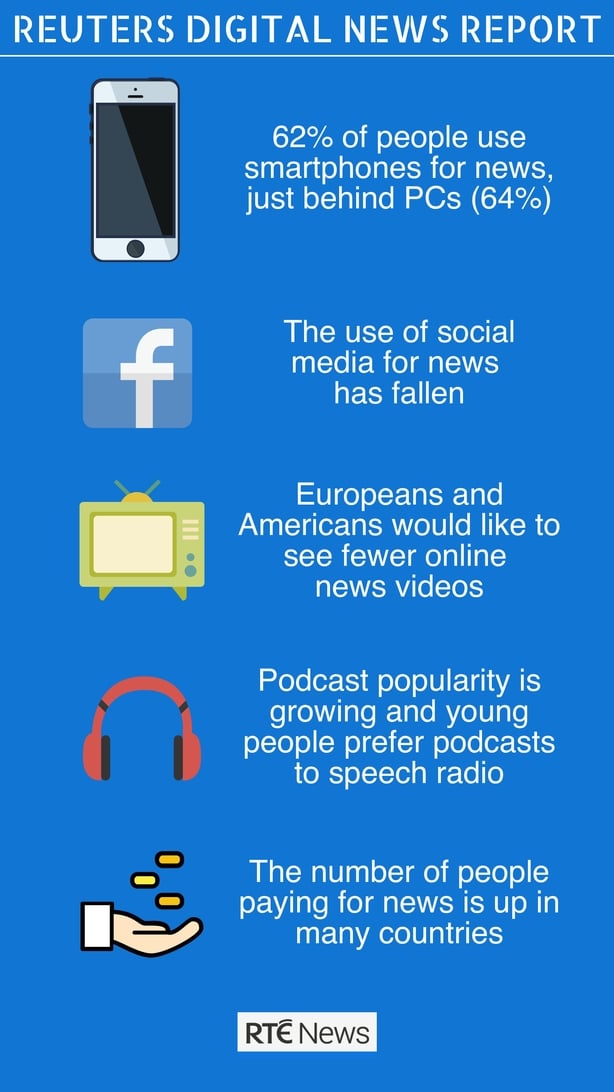 In line with international trends, there was a slight decline here in the use of social media for news. As a news source in Ireland, Facebook has fallen from 71% in 2015 to 67% in 2018.
The decline is even more pronounced in the US, where use of Facebook for news has fallen by 9% since 2014.
There has been a slight but steady increase in consumers paying for news, rising from 7% to 12% in Ireland in 2018. 
This places Ireland in line with the EU average. Growth in payments among the 24-to-34 age group rose by 6% in the past year, to 19%.
The study also found a growing willingness amongst those who do not pay for news to start paying through a subscription (20%) or donation (22%).
Irish consumers' choice of radio as their main source of news is the highest of all 37 countries surveyed, with 13% of Irish respondents citing radio as their main source of news, compared with an EU average of 7%.
Podcasts are also more popular among news consumers in Ireland than in Europe, the UK or the US, with 38% of those surveyed listening to podcasts.
At 71%, Irish consumers are more trusting of 'most news' than the EU average of 62%, with trust rising to 78% in news they have specifically chosen to consume.
However, Irish consumers have low trust in social media (28%). Trust levels in social media in the US were 19% and 17% in the UK.
The most trusted brands were RTÉ News and BBC News closely followed by The Irish Times. 
The main source of news for Irish consumers is television news bulletins or programmes, followed by social media but our consumption of radio news is higher than the UK and EU average.
The use of newspapers has declined from 2017. Online the leading digital sources of news are The Journal at 34%, followed by RTÉ News at 33% and the Irish Independent at 30%.
The leading sources of traditional news in 2017 were RTÉ at 51%, SKY News at 32%, RTÉ Radio at 31% and BBC at 29%.
The top three newspapers were The Irish Independent 25%, The Irish Times 20% and The Sunday Independent 14%.
Older people are more likely to consume news on television.
Dr Kevin Cunningham, a journalism and politics lecturer at Dublin Institute of Technology, said more people here trust the news than the EU average, but only a small proportion trust news they get from social media.
We need your consent to load this rte-player contentWe use rte-player to manage extra content that can set cookies on your device and collect data about your activity. Please review their details and accept them to load the content.Manage Preferences
Dr Jane Suiter, director of the DCU Institute for Future Media and Journalism, FuJo, added: "The report is both positive and negative for the news industry: on the one hand, willingness to pay for online news is steadily increasing, on the other hand, news consumers appear to have little understanding of how news is created or the role of the platforms and social media."