Former Ireland and British and Irish Lions captain Willie John McBride believes that Paddy Jackson and Stuart Olding should be back playing rugby following their acquittal of all charges in a rape trial.
The two men were unanimously acquitted last month, after a nine week trial at Belfast Crown Court, of raping the same woman.
The jury of eight men and three women also returned a unanimous not guilty verdict to a sexual assault charge against Mr Jackson.
Two other men were acquitted of lesser charges connected to the alleged incident in June 2016.
Mr Jackson and Mr Olding remain suspended from rugby pending a review by Ulster Rugby and the IRFU.
Both players, who are contracted with Ulster until the summer of 2019, have not played for Ulster or Ireland since the legal process began.
Mr Jackson has played 25 times for Ireland, while Mr Olding has four international caps.
Speaking on RTÉ's Today with Sean O'Rourke, Mr McBride described the last few months as "very traumatic" for the players, adding that they had been tried on television and in the press every day.
Mr McBride, who is President of the Official Ulster Rugby Supporters Club, said they should be severely reprimanded, but he felt they had learnt their lesson.
He said the woman involved had also had to endure a traumatic time and it was very sad for her, but he said she had not been exposed to media scrutiny.
"I think that they should be severely reprimanded," he said. "These young men, for the rest of their lives, will never be allowed forget what they've done.
"And I find it very sad that, even since the not guilty verdicts came out, they're virtually being tried over again in the media. And I find that very sad."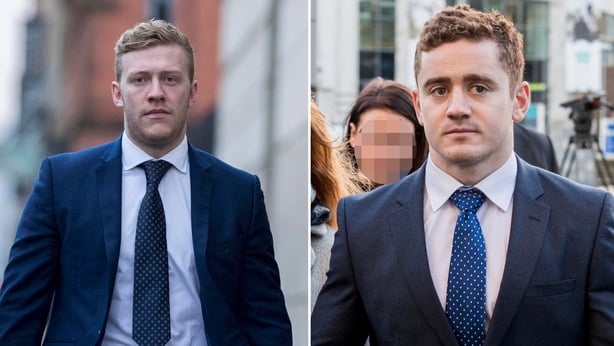 He added they have issued their regrets about the event, but having being found not guilty they should be back playing rugby. He said that he did not know either man.
Mr McBride said: "This has been a very sad affair. All of them have issued their regrets and their sadness about the affair, and their apologies.
"And I think it's time they got back to doing what they do best, and that is playing rugby."
When asked about the language used in WhatsApp messages between the men and other friends, he said it was "very wrong" and it was "very sad and very silly" that they got involved in it.
Alcohol was, he said, one of the biggest problems in all of these things.
The Dublin Rape Crisis Centre issued a statement this evening suggesting that some of those calling for the players' reinstatement failed to take account of extraordinarily disrespectful behaviour.