Today With Sean O Rourke Wednesday 7 December 2016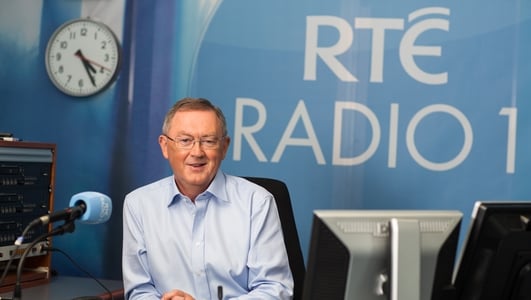 Today with Sean O'Rourke
The mid-morning current affairs magazine with the stories of the day, sharp analysis, sports coverage, in-depth features and consumer interest.
Clare's Rocket
The trainer of a dog that was stolen from in County Tipperary early on Monday morning, has described its return as being like ' winning the derby again.'
Graham Holland spoke to us this morning and said he didn't think that Clare's Rocket would be coming home and he was delighted to see him.
Bus Eireann
Minister for Transport, Tourism and Sport Shane Ross has warned that Bus Éireann could be insolvent within two years. Company management and the NBRU were at the Labour Court yesterday but management did not engage on pay. The Minster warned that Bus Éireann could be shutting down 6 to 8 of its least profitable routes in order to stop the losses.

We spoke to Seamus Boland of Irish Rural Link, and Nicola Cooke, spokesperson for Bus Éireann.
Ageing
Most of us think of ageing as something that happens later in life, but apparently the process can start from the age of 38.
A new institute on the campus of St James's Hospital is looking at ageing, and how we can age better. This is especially timely as the number of people in Ireland aged 65 or older is set to increase significantly in the coming decades. The Mercer's Institute for Successful Ageing will be officially opened today by the President Michael D Higgins.
The Director of the institute, Professor Rose Anne Kenny, joined us this morning.
Loneliness at Christmas time
For many people, the start of December means the beginning of the silly season, weeks of social parties and engagements culminating in a gathering of friends and family on Christmas Day.
However for far too many people, perhaps those already struggling with the death of a loved one, or missing family members living abroad...this can also be a particularly lonely time of year.
GP, Dr Harry Barry and psychotherapist Enda Murphy joined us this morning.
An Post Stamp Rise
The price of postage stamps is set to rise once again after cabinet yesterday approved plans to repeal the law that prevents An Post increasing its prices...
The change which will see standard stamps go from 72c to between 90c and €1 in the new year was defended by Minister for Communications Denis Naughten who said it was necessary to save the five-day postal service which is in a "very difficult financial situation.''
Independent TD for Kerry Michael Healy Rae is also a postmaster and he spoke to us this morning.
Edwin Cameron
One of South Africa's top judges is in Dublin today to give a lecture to FLAC – the Free Legal Aid Centre. Edwin Cameron, a judge in the South African Constitutional Court has witnessed the point at which human rights meet the constitution on both a professional and a very personal level.
Edwin Cameron is in Dublin to give the Dave Ellis Memorial Lecture for FLAC – the Free Legal Aid Centre. It's in the Pillar Room, Rotunda Hospital, Parnell Square this evening at 6pm. Details on www.flac.ie
Children's Allowance
Paddy O'Gorman spoke to some of those collecting their children's allowance ahead of Christmas.
Book: The Fear of 13
Nick Yarris spent over two decades on Death Row in the United States for a crime he did not commit.
Wrongly convicted of rape and murder, Nick Yarris was sent to Death Row at the age of twenty-one. He was kept there, much of the time in solitary confinement, until the results of a DNA test finally set him free.
He has now written a book about his life called 'The Fear of 13 – Countdown to Execution: My Fight for Survival on Death Row' and there is a documentary telling his story, which will be on Netflix next year.
Nick Yarris joined us from London.