Former US President Bill Clinton has said that the Good Friday Agreement was a "work of genius" and a "precious gift".
Speaking at a conference in Belfast to mark the 20th anniversary of the historic 1998 peace accord, he urged the people of Northern Ireland to "inspire" the world again.
The anniversary of the agreement is being marked by a number of events in Northern Ireland today.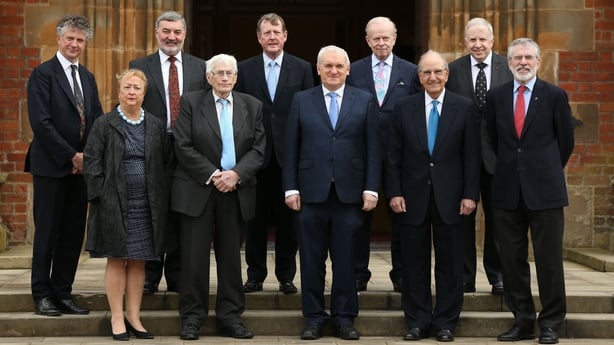 Many of the people who were involved in the Good Friday Agreement negotiations are in Belfast today, including Mr Ahern and former British prime minister Tony Blair.
The freedom of Belfast was awarded to Mr Clinton, and the chairman of the successful negotiations in 1998, former US Senator George Mitchell this afternoon.
Lord Mayor of Belfast Nuala McAllister awards freedom of Belfast to Bill Clinton and George Mitchell | https://t.co/i3a1Keh47i pic.twitter.com/7DzprobtJ5

— RTÉ News (@rtenews) April 10, 2018
Mr Clinton said: "The Good Friday Agreement is the work of genius that's applicable if you care at all about preserving democracy.
"Because it called for a real democracy, majority rule, minority rights, individual rights, the rule of law, the end of violence, shared political decision-making, shared economic benefits, shared special relations, maintained the relationship with the United Kingdom, expanded the relationship with the Irish Republic and then let the future take its course."
At an event in Queen's University, Mr Clinton shared an hour-long panel discussion with former British prime minister Tony Blair and former taoiseach Bertie Ahern - among the architects of the historic agreement.
He told an audience that included current political leaders, dignitaries and schoolchildren not to underestimate the work done by people of different persuasions.
"These people gave you a gift," he said.
"People who lost loved ones and bore scars; the women's groups; everybody, they gave you a gift. Make the most of it. It is a precious gift."
---
Read more:
GFA 'shows us how we might go forward together' - Clinton
Hume: The key influence in the Good Friday Agreement
The long night before the Good Friday deal was struck
'Ordinary people' would pull down border - Bertie Ahern
The troubled road to the agreement
From the Archives: A New Era North And South
---
Mr Blair described Brexit as a "profound mistake" and warned of challenging consequences.
He said: "Let me make it clear, we are going to overcome that challenge and we should overcome it because preserving this agreement is really, really important.
"But those people who are either disdainful of the challenge or dismissive, this is going to require real focus and hard work because we cannot return to a hard border between north and south, it would be a disaster for the agreement and for the relationship between the Republic and the UK, and therefore for the people of Northern Ireland."
Mr Mitchell, former Downing Street chief of staff Jonathan Powell, former Sinn Féin president Gerry Adams and former Ulster Unionist leader David Trimble were also present at the event in Queen's University.
GFA 'changed history' between Ireland, UK relationships
Earlier, Tánaiste and Minister for Foreign Affairs Simon Coveney said that the Good Friday Agreement "changed history" between Irish and British relationships on the island of Ireland.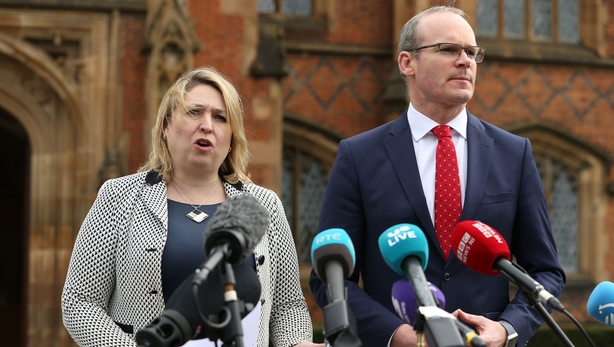 Speaking in Belfast, Mr Coveney said that Northern Ireland is a "changed place" and he urged current political leaders to "reinvigorate" efforts to find a solution to the Stormont impasse.
He added: "To find a way forward through the challenges that our generation now has, whether that is linked to Brexit, to devolved government, whether it is linked to polarisation and challenges around reconciliation and legacy."
Meanwhile, Northern Ireland Secretary of State Karen Bradley said the signing of the Good Friday Agreement was a "momentous day" and she said progress must not be allowed to slip.
She said: "You cannot underestimate what has been achieved in Northern Ireland since that agreement was signed.
At the time of the negotiations the SDLP and the Ulster Unionists were the dominant political parties.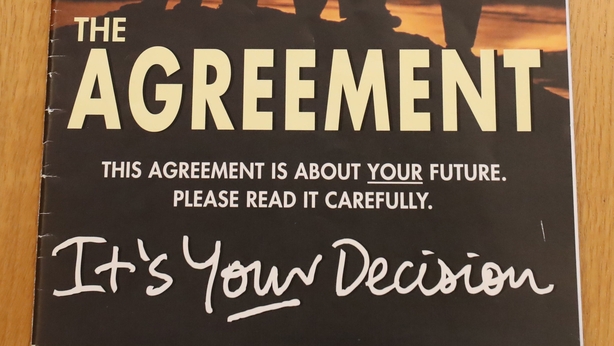 Sinn Féin played a crucial role in neutralising the IRA, while other parties including Alliance, the Women's Coalition and David Irvine's Progressive Unionist Party were also at the table.
The DUP did not back the deal, although it later became crucial in power-sharing.
In relation to the current political impasse in Northern Ireland, Mr Ahern said both the British and Irish governments and the Stormont parties need to redouble their efforts and to focus on resolving the issue.
Speaking on RTÉ's Six One News, he said that the issues at the centre of the stalemate are nothing near as serious as those that needed to be resolved for progress to be made 20 years ago.
Mr Ahern said that these matters should certainly be out of the way before summer, and that it might be a good idea to impose some sort of deadline for the parties to agree.
Meanwhile, Mr Mitchell said he warned the Northern Ireland parties at the time of the agreement of a return to violence if they failed to reach a deal and that peace still cannot be taken for granted.
In an interview with RTÉ's Morning Ireland, Mr Mitchell said there was a "widespread fear" that if the talks were to fail there would be an "imminent and massive resumption of violence probably on a scale exceeding what had taken place in the previous quarter century".
He said he told the political leaders that "if you don't make an agreement now there's going to be violence ... and the only thing you will be remembered for is that you let peace slip out of your grasp".
Mr Mitchell said he was "a little premature to think that peace could be taken for granted in Northern Ireland and we have to be very, very careful".
He called for the restoration of power-sharing at Stormont, saying the "paramount objective must be to rekindle the spirit of the Good Friday Agreement and encourage resolution of political problems through democratic and peaceful means".
My copy of GFA signed by (among others) Ahern, Blair, Trimble, Mallan, Adams, Mitchell, Clinton. Looking back to deal and whether it can endure on @morningireland shortly. pic.twitter.com/OTLHJaM6A1

— Bryan Dobson (@bryansixone) April 10, 2018
Former Sinn Féin president Gerry Adams said celebrating the 20th anniversary of the agreement would be better if the institutions were restored in Northern Ireland.
Speaking on RTÉ's Drivetime, he said more needs to be done and there are challenges with Brexit, but he described today as a good day.
Mr Adams said Brexit presents social and economic difficulties and it is a real threat to the Good Friday Agreement, but he said he believes the future is bright.
The former Sinn Féin President said all parties should unconditionally support the deal.