Minister for Education Richard Bruton was heckled by delegates calling for equal pay as he delivered his address to the ASTI conference in Cork.
As he spoke of new initiatives in education there were groans, shouts and laughter from the floor.
There was loud cheering, shouting, and sustained applause when the minister referred to the issue of pay 25 minutes into his address.
Mr Bruton said this was an area where progress could be made.
The minister received applause when he was introduced but ten minutes into his speech the heckling began.
On three occasions there was a call for order from the top table. The heckling continued throughout his address. 
There were loud groans when Mr Bruton spoke of Junior Cycle reform, and heckles when he spoke of the need to build capacity for leadership in schools. 
On teacher supply he said he was proud to have employed 5,000 extra teachers, but some delegates shouted out "yellow pack pay" to that. 
---
Read more:
Consent part of school sex education review
Teachers to give Govt one month for equal pay proposals
---
It was a minority of delegates who engaged in heckling. Others muttered more silently or shook their heads.
There was applause for the minister as he ended his address.
Earlier, speakers at the ASTI conference welcomed moves by all the unions to agree to a ballot on industrial action if proposals to end pay inequality are not agreed within a month.
However, they also expressed regret that the Teachers' Union of Ireland and the Irish National Teachers Organisation did not join the ASTI in strike action they took last year.
Delegate Sean Fox told the convention that "every other public sector union" was silent when ASTI members had been locked out of their workplaces last year.
He said ASTI members had not only carried the can for teachers by taking that action, but also for all public sector workers affected by unequal pay.
Delegate Mary Lindon said the ASTI's clothes had now been stolen by the INTO and the TUI, who were belatedly supporting the idea of industrial action.
Richard Terry referred to the several thousand members who had left the union, many of whom went to the TUI, because of last year's action. He said co-ordination with the other unions was key.
This morning the minister said that the Government is committed to making progress on the issue of equal pay for teachers.
Minister faced further calls over pay at INTO conference
He was speaking at the annual Irish National Teachers Organisation congress in Killarney, Co Kerry, prior to travelling to the ASTI conference.
As Mr Bruton spoke about digital technology, he was heckled by some delegates who called out "What about equal pay?"
Protesters were interrupted by INTO President John Boyle, who reminded them that there was a long tradition of welcoming the minister despite their differences.
Mr Bruton acknowledged that the union had a "justifiable" demand for pay, which was greeted with applause. 
He highlighted the 75% pay restoration and reduction in contracts for indefinite duration from four to two years, and said these were real improvements.
The minister told the congress that discussions on new entrant pay across all sectors of the public service will start on 27 April.
However, Minister Bruton later qualified his use of the word "justifiable" to describe teachers' pay demands.
Questioned by journalists, he said that while pay equality was a "justifiable" demand for unions to have, he had to balance it against other "legitimate expectations" and budgetary pressures.
Pay inequality a 'running sore' - INTO
INTO General Secretary Sheila Nunan told the conference that partial equality was not equality and there was no such thing as a "little bit equal".
She called pay inequality "a running sore" within the profession and that while there had been some progress in talks held last year, there had been a "wasted opportunity" to draw a line under pay discrimination that was sapping morale, eroding goodwill and a major cause of the current teacher shortage in schools.
Ms Nunan called for an "immediate and time-bound engagement", starting this month and finishing next month, that would end pay inequality.
She said if that effort fails then the union would ballot members for a campaign of industrial action, up to and including strike action, where possible with second level colleagues.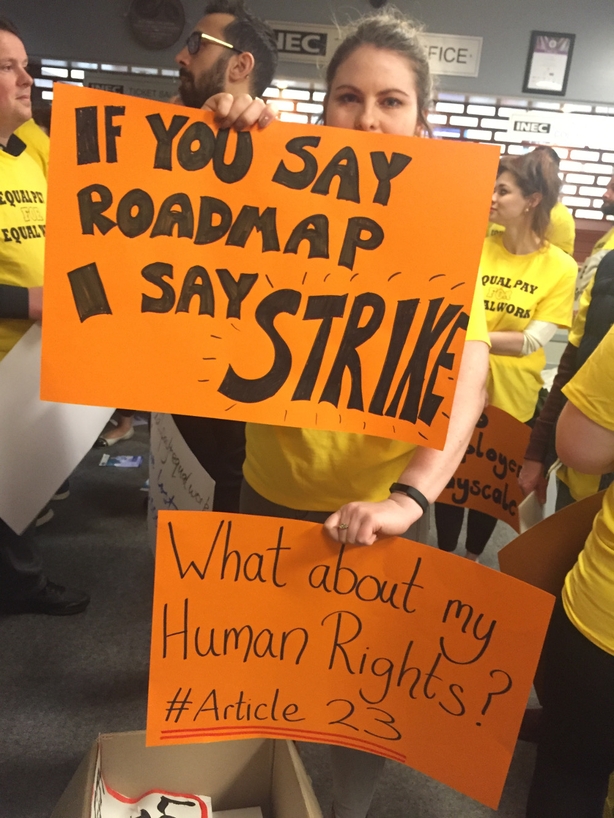 Speaking on RTÉ's News at One, the President-elect of the ASTI said she agrees with the minister's assertion that teachers' demands for equal pay is justifiable.
Breda Lynch said she will make it clear to Mr Bruton when he is at the ASTI conference this afternoon that pay inequality is "unjust", and any trade union has to fight for fair and equal pay for all members.
She said they will not settle for anything less.
Lower pay for newer entrant teachers is the big issue this year for all three unions and INTO delegates who began their conference yesterday were vocal in their view that their patience was running out.
The ASTI and the INTO have agreed to table a common motion giving the Government one month to agree proposals.
A sea of placards - but applause too - greet Minister for Education Richard Bruton as he begins his address to @INTOnews delegates in Killarney. pic.twitter.com/Zoqb784idh

— emma o kelly (@emma_okelly) April 3, 2018
Additional reporting Jennie O'Sullivan