Teachers are to give the Government one month to formulate proposals aimed at ending pay inequality among teachers.
At the INTO conference in Killarney this evening delegates agreed overwhelmingly to table an emergency motion for tomorrow, which calls for talks to begin this month and conclude by early May "with the capacity to achieve a resolution of all aspects of pay inequality".
The motion goes on to state that "in the event of continuing failure by Government to engage fully to resolve the issues or in the event of failure to resolve the issues in the engagement, a campaign of industrial action, up to and including strike action... will be pursued, where possible in conjunction with the other teacher unions".
The ASTI teachers union has agreed to debate the same motion at its conference which begins in Cork tomorrow.
It is likely that a third union, the Teachers Union of Ireland, will do likewise, although a formal decision has yet to be taken.
Given that delegates at the INTO Congress agreed to table this emergency motion it is highly likely that it will be passed tomorrow.
This evening's debate took place in a private session without media present.
However delegates told RTÉ News that there was unanimous support for a ballot on industrial action, should talks not deliver the prospect of a resolution to the pay issue.
Earlier, Irish National Teachers' Organisation president John Boyle addressed the 800 delegates in Killarney and said that pay equality was the union's priority.
He said the current pay agreement had failed to deliver pay equality which led to its rejection by all three teacher unions.
Mr Boyle said newer teachers had been disproportionately affected by lower pay scales and he called for an end to two tier pay in schools in talks between Government and unions to begin this month.
He said it was past time that "young teachers received assurance that they would be treated with dignity and respect in terms of equal pay".
"Is it any wonder", he asked, that "so many teachers have moved to other countries where their expertise is valued?"
Mr Boyle said the fact that starting salaries for teachers were now below the OECD average showed the extent of the cuts to new entrant pay, as well as what he called "the pressing need" to address pay inequality in the teaching profession.
This morning, Mr Boyle told RTÉ's Morning Ireland that a 2012 teaching graduate stands to lose €100,000 over the course of their career due to pay cuts.
He said teachers' patience was running very thin.
Mr Boyle also said that if the pay inequality issue was not addressed, there was a possibility that teachers would take industrial action and close schools.
"Certainly at the beginning of the next school year, if we don't have pay equality, negotiated by then, I believe that the members of the three unions will work together.
"We will be shutting down schools and withdrawing labour."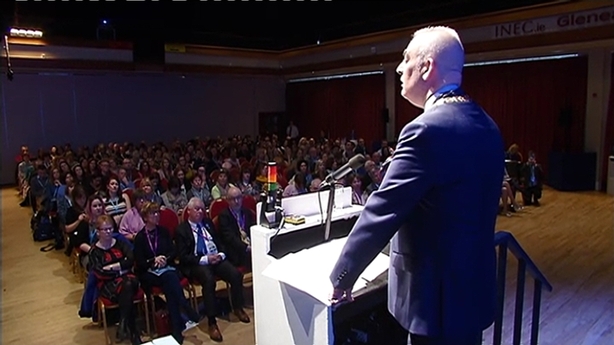 Ongoing demands for pay equalisation between younger and older teachers are likely to dominate this year's teacher trade union conferences which take place over the coming days.
Both the Association of Secondary Teachers of Ireland and the Teachers' Union of Ireland, which represent second-level and further and higher education teachers, begin their conferences tomorrow.
Analysis by Education Correspondent Emma O Kelly
While the three unions are already scheduled to debate motions calling for pay equality they are also likely to introduce a common emergency motion following the publication of a Government report last month on the issue.
The review, by the Department of Public Expenditure and Reform, looked at the issue of pay for new entrants across the public sector in general.
It estimated the cost of addressing it at €200 million.
It put the cost in education alone at €83 million.
The report referred to "further engagement over the coming months… to explore how the matter can be addressed".
The three teacher unions are planning to introduce common proposals at their conferences, calling for a campaign of industrial action by teachers, should the issue of pay inequality continue to be unresolved.
Teachers and other public sector workers recruited after 2010 remain on salaries that are lower, across the board, than those who began working prior to then.
The pay differential is most acute at the lower end of the salary scales.
At second level some new teachers are starting out now on a salary that's around 14% lower than that paid to new recruits in 2010.
According to the INTO, over the course of a 40-year career primary school teachers lose the equivalent of about €100,000, or 4%.
While the INTO estimates that the overall loss evens out at an average of between €1,400 and €2,500 annually, at second level the bulk of those losses are front-loaded and experienced in the early years of teaching.
Both the INTO and the ASTI conferences are due to begin their public sessions with motions on pay.
The INTO motion calls for a "united campaign of action with the other teacher unions in pursuit of full upward pay equalisation".
It calls for a ballot for industrial action to be held in May if that has not been achieved by the end of this month.
The ASTI motion is similar, calling for a ballot for industrial action if no progress has been made by now, and unity with other teacher unions in any proposed action.
The TUI already has a mandate for industrial action on the issue from its members.
Minister for Education Richard Bruton is due to address INTO members in Killarney tomorrow morning.
Mr Bruton will address ASTI delegates in Cork tomorrow evening, and he will speak at the TUI conference in Wexford on Wednesday.