Northern Ireland Secretary Karen Bradley has committed to provide budget clarity for Northern Ireland's public services.
Ms Bradley was addressing the British parliament in the wake of the failure to reach a deal in power-sharing talks at Stormont last week.
Northern Ireland has been without a devolved administration for over 13 months following the collapse of powersharing between the DUP and Sinn Féin.
Today, she declined to immediately reimpose direct rule from Westminster and raised the prospect of calling another Assembly election.
Ms Bradley has come under pressure from the DUP to appoint ministers to take decisions on schools and hospitals and pass a budget before they run out of cash.
Ms Bradley said: "I intend to take steps to provide clarity on the budget and will update the House (of Commons) as soon as possible.
"This is clearly not where I want to be but in the absence of an executive I have no other choice."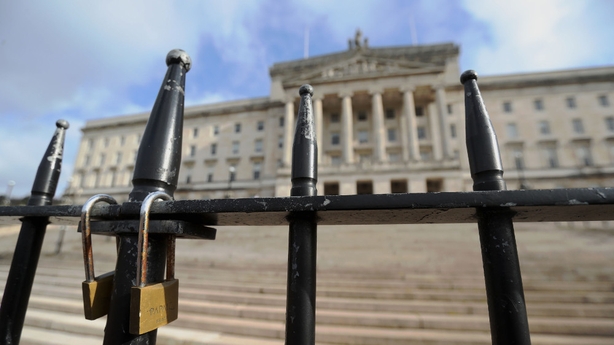 DUP deputy leader Nigel Dodds said it was a "dereliction of duty" to continue without a spending plan or ministers to make decisions.
Ms Bradley said she was working to ensure budget certainty for civil servants and she would return to the House of Commons.
She also said that fresh elections to the Northern Ireland Assembly could be called if all other viable options were exhausted and indicated the question of reducing Assembly members salaries may be revisited if the stalemate continues.
Ms Bradley said the British government will not shirk its responsibilities.
"Things in Northern Ireland cannot simply remain in a state of limbo. Challenging decisions will have to be taken."
She said commemorations of the 20th anniversary of the Good Friday Agreement later this year risked looking decidedly hollow.
Sinn Féin opposes the return of direct rule and has called for an intergovernmental council involving the Government to consider the issue.
Yesterday, Taoiseach Leo Varadkar said that both he and Tánaiste Simon Coveney reiterated to British Prime Minister Theresa May that the Government did not want direct rule in Northern Ireland.
Mrs May is due to meet the leaders of the DUP and Sinn Féin at the UK's House of Commons tomorrow afternoon, Downing Street said.
Mrs May's official spokesman said: "The focus is on restoring devolved government to Northern Ireland."
Asked about suggestions by a Tory backbencher that the Good Friday Agreement may have outlived its usefulness, the spokesman said: "The Government remains absolutely steadfastly committed to the Belfast Agreement and is currently working with partners in order to get the devolved administration up and running as soon as possible.
"That's what the Prime Minister is going to be talking about when she meets with the DUP and Sinn Féin tomorrow."
Same-sex marriage could be introduced via Westminster
Earlier, the British government said same-sex marriage in Northern Ireland could be introduced via Westminster.
Ms Bradley said while it should be a matter for the Stormont Assembly, if the matter was to be raised at Westminster it is the government's policy to allow a free vote on matters of conscience.
She was responding to a written question from Labour MP Conor McGinn, who asked if she would bring forward legislative proposals on equal marriage for same-sex couples in the region.
Ms Bradley said: "In accordance with the Belfast Agreement, this is a devolved matter which should be addressed in the NI Assembly; but the power of the Westminster Parliament to legislate remains unaffected.
"If this issue were to be raised in Westminster, the Government's policy is to allow a free vote on matters of conscience such as equal marriage."
Northern Ireland is the only part of the UK where same-sex marriage is not recognised in law. Several attempts in the Stormont Assembly to introduce marriage equality failed.
The DUP used a petition of concern to veto the bills, arguing that such legislation did not command enough cross-community support.
Human rights organisations and LGBT equality campaigners have been calling for Westminster to legislate for marriage equality in the region.
In August 2017, the High Court in Belfast dismissed two cases challenging Northern Ireland's ban on same-sex marriage.
Delivering his judgement, a judge said it was for the Stormont Assembly, and not a judge, to decide social policy.
After the talks on setting up an executive in Northern Ireland collapsed, shadow Northern Ireland secretary Owen Smith said it was up to London to introduce legislation in such areas as same-sex marriage.