The proposed wording that would be inserted in the Constitution should people vote to repeal the Eighth Amendment has been agreed by Cabinet.
The wording seen by RTÉ News reads as follows: "Provision may be made by law for the regulation of termination of pregnancies."
This effectively would make it clear that the Houses of the Oireachtas had the power to legislate in this area.
The location of this new Article in the Constitution will be decided by the Government in collaboration with the Attorney General at a later stage.
Earlier, the Cabinet agreed the draft heads of legislation around the holding of a referendum to ask people if they want to retain or repeal the Eighth Amendment of the Constitution.
The proposal was brought by Minister for Health Simon Harris.
In a statement, Mr Harris said he plans to finalise the Referendum Bill, which will allow the 36th Amendment to the Constitution Bill to be published next month.
He also said that the exact date of the referendum will be set following a debate and vote in the Dáil and Seanad.
Senior Government sources are adamant that having the referendum in May remains achievable.
The referendum will propose that Article 40.3.3 of the Constitution is deleted in its entirety and a clause inserted that makes it clear that the Oireachtas may legislate to regulate termination of pregnancy.
Mr Harris said that the Department of Health is drafting legislation that would follow a repeal of the amendment.
The legislation will be based on the recommendations of the Oireachtas Committee on the Eighth Amendment, he added.
A policy paper is to be published in early March outlining what the legislation will include.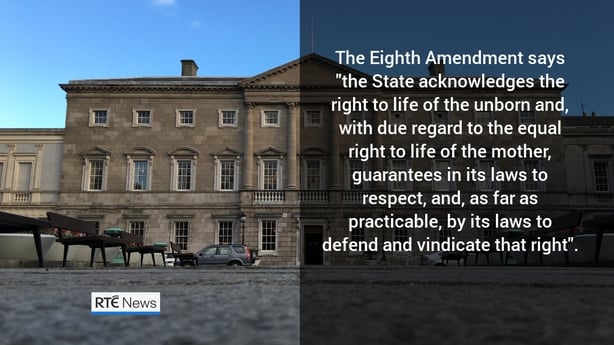 ---
Read more:
Referendum on Eighth Amendment likely to be held in May
Attorney General advised a 'simple repeal' might be argued before courts
---
Bringing draft legislation to hold a referendum to #Repealthe8th to Government today. Will finalise referendum bill in coming days and will publish the 36th Amendment to the Constitution Bill on the 6th March. A very busy few weeks ahead on an extremely important issue.

— Simon Harris TD (@SimonHarrisTD) February 20, 2018
Meanwhile, the Taoiseach has told the Dáil it remains the Government's intention to hold a referendum on abortion at the end of May.
However, Leo Varadkar said he could not promise this would be the case, as the Government does not control the Dáil and Seanad.
Additional reporting by Justin McCarthy