Pilots at Ryanair have suspended their strike action which was due to take place on Wednesday in a dispute over collective bargaining rights.
It follows Ryanair's decision on Friday to recognise unions for the first time in its 32-year history.
Ryanair management and pilots' union IMPACT will meet for the first time tomorrow evening.
Unprecedented 24-hour stoppages by Ryanair pilots had been due to proceed in Ireland and Portugal on Wednesday, causing untold disruption to pre-Christmas travellers.
On Friday Ryanair issued its concession agreeing to recognise unions.
However, after years of acrimony and distrust, unions were reluctant to take that promise at face value, refusing to call off the strike until after they had met Ryanair management.
The company said it could not meet union representatives until Wednesday - the day of the scheduled strike.
Now Ryanair and Irish pilots have agreed terms for a meeting tomorrow evening and the pilots have suspended their strike.
Management will meet Portuguese pilots on Thursday.
It is good news for passengers due to travel on Wednesday.
However, it is understood that if sufficient progress is not made at the Ryanair-IMPACT meeting, the union is reserving the right to reinstate its strike action.
Shares in the airline closed 3.25% lower in Dublin trade today, after heavy falls on Friday.
Meanwhile, Merrion Capital has said it is not confident that Ryanair can meet its full year earnings guidance for 2018 as the airline begins to recognise unions for the first time in its history.
Merrion also said it was concerned about estimates for 2019 and said it believes that 7-8% earnings growth maybe too excessive given the higher fuel and labour costs faced by the airline. 
Merrion also said it "unsure" of the future prospects of Ryanair chief executive Michael O'Leary given his handling of the situation at the airline.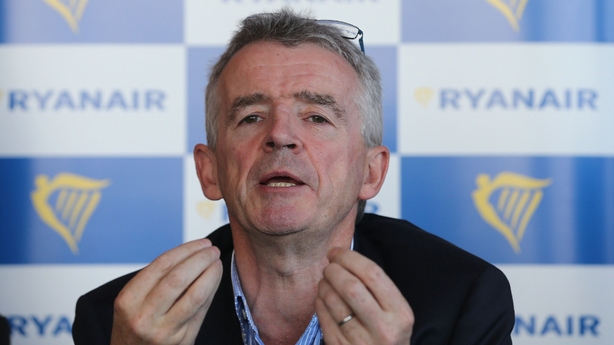 In a note, Merrion said it believes union recognition will raise the cost of business for Ryanair, and could add an additional €50m to its cost base.
This is on top of the stockbrokers' previous assumption of €100m in additional annual running costs. 
The stockbrokers said that Ryanair management had to move quickly to avoid reputational damage that would come with industrial action in the week running up to Christmas. 
"We assume that bookings could have possibly nosedived as industrial action was threatened, weakening the outlook for both Easter and early summer bookings," they stated.