Nearly all roads have been cleared of debris left by Storm Ophelia, the National Emergency Coordination Committee has said.
Progress has also been made restoring electricity and water supplies, but there are still tens of thousands of people without electricity and also many without water.
ESB Networks says it has reconnected 306,000 customers but there are 78,000 homes and businesses without power.
As of this morning there were 5,700 faults on its networks, concentrated mainly in the south and southeast.
Estimated restoration times are available on Powercheck.ie, while a more detailed announcement is to be made at noon on Thursday.
Priority is being given to the restoration of supplies for water and communications services.
Crews from Northern Ireland joined efforts last night and others from Scotland, England, Wales, France and the Isle of Man were drafted in this morning.
Northern Ireland Electricity said about 270 homes and businesses in the Newry, Downpatrick, Bangor, Portavogie, Newtownards and Dunmurry areas were without power following Storm Ophelia.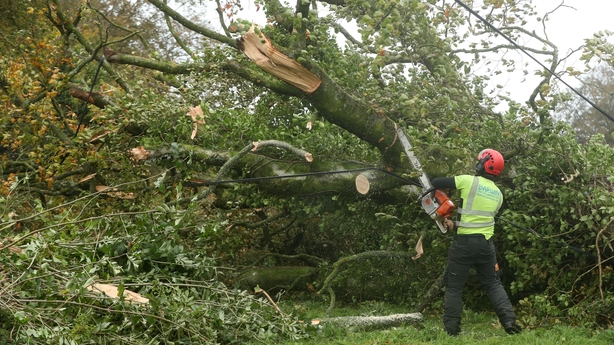 Irish Water says it has 25,000 customers without water, down from a peak of 109,000.
Most of these are in the southern counties of Wexford, Waterford and Cork
Both say they have repaired the bigger faults and progress now will be slower as they deal with many small breaches affecting smaller numbers of customers.
Speaking on RTÉ's Six One News, Irish Water's Managing Director Jerry Grant said 16,000 people were without water in Co Cork as a result of the storm.
The number of customers at risk of losing supply now stands at 5,000.
Mr Grant said some people could be without water for several days, perhaps for up to a week.
He said there are 100 small water schemes that have lost supply and it is "impossible to get generators to those sites, so we have to rely on tankers".
---
Read More:
---
Eir says it has 60,000 customers still without phone or broadband.
A status yellow rainfall warning is in place for Munster and parts of Leinster tomorrow, but the committee chairman, Sean Hogan, said this was not an exceptional weather event and was not expected to cause further damage.
Despite this, it may hamper the work of repair crews as they work to restore water, electricity and phone networks.
An Post said arrangements were being made for some social welfare payments to be transferred to other post offices, as around 100 post offices remain without power.
Head of Corporate Communications Anna McHugh said information regarding the alternative arrangements will be posted online, adding that while some of the larger delivery offices were also hit by power cuts, 95% of post would be delivered today.
Power failures have also resulted in a number of wastewater treatment plants and a significant number of sewage pumping stations discharging untreated or partially treated wastewater into lakes, rivers, estuaries and the sea.
The situation is being monitored by the Environmental Protection Agency.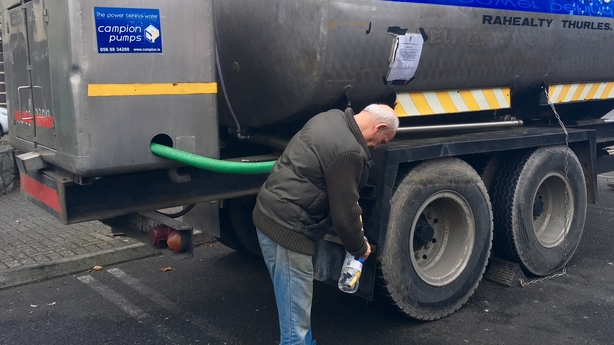 Taoiseach Leo Varadkar has said the vast majority of insurance policies are valid for damage from the storm.
Mr Varadkar said Government would engage with the insurance industry in the coming days, but he urged consumers to read the fine print on policies.
"We do think this will be a little bit different to flooding," the Taoiseach said.
"I know that when it comes to severe weather that causes flooding, that quite a number of people find themselves uninsured because they are on floodplains or have been flooded before.
"We expect this will be different. Nobody is in a hurricane path. It's different to a floodplain.
"We think that in the vast majority of cases people will be insured and will be covered but the best thing to do is to read your own policy and contact your insurer as soon as you can."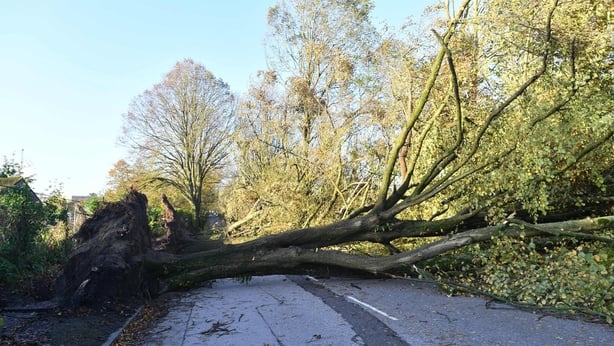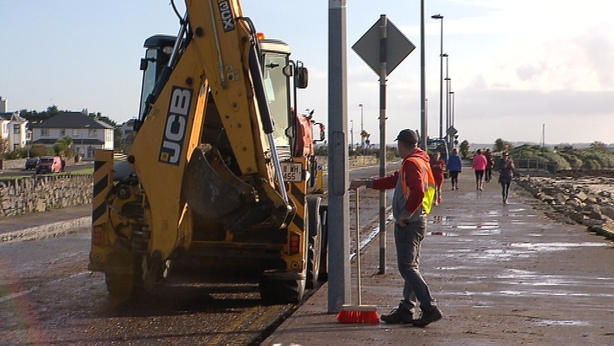 Dairy farmers urged to keep operations running
Agricultural co-operatives have been urged to coordinate efforts and keep dairy farms running through black-outs.
Sean O'Leary, national dairy chairman of the IFA, said the most pressing problem is the welfare of herds and protecting milk supplies.
He said: "Ensuring that cows can continue to be milked is crucial from an animal welfare point of view, and maintaining refrigeration is essential to ensure the valuable quality milk produced is not spoilt or wasted."
Some co-ops, including Glanbia, have arranged teams of electricians and are ensuring generators are moved to where they are needed most, the IFA said.
Mr O'Leary added: "It is essential that co-ops would co-ordinate their efforts, especially in the south-west, the south-east and the west, where the impact from Ophelia on the power grid seems to have been the greatest."
Meanwhile, public transport services are back to normal, and primary and secondary schools reopened after being closed for two days.
Huge progress on the clean-up operation was reported by the National Emergency Coordination Centre yesterday.
Damage from Storm Ophelia is estimated to cost between €500m and 800m.