The owner of one of the largest wholesale tree nurseries in the country has spoken about his devastation after much of his young tree crop was destroyed by storm Ophelia.
John Murphy, owner of Annaveigh Plants New Inn near Cashel in Co Tipperary, has tree and garden crops planted across 80 acres of land.
He said they used bamboo canes to support the growth of the young trees, and that 10,000 of them were "absolutely flattened" by the force of the storm.
It could take at least six months to repair the damage caused, which he estimates will run into hundreds of thousands of euro.
The business employs around 20 people, and Mr Murphy is still assessing how the damage may impact on those jobs at the centre.
He said they have supplied trees and plants to some of the biggest landscape garden centres, as well as a number of local authorities across the country and his business will be hugely impacted because of the effects of the storm.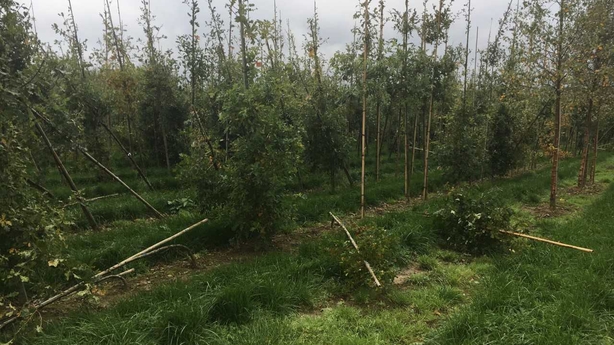 Speaking on RTÉ's News at One, Grainne Murphy, Director of Annaveigh Plants New Inn, said it would be very tough to get through the next couple of years and estimated it would cost them hundreds of thousands in labour and lost earnings.
She said: "In many areas the trees were broken in half. In the case of some of the species we've lost up to 60% of the trees.
"It will require significant labour input, we're talking in the hundreds of thousands to sort the whole thing out, when we work out the losses and the trees that are now un-saleable.
"In addition to that we had many pre-booked orders for these trees and we've had to disappoint our customers."
Ms Murphy said global warming is a huge concern for them, going forward.
She said that in addition to Ophelia, they have noticed a significant difference in rainfall patterns throughout the year.