Taoiseach Leo Varadkar has said that today's Budget is designed to avoid the boom and bust policies of the past.
It comes after Minister for Finance Paschal Donohoe announced in his Budget speech today that welfare payments will increase by €5 a week while USC rates will be reduced.
Speaking on RTÉ's Nine News, Mr Varadkar said that while the welfare and tax cuts measures were "modest", they do put money back in people's pockets.
He said: "It's all small steps in the right direction, but sustainable steps."
Taoiseach Leo Varadkar says that the measures announced in Budget 2018 are 'small steps in the right direction' pic.twitter.com/2n3lPE7Vw8

— RTÉ News (@rtenews) October 10, 2017
Mr Donohoe also pledged €1.83bn for housing in 2018 and he said a sugar tax will be introduced next April.
Speaking in the Dáil at lunchtime today, Mr Donohoe said we are building on progress that would have looked impossible a few years ago.
He said his three pillars for Budget 2018 are: to rebalance the economy; be fair and improve people's lives and make sensible long-term investments.
---
Read more:
---
However, opposition parties have criticised the new measures.
Sinn Féin's finance spokesman Pearse Doherty said this Budget marked a return to the "boom and bust politics of the past" and the Social Democrats joint leader, Róisín Shortall, said that there was no affordable housing scheme announced and nothing done in relation to rent.
During his Budget speech, Mr Donohoe said the point at which an income earner pays the higher rate of income tax will rise next year by €750 a year.
The entry point for single earners is to increase from €33,800 to €34,550.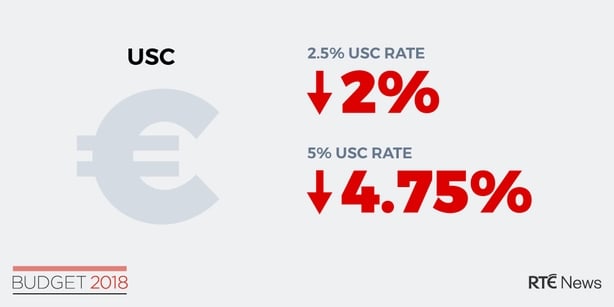 Announcing the change, Mr Donohoe said that a system where those earning an average wage are charged the higher rate of tax is unfair.
The Minister also said he would introduce targeted changes to the Universal Social Charge that reduce the rates but that does not narrow the USC's tax base.
The entry point to USC will remain at €13,000.
But the 2.5% USC rate will reduce to 2%, while the ceiling for this new rate will rise to €19,372 from €18,772 to ensure full time workers on the increased national minimum wage of €9.55 an hour do not pay the upper rates of USC.
The Minister also said he would reduce the 5% rate of USC to 4.75%, thereby reducing the top marginal rate of tax on income up to €70,044 to 48.75%.
Increase to weekly social welfare payments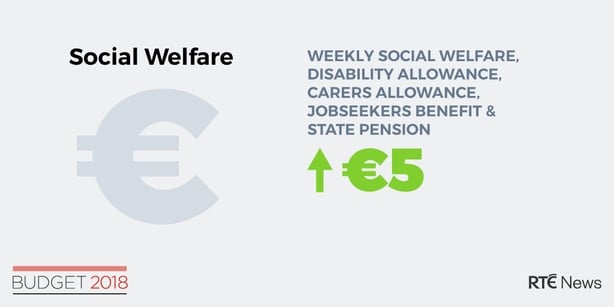 There will be a €5 per week increase in all weekly social welfare payments from the last week of March.
This will include the Disability Allowance, Carer's Allowance and both Jobseekers' Allowance and Benefit, as well as a further €5 increase in the State pension.
These measures will take effect in the last week of March.
A Christmas bonus payment of 85% will be paid to all social welfare recipients this year.
There will be an increase in the earnings threshold for the One Parent Family Payment and the Jobseekers' Transitional scheme by €20 per week.
There will be an additional 250 places for the Rural Social Scheme along with an increase in the Free Travel Scheme and the Fuel Allowance.
There will be a new community support allowance of €2.50 per week for those in receipt of both the Living Alone Allowance and the Fuel Allowance.
Almost 4,000 new social houses will be built next year
Mr Donohoe pledged a total of €1.83bn for housing in 2018.
Some 3,800 new social houses will be built next year by local authorities and approved housing bodies.
The Housing Assistance Payment Scheme to be increased by €149m in 2018
Funding for homeless services will be increased by a further €18m to over €116m.
Over €31m will be allocated to the Social Housing Current Expenditure Programme.
There will be an extra €500m for the direct building programme.
The target of social housing homes has increased to to 50,000, of which 33,500 will be delivered through construction.
Reduction in prescription charges for medical card holders
Minister Donohoe announced an increase of €685m in the allocation to the Department of Health, bringing total funding to almost €15.3bn.
The allocation includes an additional 1,800 staff across the acute, mental health, disability, primary and community care sectors.
There will be a reduction in prescription charges for all medical card holders under 70 from €2.50 per item to €2 per item with a subsequent reduction in the monthly cap from €25 to €20.
There will also be a reduction in the threshold for the Drugs Payment Scheme from €144 to €134.
€40m is being provided for primary care developments.
40 million extra for TUSLA - to help with mandatory reporting, gaps in of hrs services, family resource networks #Budget18 #children

— Sharon Tobin (@sharontobin) October 10, 2017
Sugar tax to be introduced
The excise duty on a pack of 20 cigarettes is to go up by by 50 cents, with a pro-rata increase on other tobacco products.
A 'sugar tax' is to be introduced from April 2018. There will be a tax at a rate of 30 cent per litre on drinks with over 8g of sugar per 100ml and a reduced rate of 20 cent per litre on drinks with between 5g and 8g of sugar per 100ml.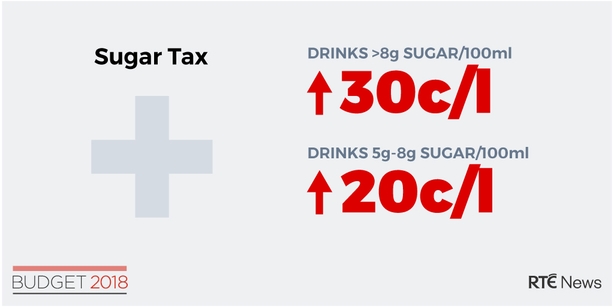 The VAT rate on sunbed services from the reduced rate of 13.5% will increase to the standard rate of 23%.
Announcing the change, the Minister said the move was in line with the Government's national cancer strategy in recognition of clear evidence of the link between skin cancer and sunbeds.
Boost to gardaí and teaching posts
The education budget will increase by €554m to over €10bn in 2018, a 5.8% increase on last year's budget allocation.
Over 2,200 extra posts in schools will be provided in September 2018, including: 1,091 Special Needs Assistants and 1,280 new teaching posts in schools in 2018.
Mr Donohoe announced an additional allocation for the Justice sector in 2018 of €63m.
He also said that there will be resources to allow for the recruitment of an additional 800 gardaí during 2018.
Another 500 civilians will also be hired, he said.
Brexit Loan Scheme of €300m for SMEs
Minister Donohoe said that Brexit is likely to mean permanent changes in trade patterns, especially for small and medium businesses.
He announced a Brexit Loan Scheme of €300m for SMEs including food businesses, because of their exposure to the UK market.
There will be an increase of €25m to provide for the development of further Brexit response loan schemes for the agri-food sector.
The budget for the Department of Rural and Community Development will increase by €19m.
This amounts to a 12% increase year on year.
"There will be an increase in €2.5 million for Irish Language and the Gaeltacht" Paschal Donohoe tells the Dáil #Budget2018

— RTÉ Radio 1 (@RTERadio1) October 10, 2017
Renewable Heat Incentive to be rolled out
Mr Donohoe announced €36m for the expansion of energy efficiency programmes across the public, commercial and residential sectors.
There is also an allocation of €17m to fund the roll-out of the Renewable Heat Incentive and to incentivise the uptake of electric vehicles.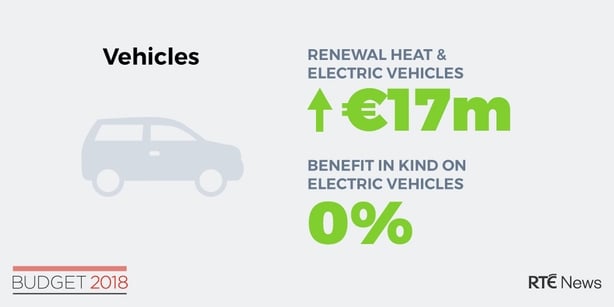 A rate of 0% Benefit in Kind (BIK) has been proposed for electric cars in 2018 to further incentivise take-up.
A Rainy Day Fund is to be established in the coming year with the transfer at least €1.5bn to it from the Ireland Strategic Investment Fund to start it off, said Mr Donohoe in the Dáil.
Annual contributions of €500m will commence in 2019, said Mr Donohoe.
Over €2bn in funding for transport, tourism and sport
Mr Donohoe said he will not change the VAT rate of 9% on the tourism and services sector.
Mr Donohoe said that while there is still a great deal of uncertainty about the outcome of the Brexit process, tourism continues to be a "national success story".
But he added that the one clear impact of the Brexit vote in the UK has been a continuing weakness in the value of sterling.
"While I note that prices in Dublin continue to rise, I have said before that VAT policy cannot be decided on the basis of one location only but in the context of the national interest," Mr Donohoe stated.
He also said he was allocating a total of over €2bn in funding for the Department of Transport, Tourism and Sport for next year.
This includes €112m for funding to enhance further the country's tourism offering and market the country abroad.