Education spending will be increased by €554 million next year, bringing the total spend to a record €10.08 billion.
The Budget measures include reducing the pupil-teacher ratio at primary level by one point to 26 pupils per teacher.
A total of 1,300 additional teaching posts will be created in 2018, to both reduce class sizes, and to cater for continued demographic growth.
Minister for Finance Paschal Donohoe told the Dáil that €46 million would be spent to address this demographic growth, creating 545 of these additional teacher posts.
There will be 100 additional guidance counselling positions as part of continued moves to replace guidance counsellors cut from school allocations a number of years ago.
An additional 1,000 Special Needs Assistant posts will be created, bringing the total number to 15,000.
There will be an additional €64.5m for higher and further education, and training, with €47.5m of this coming from an increase in the levy applied to employers under the National Training Fund.
Some of this additional funding will cater for an expected rise of more than 2,000 in further and higher level student numbers next year.
More than 6,000 new apprenticeships will be created and there will be 10 new apprenticeship schemes.
An additional €28m will be made available for capital spending next year, with €8m for the further and higher education sectors.
An additional €65m has been provided to cover the cost of the extension of the Lansdowne Road Agreement in 2018.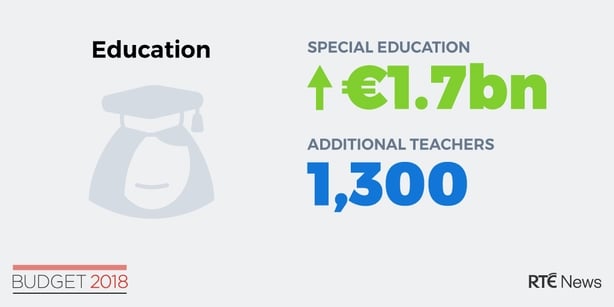 Minister for Education Richard Bruton said: "We are now spending more on education than ever before.
"This shows the strong priority that the government has put on education, which is key to helping everyone to fulfil their potential.
"We will continue to invest to support children with special educational needs so that every child can achieve their potential. This investment will ensure every child who needs SNA support, will receive it."
Fianna Fáil has said the party had secured the investment needed to reduce what it called "overcrowding in primary school classrooms".
Its education spokesperson Thomas Byrne said the party had demanded investment in the area when it entered the confidence and supply arrangement with Fine Gael.
He said: "This is a step in the right direction but more investment will be needed in the years ahead to help drive down the pupil-teacher ratio.
"In the past, the Government has used schools with lower than average pupil-teacher ratios to counteract those where students are suffering from a lack of teachers.
"Today's announcement must be followed up by real and significant actions to further reduce class sizes, and to further reduce pupil-teacher ratios to 23:1."
Mixed views from education unions
The Irish National Teachers' Organisation said it welcomed the measures to reduce the pupil-teacher ratio in primary schools.
It said that Irish primary class sizes were the second largest in the European Union behind the UK.
"This is the first move to tackle overcrowding by this Government," said INTO General Secretary Sheila Nunan.
"Irish primary schools will see this as progress towards a fairer deal for children. This decision will benefit children in primary schools.
"Teachers have more time with each pupil in smaller classes and can identify when a child is having difficulties faster."
However, several organisations involved in post primary education have expressed disappointment that today's Budget measures did not increase day-to-day funding for schools.
The ASTI said the Budget did nothing for over-crowded classes at second-level.
ASTI General Secretary Kieran Christie said: "Given the sustained economic growth over the past few years, it is unacceptable that the pupil-teacher ratio at second level remains higher than it was this time 10 years ago.
"The cuts introduced during the recession must be reversed as a matter of urgency."
The Irish Federation of University Teachers criticised what it described as a lack of funding for the third level sector.
IFUT General Secretary Joan Donegan said: "There was no announcement of specific funds to tackle the serious deterioration in staffing levels and improve academic staff to student ratios, similar to announcements for other sectors of education.
"We await clarification on how additional funds targeted for delivery through the National Training Fund and PPP interventions will be delivered."
The National Association of Princpals and Deputy Principals said closing the gap between capitation paid to schools and the real cost of running them was "a key issue".