Minister for Justice Charlie Flanagan has said the recruiting of a new Garda Commissioner may involve an international selection process.
Noírín O'Sullivan retired suddenly yesterday, saying the vast majority of her time was spent not on policy or policing, but on an unending cycle of inquiries.
Following discussions with the Chairperson of the Policing Authority, Josephine Feehily, Mr Flanagan said the process is now under way but it cannot be done within a short space of time.
He said that he would not have any concerns about someone from outside the country overseeing national security, saying it was the job of Government to facilitate the appointment of the person the Police Authority believe is the best candidate.
The Minister said this was an opportunity to broaden the base and to look at the labour market to find the best candidate.
He said the Authority would advertise within weeks to find a candidate to implement change in the gardaí to put it on par with the best in the world.
Mr Flanagan said the possibility had been flagged to him in recent weeks that Ms O'Sullivan might retire as garda commissioner.
Speaking on RTÉ's Morning Ireland, Mr Flanagan said he was not surprised at the news.
Charlie Flanagan says the process to recruit a new garda commissioner is under way but it cannot be done within a short space of time pic.twitter.com/VFUXrVT2rM

— RTÉ News (@rtenews) September 11, 2017
Mr Flanagan said again today that there is no special pension deal in place for Ms O'Sullivan.
The Department of Justice confirmed that any member of the Gardaí recruited before April 2004 may retire on full pension having reached 50 years of age if they have completed 30 years of service.
A member with full pension entitlement would receive a pension of half their pensionable pay and a lump sum of one and a half times their pensionable pay.
That means the former Commissioner will have an annual pension of €90,306 and she will receive a lump sum of around €270,000.
Nóirín O'Sullivan was in the top Garda post for slightly less than three years but the period during which she was Acting Commissioner is "deemed reckonable" for pension purposes.
---
Read more:
---
Following an open competition by the Public Appointments Service, the authority will nominate a candidate to the minister, who can accept or reject that person.
The issue will be discussed at Cabinet on Wednesday.
Taoiseach Leo Varadkar has said the reform programme in An Garda Síochána will now be accelerated.
Ms O'Sullivan said she was retiring because she spent most of her time not on policing and security, but on dealing with what she called the unending cycle of requests, questions, instructions and public hearings from various agencies, including Oireachtas committees and the Policing Authority.
Mr Flanagan said there were discussions between Ms O'Sullivan and officials from his department in recent weeks with regard to the commissioner deciding to retire.
However, Mr Flanagan said he had not spoken to Ms O'Sullivan since before she took her summer break in July.
He said he accepted her decision to retire.
The former Police Ombudsman for Northern Ireland, meanwhile, said it was inevitable that Ms O'Sullivan would step down as garda commissioner.
Speaking on RTÉ's News at One, Nuala O'Loan said the amount of false breath tests that had been recorded over the last six years showed a level of wrongdoing in the force that demonstrates failure of the person that the police are supposed to serve.
She said: "I don't know how many guards were involved in administering breath tests but it seems an awful lot of false breath tests.
"When you get that level of wrongdoing within a force and that level of failure of the people that the police are supposed to serve I think her going was inevitable."
Ms O'Loan said there was a culture of impunity at An Garda Síochána.
"It must've been there for one and half million false tests to be registered and for 15,000 people to be wrongly convicted. There must've been some sense that they could so this and I think that's called a culture of impunity," she said.
Speaking on the attributes that a possible successor would need, she said a capacity to "remotivate the force", to raise morale and to ensure that all members know that "every single law applies to them".
She said "integrity is non-negotiable."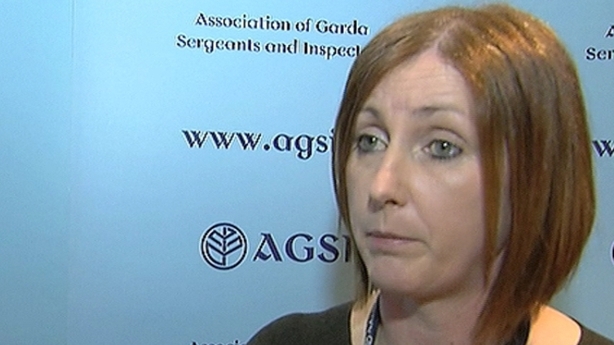 The President of the Association of Garda Sergeants and Inspectors has said the AGSI wishes Ms O'Sullivan well in her retirement.
Speaking on Newstalk radio, Antoinette Cunningham (pictured above) said there were problems in An Garda Síochána no matter who was in charge and the problems still exist and they have to be sorted out.
Ms Cunningham said it was a difficult time for An Garda Síochána at present.
She also said there was admiration for Ms O'Sullivan when she took over the job, that there were problems when she took over, and those problems still remain.
The AGSI has called for a change in the structures of accountability in the force following Ms O'Sullivan's retirement.
The association said it has no difficulty with accountability, but the force should be accountable to just one body, the Policing Authority, rather than the current ten different individuals and groups.
Elsewhere, Fianna Fáil's justice spokesperson has said there must be accountability at the top of An Garda Síochána, particularly over the false breath test controversy.
Jim O'Callaghan welcomed Ms O'Sullivan's departure, but acknowledged her "important role" in starting the process of modernisation in An Garda Síochána.
Sinn Féin deputy leader Mary Lou McDonald has said whoever assumes the role of commissioner should be from another jurisdiction.
We need your consent to load this rte-player contentWe use rte-player to manage extra content that can set cookies on your device and collect data about your activity. Please review their details and accept them to load the content.Manage Preferences
Labour leader Brendan Howlin, meanwhile, has said the criteria and requirements for the new garda commissioner should be made public and agreed with the Oireachtas.
He said there needs to be transparency on Ms O'Sullivan's retirement package.
Mr Howlin added that there has been a reluctance to give an independent body control over policing and he would like to see the Policing Authority asked about the powers it requires.
Independents4Change TD Clare Daly said three years had been lost in terms of garda reform with irreparable damage done in that time, and she questioned why the Government had allowed Ms O'Sullivan to remain in the job.
She said it was "sickening" to hear the Taoiseach now say that reform could be accelerated.
Solidarity TD Paul Murphy has said it was inevitable that Ms O'Sullivan would step down, but said the timing was "a bit surprising".
Speaking on RTÉ's Morning Ireland, Mr Murphy said he did not think the retirement would necessarily change anything.
Minister for Health Simon Harris has said he would like to see the appointment of a new garda commissioner proceeding as soon as possible.
Speaking in Longford, he said those who are predicting an outsider being appointed to the job should remember that Ms O'Sullivan was appointed after an open international competition.
He said it was a matter for the Cabinet to consider tomorrow and the Policing Authority to proceed with.