Torrential rain pounded has pounded Haiti as monster Hurricane Irma roared past the country's northern coast, triggering flooding and injuries, local officials said.
In the town of Ouanaminthe, on the border with the Dominican Republic, homes were flooded with up to 30 centimeters of water, according to the Haitian civil protection agency.
Two people were injured when an uprooted coconut tree crashed onto their home near Cap-Haitien, the agency said.
The eye of the monster storm is few dozen miles north of Haiti, churning past Turks and Caicos, and heading for the Bahamas.
Poor Haitians were left to face Irma's fury alone as authorities showed little sign of preparing for what forecasters said could be a catastrophic event.
Many were clinging to the hope that damage could be less than feared, after the path of the Category Five storm veered north away from Haiti, the poorest country in the Americas.
Irma barrelled toward Haiti as one of the most powerful Atlantic storms in a century, and devastated a string of Caribbean islands killing at least ten people.
The Hurricane is likely to be downgraded to a Category 4 storm by the time it hits Florida this weekend, the United States National Hurricane Center has said.
Irma is expected to hit Florida as a very powerful Category 4 on Sunday, with storm surges and flooding beginning within the next 48 hours. Electricity generator Florida Power & Light has said it will shut its two nuclear power plants before Irma comes ashore as a very powerful hurricane.
FPL generates enough power for about 1.9 million homes at theier Turkey Point and St. Lucie plants, which are both along Florida's Atlantic Coast, about 20 feet above sea level.
Irma is currently a "potentially catastrophic" Category 5 storm packing maximum sustained winds of 285km/h.
The hurricane has plowed past the Dominican Republic toward Haiti after plunging Puerto Rico into darkness.
The United Nations Children's Fund warned millions of children could be at risk in those two countries.
Across the Caribbean, authorities rushed to evacuate tens of thousands of residents and tourists in the path of the storm, while on islands in its wake, shocked locals tried to comprehend the extent of the devastation.
In the US Virgin islands, a major hospital was obliterated by the wind, while Barbuda, where one person was killed, was reduced "to rubble" according to Prime Minister Gaston Browne.
In the British overseas territory of Anguilla another person was killed, while the hospital and airport, power and phone service were damaged, emergency service officials said.
Three people were killed in Puerto Rico and around two-thirds of the population lost their electricity, Governor Ricardo Rossello said after the storm passed by the US territory's northern coast.
A surfer was also reported killed in Barbados.
The storm passed just to the north of the Hispaniola island shared by Dominican Republic and Haiti, causing some damage to roofs and flooding as it approached the impoverished Haitian side of the island, which is particularly vulnerable to hurricanes and rain.
French Prime Minister Edouard Philippe has said that four people were confirmed dead on the Caribbean island of St Martin, lowering a previous toll of eight deaths given by local rescue officials.
Mr Philippe said around 50 people were injured, including two seriously, on St Martin and the nearby smaller island of St Barthelemy.
He said officials were in the process of identifying the four dead, adding that no deaths were reported from St Barthelemy.
On St Martin, 60% of homes have been damaged so badly that they are uninhabitable, the prime minister said, describing the disaster as "unimaginable and unprecedented".
"It is an enormous disaster. 95% of the island is destroyed. I am in shock," Daniel Gibbs, chairman of a local council on Saint Martin, told Radio Caribbean International.
Power is cut across St Martin as well as supplies of potable water and petrol, he said. Roads are either partly or totally impassable, he added. However the harbour and airport are back in use.
Meanwhile, a hurricane swirling in the Gulf of Mexico, Katia, which is about 310km northeast of Veracruz with maximum sustained winds of 130km/h, is likely to gain near major hurricane strength by landfall, the NHC said.
A third hurricane in the Atlantic, Jose, has strengthened slightly and is expected to intensify further over the next 48 hours, it added.
States of emergency have been declared in Puerto Rico, Cuba and Florida amid fears Miami could be struck directly by the hurricane.
A massive operation is under way to evacuate people away from coastal areas on Haiti and the Dominican Republic, where aid workers are moving residents into temporary shelters before the storm hits.
#NEWSGRAPHIC Satellite view of Hurricane Irma traversing the Caribbean on Wednesday @AFP pic.twitter.com/CzgTlMxmIC

— AFPgraphics (@AFPgraphics) September 7, 2017
---
Read more:
---
An alert sent by the Department of Disaster Management and Emergencies on Grand Turk urged residents near the coasts to take shelter on higher ground, warning the storm surge could raise water levels by 4.5m to 6m above the normal tide.
The Red Cross has said that an estimated 1.2 million people have already been "battered" by the hurricane, a number that could surge to 26 million.
"Our worst fears have played out in Barbuda and elsewhere," Walter Cotte, Americas director for the International Federation of Red Cross and Red Crescent Societies (IFRC), said in a statement.
The Geneva-based Red Crescent Societies said that Irma "may have already battered an estimated 1.2 million people and poses a serious threat to millions more".
The organisation specified that in the Dominican Republic, Haiti and Cuba "an estimated 26 million people could be exposed to destructive winds and torrential rain."
Some US government personnel have been ordered to leave the Bahamas before the hurricane's arrival, expected tonight local time.
On the US mainland authorities fear the hurricane may slam into the Florida peninsula over the weekend, just days after storm Harvey devastated Texas.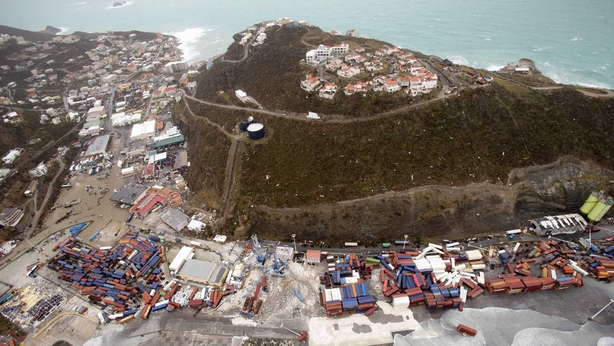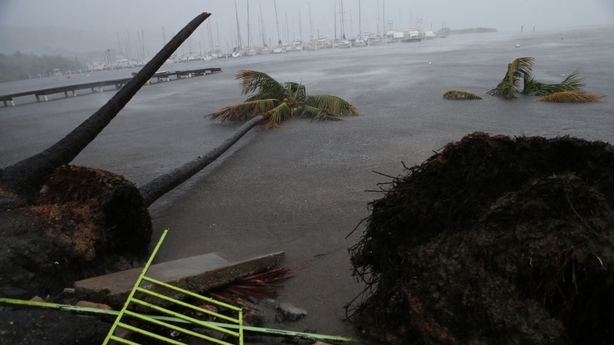 Officials are making preparations to potentially shut down two nuclear power stations in the Sunshine State, while evacuation orders have been given in the Florida Keys.
President Donald Trump, whose Mar-a-Lago resort in Palm Beach could be affected by the storm, said his administration is monitoring Irma closely.
"It looks like it could be something that could be not good, believe me, not good."
It is only the second time anywhere in the world a storm has been recorded maintaining such wind speeds for more than 24 hours, after typhoon Haiyan in 2013, according to an expert at the University of Colorado.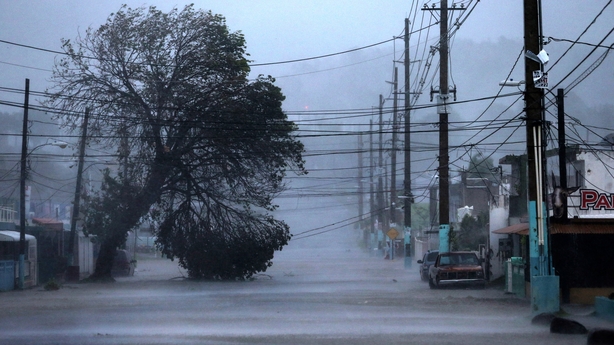 Antigua and Barbuda Prime Minister Gaston Browne said that nearly every building on Barbuda was damaged when the hurricane passed overhead, leaving around 60% of the island's approximately 1,800 people homeless.
Barbuda had been left "barely habitable", he said.
French President Emmanuel Macron said he expects that victims and heavy damage will be discovered on islands of Saint Martin and Saint Barthelemy, known as St Barts.
He spoke with British Prime Minister Theresa May today to coordinate an emergency humanitarian response.
Amid criticism from many residents that the British government could have done more to help its territories, Foreign Office Minister Alan Duncan said a Royal Navy ship would reach the affected islands today with tents, vehicles and other relief equipment.
"Anguilla received the hurricane's full blast. The initial assessment is that the damage has been severe and in places critical," he told the British parliament.
Anguilla's tourist board said its major resorts had survived the storm, although many private homes had been damaged. There were no reports of any deaths.
British billionaire Richard Branson was counting the cost of widespread damage at his private retreat on Necker in the British Virgin Islands after the hurricane pounded the archipelago.
Before the hurricane's arrival, Mr Branson refused to leave his Necker Island retreat and said he would be seeking shelter in his wine cellar with his staff.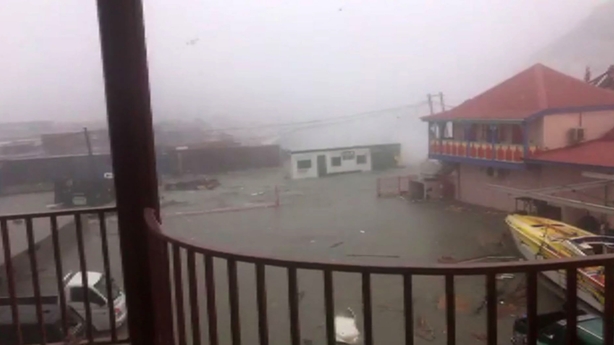 His son, Sam, later wrote on Instagram: "Glad to say that all humans on Necker are ok although a lot of buildings destroyed."
Very concerned for our friends and everyone on the neighbouring islands and people in its path. Please don't take this hurricane lightly if it is heading your way.
Christian Aid is helping to orchestrate the mass evacuation of Haiti and the Dominican Republic.
The charity's country manager, Prospery Raymond, said: "People are being moved to schools and churches for safety but in some areas, especially in the north west of Haiti, these buildings will not withstand the force of the storm."
Meanwhile, the Department of Foreign Affairs has said that it has not received any reports of any injuries or deaths of Irish citizens in the affected areas.
It said that it is monitoring the situation closely and anyone with concerns for Irish citizens in the region should contact the department on 01-408-2000.