Haitian authorities and aid agencies are scrambling to prepare for Irma, the strongest Atlantic storm on record, warning it could devastate the country still reeling from drought and last year's Hurricane Matthew.
The eye of Irma, a Category Five storm, passed over the northern Virgin Islands today after crossing the half-French, half-Dutch island of St Martin and the Dutch islands of Saba and Sint Eustasius.
Category Five is the highest hurricane ranking used by US forecasters.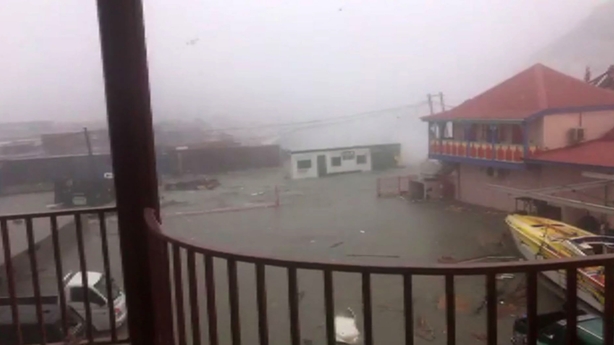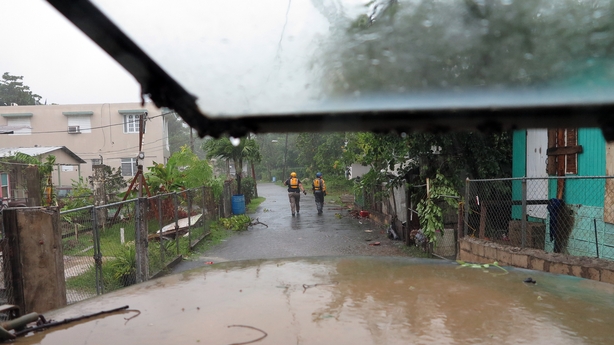 Two people have been killed and two others injured on St Barthelemy and St Martin.
French President Emmanuel Macron, after chairing a crisis meeting on the storm, said an emergency fund to help reconstruction would be set up "as swiftly as possible."
"At this moment, it is too early to have a total figure, but I can already say that the impact will be hard and cruel," Mr Macron said after the crisis meeting.
"There will be casualties and the material damage on both islands will be considerable."
Irma is also said to have brought "absolute devastation" to the Caribbean island of Barbuda, with at least one person dead.
Prime Minister of Antigua and Barbuda Gaston Browne estimated damages of some $150m.
After a visit to the island, he said: "This rebuilding initiative will take years".
As Hurricane Irma tore through the Caribbean, a tropical storm in the Atlantic and another in the Gulf of Mexico were upgraded to hurricane status, the National Hurricane Centre said.
Hurricane Jose was 1,040 miles east of the Lesser Antilles in the Atlantic and packing maximum sustained winds of 120km/h, the NHC said.
It was considered a Category One hurricane on the five-level Saffir-Simpson scale.
The NHC said that tropical storm Katia in the southwestern Gulf of Mexico had also become a Category One hurricane.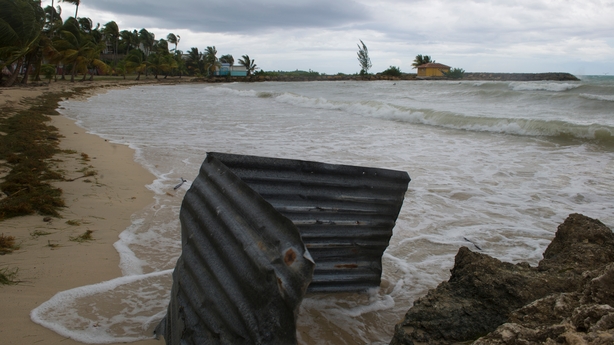 Hurricane Irma, further to the west, is currently battering the Caribbean and threatening Puerto Rico, the Dominican Republic, Haiti, Cuba and south Florida.
The "extremely dangerous" core of Irma was predicted to strike northern Haiti and the Dominican Republic as well as the Turks and Caicos and Bahamas tomorrow with winds of 295km/h, the US National Hurricane Centre said.
In the US, airlines adjusted flight schedules, made cancellations and assured passengers they would not have to pay unusually high fares ahead of the storm's arrival.
Irma hit Saint Barthelemy and Saint Martin with the French weather office saying it had caused major flooding in low-lying areas.
Coastlines are being "battered extremely violently" by the sea, it said, adding: "These islands are suffering major impacts."
As Irma approached Saint Barthelemy, a favourite jet-setters' destination also known as St Barts, the office measured winds of 244km/h.
Its monitoring equipment has since been destroyed by the hurricane, it said.
Irma's eye, about 50km in diameter, hovered for about one and a half hours over St Barts, bringing an eerie but deceptive calm, said weatherman Jerome Lecou.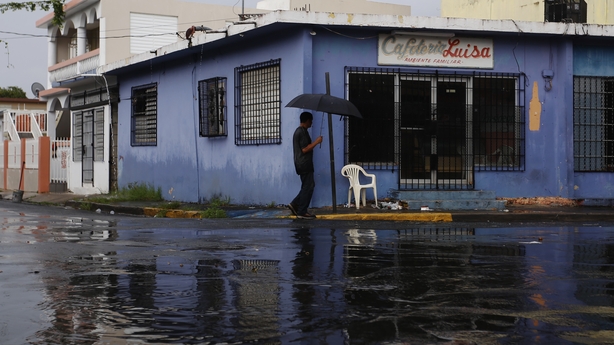 Florida braced for the worst after Caribbean feels the destructive force of Hurricane Irma pic.twitter.com/a6iUqZEX13

— RTÉ News (@rtenews) September 6, 2017
The French government had previously sounded the alarm over thousands of people who had refused to seek shelter on St Barts as well as Saint Martin, an island divided between France and the Netherlands.
Elsewhere, officials in Florida's Key West have ordered people to evacuate ahead of the arrival of Irma, a "potentially catastrophic" Category 5 hurricane.
The monster hurricane, coming on the heels of Harvey which struck Texas and Louisiana late last month, is expected to hit a string of Caribbean islands before reaching Haiti and Florida.
The Miami-based National Hurricane Centre said this morning Irma had strengthened to the most powerful Category 5, with winds of up to 280km/h.
The front was moving west at 22km/h, and is expected to dump up to 45cm of rain in some areas.
"These rainfall amounts may cause life-threatening flash floods and mudslides," the NHC warned, calling the storm "potentially catastrophic" and urging that "preparations should be rushed to completion" in the region.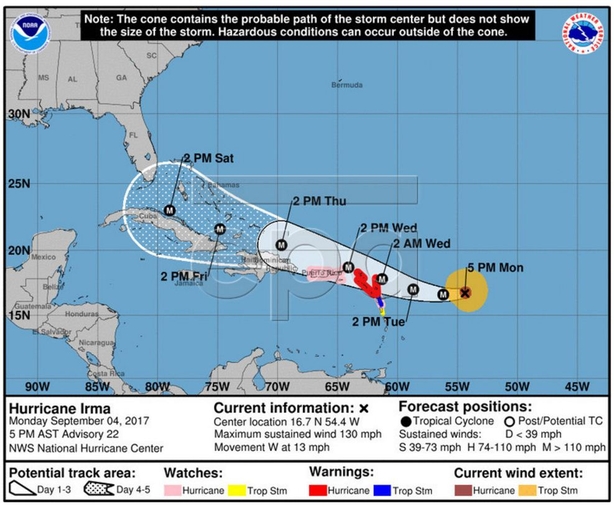 Florida expects the greatest danger from Friday night through Monday.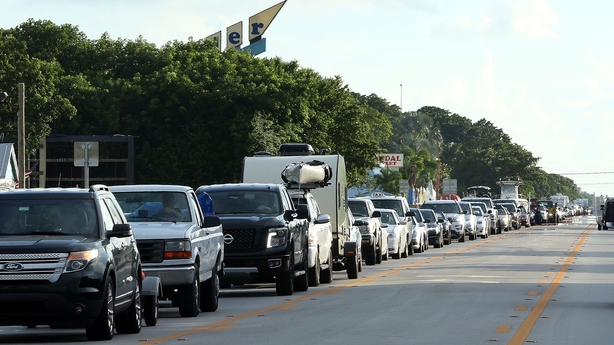 Tourists in the popular Key West islands were packing their bags on a mandatory evacuation order and were due to begin leaving today, with a similar order for residents due to follow.
Governor of Florida Rick Scott declared a state of emergency, saying Irma posed "a severe threat to the entire state", barely a week after Harvey claimed at least 42 lives.
He asked US President Donald Trump to declare an emergency for the state as well, which would help draw resources to respond to any damage.
"We're emphatically telling people you must evacuate, you cannot afford to stay on an island with a Category 5 hurricane coming at you," said Monroe County emergency operations centre director Martin Senterfitt.
President Trump has declared states of emergency in Florida, Puerto Rico and the US Virgin Islands ahead of the potentially devastating hurricane.
The move allows federal assistance funds to be deployed so that authorities can better handle emergencies in their areas.
Mr Trump's declaration "authorises the Department of Homeland Security (and) Federal Emergency Management Agency (FEMA) to coordinate all disaster relief efforts," a White House statement said.
"This action will help alleviate the hardship and suffering that the emergency may inflict on the local population, and provide appropriate assistance for required emergency measures."
Pope Francis' air route from Italy to Colombia had to be changed because of the hurricane. A Vatican official said the Alitalia aircraft had been expected to fly over the US territory of Puerto Rico, but will instead shift south and cross the islands of Barbados, Grenada and Trinidad.