Homelessness charities have called for immediate Government action to ease the rental crisis as prices reached a new record high during the first six months of the year.
The latest rental report by property website Daft.ie shows that supply is at an all-time low.
The average monthly rent nationwide in the second quarter was up 12% to €1,159.
Daft.ie said it is the fifth quarter in a row a new all-time high has been set.
In Dublin, the increase in rents in the year to June was over 12%.
It means rents in the capital are up €260 a month since their previous peak in 2008.
Elsewhere, rents rose by 6.8% in Cork, while in Galway the average rent is €732 - 10% higher than a year previously.
At €525, Leitrim is the county with the cheapest average monthly rent.
The property website also said that there were just under 3,000 properties available to rent nationwide on 1 August - the lowest number it has ever recorded.
Students on accommodation hunt as rent prices reach record highs pic.twitter.com/1VDdOhfycm

— RTÉ News (@rtenews) August 22, 2017
---
Read More:
---
The report's author, Ronan Lyons, said it is worrying that rent rises show no sign of abating and because availability is so low, there will be no downward pressure on rent.
He said 18,000 new dwellings are needed every year and 6,000 of those should be social housing.
"We still don't have an understanding of how housing works in government circles. You cannot build, whether it's for profit or not for profit, unless you can recoup your losses.
"So, for the market it needs to be on people's incomes and on social housing it needs to be tied into a subsidy system; effectively a cost rental set up.
"And until these two things are in place, until the cost of building is lowered, unfortunately we're not going to see things improve any time soon," he said.
Minister says housing supply must be increased
Minister of State for Housing and Urban Renewal Damien English has said the Government is making progress to increase the supply of housing.
Speaking on RTÉ's Today with Cormac Ó hEadhra, the Minister said the State is intervening in many cases to help ease the homeless crisis but he said he "fully accepts that it's not enough".
He said: "This year about 900 people who would've usually ended up in hotels we've got a house for them through the HAP [Housing Assistance Payment] scheme.
"But we are barely keeping pace with those who are presenting homeless, so we have to increase the supply of housing.
He said the Government's target was to have moved 1,000 families out of emergency accommodation by June of this year.
That target has been missed, he said, but he added that these families will be in new homes or family hubs by the end of September.
The Minister of State at the Department of Education also said we are playing "catch up" following a lost decade of house building.
Plans are in place for a potential 21,000 new student places, Mary Mitchell O'Connor said on RTÉ's News at One.
She said that of those 21,000 planned places, 1,700 should come on stream this year.
10,000 of these are currently in construction, in the planning permission granted stage or at the planning permission applied stage.
The remaining are university potential projects and are at pre-planning stage.
In its response to the latest Daft.ie figures, the Peter McVerry Trust urged the Government to fund the building of affordable rental housing.
The national housing and homeless charity said the rising cost of rent is the main source of new homeless cases.
Focus Ireland has said the Government review of Rebuilding Ireland must include immediate action to ease the rental crisis and to get more vacant homes back into the housing stock.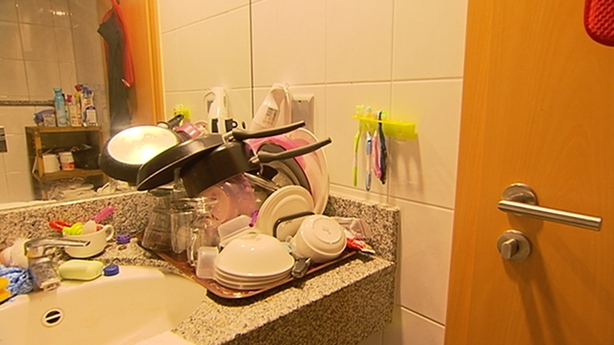 Spokesperson Roughan MacNamara said rising rents are forcing families and individuals into homelessness and making it harder for them to get out of it.
He said it is clear that policies to help ease the crisis are not working hard enough.
These families and children aren't just appearing out of thin air, they're coming from homes. They're suddenly called 'the homeless', they're not 'the homeless' and we really need to look at it from that point of view
Housing charity Threshold said the introduction of a mandatory rent register would go some way to creating a more transparent system for renters.
CEO John-Mark McCafferty said that measures already in place to protect tenants should be enforced and called for greater awareness about tenants' rights and landlords' obligations under the Rent Pressure Zone legislation.
Simon Communities of Ireland said stronger measures are needed to stabilise rents and enhance security of tenure.
National spokesperson Niamh Randall said: "Full rent certainty and security of tenure are the building blocks for a stable rental sector and we renew our call for their urgent introduction."
Labour Party's spokesperson on housing Jan O'Sullivan said it shows the absolute failure of the Government's Rent Pressure Zone model to slow the pace of increases in the rental market.
Call for review of rent controls
The director of the Residential Landlords Association of Ireland has called for rent controls to be reviewed.
Fintan McNamara said it has not solved the problem and the issue is supply, adding that the Daft.ie report needs to be treated with some caution.
He said that just 0.5% of the entire rental stock is being advertised and most people are not moving from their rented homes.
He also said that generally landlords, with good tenants, do not substantially increase rents.
Solidarity-People Before Profit TD Ruth Coppinger said the Government's failure to deal with the rent and housing crisis was causing misery.
She said rent limits were not working because there is such a shortage of property available.
The Dublin West TD said that landlords are at fault in 84% of deposit retention cases and 82% of properties were in violation of standards.
She said public and affordable housing must be built on a "major scale" along with the acquisition of empty units.